---
Evidence that the Rajapaksa regime's lightning express development may be on the wrong track was given bloody substance with two tragedies on unprotected railway crossings this week.

On Tuesday a vanload of pilgrims returning after a Poson pilgrimage was hit by the Colombo-Hikkaduwa express in a twilight thunderbolt that killed six females from two families including a girl who had got married last month. The disaster occurred at an unprotected railway crossing in Aluthgama. Soon after dawn yesterday a lorry was hit by the Podi Menike express train at Mirigama, killing the lorry driver and the assistant.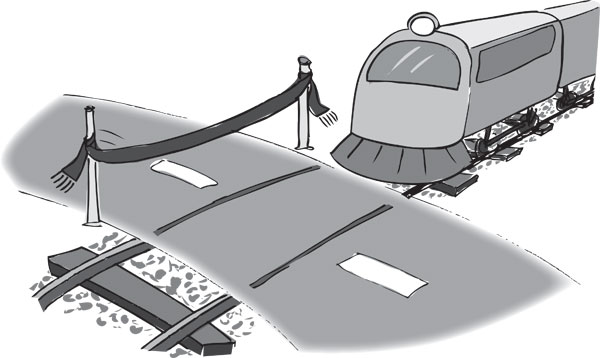 Too many and far too many tragedies at unprotected railway crossings have been reported in recent years and the regime needs to urgently reconsider its development priorities because our precious human resources are more important than many projects which are getting priority and too much publicity largely for personal gain or glory of some VIPs. According to the Railway Department's Signals and Telecom Chief Engineer, Palitha Samarasinghe about 400 tragedies have taken place at unprotected railway crossings during the past 10 years and hundreds of people have been killed.

Central Bank figures show, Sri Lanka's economy is in a precarious state despite all the hyperbole of government leaders and top officials like the Governor of the Central Bank and the Secretary to the Treasury. At the end of last year the interest we have to pay on the unprecedented foreign and domestic loans we have taken is a staggering 41.35 per cent of the revenue we earn. Generations and generations to come will have to repay the loans because the Rajapaksa regime is still paying only the staggering interest.

It is in such a crisis that showpieces like the Mattala international airport and the Hambantota International Port are being widely publicised though they were built on huge loans. Not only opposition critics but even independent economic analysts say we have virtually pawned half of our country to China and the other half to India.
The Mattala International Airport has become more of a tourist attraction while a newspaper photograph recently speaks volumes of words on what is happening in Hambantota. It showed a fisherman using a rod to fish in the international port area while there were no ships in sight. Instead of borrowing and spending so many billions on largely showpiece projects the Rajapaksa regime must act immediately to save the lives of people at unprotected railway crossings.

Transport Ministry officials say there are about 900 unprotected railway crossings. Engineers estimate that a railway gate with a bell and a light will cost about four million rupees which means a total of about 3600 million rupees—a fraction of the money spent on the international airport, the port and other high-profile projects in Hambantota, Colombo and other cities to project a clean and beautiful image.

Cynics say it is more like a clean-suit empty-pocket image.

On Thursday the Daily Mirror reported that a medical doctor had invented a solar-powered rail crossing protection system and had proposed it to the railway but had got no response. According to Dr. Sarath Wimalasuriya such a gate will cost only about one million rupees and the government needs to seriously consider this instead of spending thousands of millions on importing equipment for the long term project which the Railway says could be completed only by 2016.

During the Premadasa era we had at least bamboo gates which saved lives but in this modern era we echo the voice of the people when we say the government must stop playing bamboo (bambu gahanna) with the lives of people, and put the rail gates project on the fast track.
---
---
Add comment

Comments will be edited (grammar, spelling and slang) and authorized at the discretion of Daily Mirror online. The website also has the right not to publish selected comments.

---