---

e promised not to cry but millions of cricket fans including President Mahinda Rajapaksa and some 4,000 spectators were close to tears when one of the world's greatest Test cricketers Mahela Jayawardena said farewell at his home-base SSC ground in Colombo yesterday.
Captain Angelo Mathews and other players carried Mahela Jayawardena on their shoulders for a lap of honour amid roaring cheers and firecrackers as the 37-year-old star ended his Test career with a total of 11,814 runs including 34 centuries in 149 Tests during the past 17 years.
The proudest among Mahela's millions of fans was his baby who was sleeping in bliss during the glorious farewell ceremony where Mahela with sincere gratitude thanked everyone from his parents to the President, his old school Nalanda and millions of fans whose support he said had helped him to maintain the highest standards whereby, "When the One Great Ccorer comes to write against your name, he will write not whether you won or lost, but how you played the game.




" We could add "how you retire also" because in this modern era when cricket also has been caught up in the globalised capitalism of big business, many go on playing even though they are not fit. They do it just to earn more money at their country's expense. This is what many politicians do but thankfully sporting heroes like Mahela Jayawardena set the example yesterday of selfless sacrificial service to the country instead of seeking power, prestige and popularity. This was seen when Mahela Jayawardena who captained the team twice from 2006 to 2009 and again in 2012, gave up the captaincy to bring out the full potential in others as we see in the captaincy of Angelo Mathews today. Politicians and other leaders who cling on to posts though they are clearly unfit and incapable of doing the job need take this great lesson from living legends like Mahela Jayawardena.
Senior constitutional lawyer Gomin Dayasiri in an article published in Daily Mirror last month asked why our politicians could not be like our cricketers and bring home glory after girdling the globe.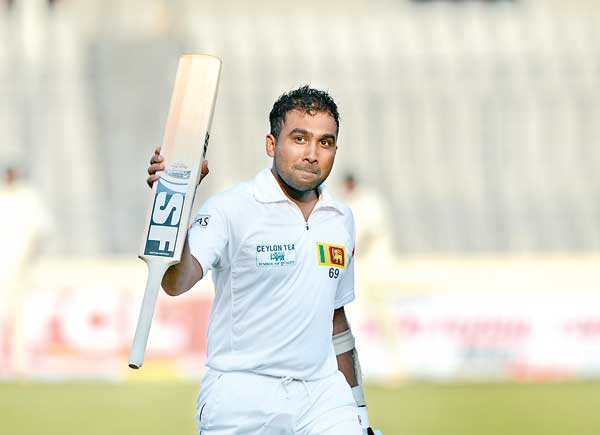 He referred to how Mahela Jayawardena's close friend and record breaking batting partner Kumar Sangakkara in a famous Cowdrey speech at Lords had brought the Commonwealth to its feet. Would all the garrulous words of wisdom espoused by the learned professor in known or unknown capitals bring more than a slow handclap, provided for the sake of courtesy? Let's toss to see who will get a better hearing in the hostile parts of the Commonwealth. Of the two spokesmen whom will they crave to hear? On content and presentation Kumar Sangakkara is not a bore and more so, he is better known, Mr. Dayasiri pointed out.
"Men in white and pyjamas blend well with team spirit and are joyous on the success of others. Indeed, 'spirit' soars only after a song and dance act at a parliamentary bash, sufficiently skilled to produce talented crooners with somersaulting skills that take them far in the field of entertainment. These are all one-man shows prone to a cutting edge if a colleague excels.MR is a stronger captain in leading a band of brothers than a gang of diversity," Mr. Dayasiri said.
There is a time. Both for sowing and for reaping, there is a time. Both for winning and for losing, there is a time. Both for reigning and for letting go and quitting, there is a time. Cricketers like Mahela Jayawardena know this reality. We hope our political leaders also do.
---
---
Add comment

Comments will be edited (grammar, spelling and slang) and authorized at the discretion of Daily Mirror online. The website also has the right not to publish selected comments.

---