---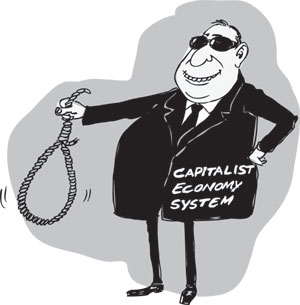 Despite or possibly because of the marvels of modern technology and the hectic pace of life, suicides in Sri Lanka are about 12 a day with more than 100 attempting to end their lives every day. Shocking and staggering indeed. Worldwide, suicide is now one of the three leading causes of death among those aged between 15 and 45.
Many may be the reasons for this, but most psychologists and sociologists believe one of the main causes is the intense and cutthroat competitiveness of modern society which is driven largely by the globalised capitalist market economic system. This vicious circle encourages young people to be over-ambitious and get to the top at any cost. If they can do so by fair means, well and good. If not they are in a subtly way encouraged to resort to foul means - that means to use any unethical or illegal measure to knock down another and get to the top.

Perhaps most young people are unaware that this rat race which is often colour washed and portrayed as top class professionalism arises from the vices of selfishness, self-centredness and greed. The fame or fortune some may achieve through these means is always transient and impermanent. It is like a sandcastle and cannot last. When a storm or a crisis comes, it falls apart. This often drives young people to desperation, then depression followed by suicidal thoughts or tendencies.

With Sri Lanka and the world facing such a grave crisis, one of our country's main friend-in-need movements Sri Lanka Sumithrayo has asked the people to unite with it on September 10 by lighting a candle to mark World Suicide Prevention Day. The widely- respected movement which has been working quietly in Sri Lanka for about 40 years without letting its left hand know what its right hand is doing says the number of people who acknowledge they have been rescued from the brink of suicide by speaking with Sumithrayo counsellors is a stark revelation of the extent of emotional distress in our society.

According to Sumithrayo, people facing an emotional crisis mostly require informal, confidential and emotional support.

Sumithrayo volunteers or heartfelt friends give assistance by listening to those in distress with patience, care and concern and give them an opportunity to talk about their crisis to the point that the burden is less or taken away. Help is given to people of all religions or races in Sinahala, Tamil or in English. Often a caller may have become suicidal simply because he or she has nobody trustworthy to confide in, being unwilling to share the problem with friends or relatives fearing a lack of understanding, or worse, embarrassment and humiliation, Sumithrayo says. The lesson to us is that when a family member, friend or colleague indicates he or she has a burden to share with us we need to listen with care and compassion and try to help without expecting anything in return.

---
---
Add comment

Comments will be edited (grammar, spelling and slang) and authorized at the discretion of Daily Mirror online. The website also has the right not to publish selected comments.

---