---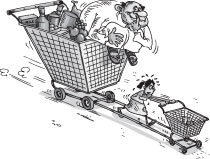 One of the former regime's biggest alleged acts of corruption has been widely known about and reported during the past year. But when Janatha Vimukthi Peramuna leader and Chief Opposition Whip Anura Kumara Dissanayake gave details of the secret Dubai bank accounts in Parliament on Wednesday, the extent of the plunder of public money was staggering and shocking.

Mr. Dissanayake accused the new National Government of lethargy in allowing the Rajapaksa regime VIPs to get away with the wholesale plunder of the people's money.

The JVP leader said that according to a statement made by the Cabinet spokesman, one account had US$ 1.086 billion (SL Rs 157.46 billion.) The other account held by a former politician and a businessman had US$ 500 million. A joint account held by a former secretary and a head of an establishment had US$ 1.8 billion. A Government MP had witnessed Rs.4.2 billion being illegally credited by the former rulers in their foreign bank accounts. Mr. Dissanayake said he believes the national government was dragging its feet for some reasons and demanded that a statement be made in Parlimament on the progress made in the investigations.

He asked that this huge sum of money be brought back to Sri Lanka because it was a robbery of the people's wealth and stern action should be taken against the VIPs involved. House leader Lakshman Kriella said the government would soon respond to the disclosure.

The JVP leader's bombshell on corruption came as the German based Transparency International gave a bouquet to the new national government, saying Sri Lanka, Guatemala and Ghana had worked hard to drive out the corrupt in elections last year. However, it said the new Indian and Sri Lankan leaders were falling short of their bold promises to end corruption. This inability to tackle root causes holds true across the region.

Former President Mahinda Rajapaksa, his wife Shiranthi, brothers Gotabhaya Rajapaksa and Basil Rajapaksa and son Namal Rajapaksa have been questioned by the Police Financial Crimes Investigation Division or the Presidential Commission probing serious Financial crimes or fraud. Despite months of allegations, petitions and investigations, no major indictments have been filed. While government leaders are giving various reasons for the delay, some political analysts say a government leader is also delaying investigations for reasons connected to a possible split in the party. If that is so it is a case of putting the party before the country and a total violation of the mandate given by the people in their silent revolution on January 8 last year.

According to Wednesday's report by Transparency International, Sri Lanka and China were ranked at 83 simultaneously out of 168 countries in the World Corruption Perception Index. Sri Lanka had scored 37 points out of 100--one point less than what it scored in 2014. Neighbouring India was ranked at 76, while Pakistan is at 117, Bhutan at 27, Nepal at 130 and Bangladesh at 139.

Denmark ranked as the least corrupt country following Finland, Sweden, New Zealand, Netherlands and Norway. Somalia was ranked the most corrupt followed by North Korea, Afghanistan, Sudan and South Sudan.

As TI says and as most civic action movements are saying the national government must take urgent and effective action against alleged acts of corruption. Then and only then will it honour the historic mandate given by the people on January 8, 2015. President Maithripala Sirisena and Prime Minster Ranil Wickremesinghe have said that after the political reforms of 2015, the focus this year will be on poverty alleviation and the implementation of a sustainable eco-friendly and inclusive economic development programme. Along with this the battle and action against those who plundered billions from the poor people of this country must also be given priority and, as the JVP leader warned, the people will accept no excuses for inaction, lethargy or political deals.
---
Add comment

Comments will be edited (grammar, spelling and slang) and authorized at the discretion of Daily Mirror online. The website also has the right not to publish selected comments.

---