---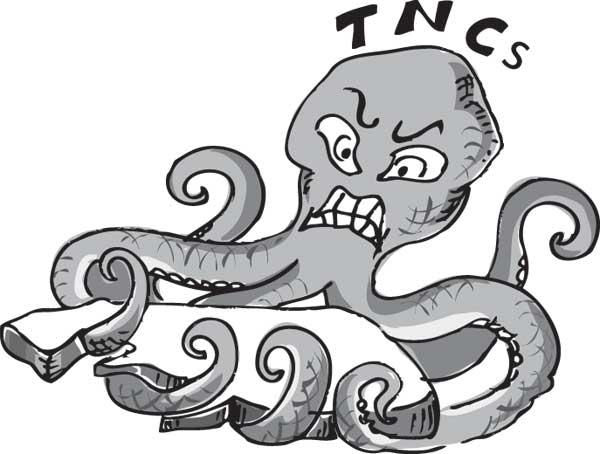 Millions of people in Sri Lanka and elsewhere are not well-informed or do not want to be fully informed about the realities behind the reports of what is happening, especially in high political circles and how powerful trans-national companies (TNCs) are trying to dump their garbage or plunder the natured resources of third-world countries.

Many people who are unwilling or unable to continue their education to keep on getting information from day to day about local and international affairs, and have an open mind to accommodate a growing awareness, are not aware that military colonialism by powerful countries did not end with the Second World War.

What we see today is a more sophisticated form of economic neo-colonialism. In Sri Lanka for instance, the Portuguese, the Dutch and the British openly invaded our country by military force, claiming they wanted to civilise the natives. But now we know their ulterior motive was to plunder the wealth and natural resources of our country though they also built railways, roads and other projects to give some sort of decency or mask to their plunder. Even at that time they had a fifth column comprising the rich and ceremonial ruling elite who were also allowed to build sand castles or bigger barns. They were suffering from the acquisitive instinct that drives people to become rich fools. At that time we were robbed of our resources but at least we were aware of it.

What is happening now - through the even more dangerous and more destructive economic neo-colonialism - is that Sri Lanka and other third-world countries are being stripped of our resources but we are not even aware of it until it is too late and we are left with little or nothing while the TNCs accumulate billions of dollars and the ruling elite build their Swiss bank accounts.

Horrifyingly, the plunder through neo-colonialism by the TNCs and their political patrons or agents here is taking place mainly in the food and health sectors. Playing the role of the former imperialist armies here are some of the biggest profit-making TNCs – the trans-national drug corporations, the trans-national food and powdered milk products corporations and the trans-national agro-chemical companies.

A top state medical officer who is well aware of what is happening but does not wish to be identified said this week that the health sector in Sri Lanka had to a large extent become a big business because the trans-national drug companies were trying to run the sector. He said like the legendary Professor Senaka Bibile, he wanted to restore a health service where the well-being of the people was given top priority, but he needed the support of the media, health rights groups and the people to do this. The official, who for several decades has done an in-depth survey of what is happening in the health sector, said because of the awareness brought about by the media, trans-national drug companies had become as notorious as big liquor outlets. Most people knew they were trying to plunder the wealth and damage the country's health. Thus the TNCs were finding it difficult to recruit a good professional staff as even medical representatives had a bad reputation among the people.
The official appeal to the media and health rights groups to bring about more awareness and more pressure from the people so that step by step, Sri Lanka could work out a national health policy including a national medicinal drugs policy and a charter of patients' rights and responsibilities, so that Sri Lanka would have a people-friendly health service with good Samaritans who heal the people, not to earn money but according to the highest traditions of the hallowed Hippocratic Oath.
---
---
Add comment

Comments will be edited (grammar, spelling and slang) and authorized at the discretion of Daily Mirror online. The website also has the right not to publish selected comments.

---