---


SPOTLIGHT ON DOCTORS' EARNINGS
---
I wrote an article titled "Are doctors wasting public money spent on their education?" which was published on 24th May, in response to which an article was published on 31st May under the caption "Doctors are well paid and enjoy many perks" written by
Mr. Roshan Dodanwela.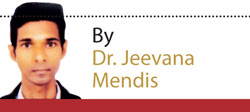 There are several issues brought up, also raised by many, that need to be addressed, which is the purpose of my writing again. Since they should be explained in detail, unfortunately due to space constraints, I have to restrict to only a few matters here, and the rest would be addressed in another article shortly.

My previous article was to emphasize that doctors were doing justice to the public money spent on their education by contributing to the public health sector despite the accusations of people who only seem to consider a one-day strike, ignoring the work done on all other days and conclude doctors are wasting public money, and publicize this erroneous impression among the public.

Mr. Dodanwela's article brings out a deep-rooted misconception among the public about 'doctors' remunerations, high salaries and perks", highlighted several times. He has mentioned the "Sri Lankan public sector employee pay scales", but hasn't come out with the full story.

In brief, when the salary scales were decided, public sector employees were given marks according to various factors like educational qualifications, language proficiency, degree, service etc., and doctors received higher marks than most, with our professional degree (MBBS) and one year internship period. Consequently, we are placed in a high salary category. Our salaries and other benefits are decided according to this, hence there's nothing extraordinary.


If you compare a doctor's salary with lower salary categories where a number of other government servants are, obviously it is high as stated by Mr. Dodanwela. However, if you compare with employees of other services in a similar category as doctors, you can see that what we get is actually less than what we should get. To name a few, they get government quarters, transport facilities with government vehicle, a driver and fuel (or fuel allowance) etc., and separate staff where necessary. Although doctors are also entitled to these facilities, in reality, what do we get? Only a very few doctors are given quarters, or even a room. In certain stations, some consultants have to be satisfied with a room. The majority of doctors have to find accommodation at their own expense, and considering the fact that we have to change stations every four years, this is a great inconvenience, especially in rural areas.

What about transport facilities? They don't get a government vehicle, a driver, fuel or a fuel allowance. The permit we get, which is only after five years of service after internship, just gives a tax concession and NOT tax free as some critics say, and it actually brings an income to the government because part of the tax is paid by us (unlike tax free permits where the government doesn't get any income). If the permit is not given, that income is lost, as doctors won't be importing vehicles. Therefore the government is profiting by giving doctors a permit instead of a government vehicle, driver and petrol.

One can allege that some doctors are selling their permits as some are unable to buy a vehicle even with the tax concession. Hence they have no option but to sell the permit and use that money to buy a second hand vehicle. Those who use the permit for themselves have to obtain a bank loan, or earn extra money through private practice. Another factor is the narrow salary compression ratio which causes problems in salaries of public servants. Since they were compressed to a ratio of about 1:4, salaries of employees in high categories cannot be increased beyond this limit.

By now, we have compromised many facilities we are entitled to because we understand that the government is unable to bear that cost due to the large number of doctors, but still we serve the public without demanding our 'pound of flesh'. The allowances we get and the extra duty (which some don't get in certain stations and units) that people are critical about, don't compensate for what we are missing out. Unfortunately these facts are not considered when they talk about the perks of doctors. No one seems to complain about the perks of other employees parallel to doctors and those in higher categories, who would also have been educated by the same public money; and no one seems to be obsessed about how they contribute to the public sector. There is so much prejudice and contempt towards doctors by some critics who talk about us with malicious intent because of a one-day strike.

What most people use to attack and condemn doctors is private practice (PP) and some blame doctors as if it's illegal. The government has allowed doctors to do PP as a way of compensation because they are aware of the fact that we are not getting what's due to us. When PP is done outside our duty hours, there's no hindrance to their service towards the public, nor any danger of a lapse to the government health system. Only a small number of GPs engage in full time PP, whereas the vast majority are doing part time, while working in government hospitals, and contribute to the public health service. Many doctors (myself included) don't do PP, but some are drawn to it to earn some extra money, at the expense of time that could be spent with their families. Many would gladly quit PP if they could earn a good salary from the government sector, because it's not as pleasurable as people think.

By the time they doctors begin to earn money, they are past their mid-twenties, and it's from then onwards that they can strive to achieve some financial stability (which others in the same age group would have already achieved), and the so called "high salaries" and "perks" are not sufficient. One can bring about an argument that other graduates face the same problem, and my question is, should doctors give up the opportunity to earn in their free time just because others are unable to do so?
Some blame doctors for charging exorbitant fees, but it's only by a very few who practise in major cities, whereas in all other areas, that is not the case. What's been done by a few are blown out of proportion and used to tarnish the image of all doctors in general. If anyone is against private practice or is concerned about the charges, they can always seek treatment from the government hospitals free of charge, as they have never let the public health system collapse because of PP. Another fact is that it helps to ease the burden in government hospitals, and provides convenience to
the patients.

There are numerous other government employees who make private earnings in their leisure time as well, but nobody seems to care so much. Even regarding doctors, if they opt to do something else to earn extra money like engage in some cultivation in their spare time instead of PP, it won't raise any eyebrows. But if they do PP and treat people who come at their own free will, it would raise a hornet's nest.

Another issue to be sorted out is regarding "public money utilized for further training of doctors which includes specialization training abroad". Doctors who do postgraduate studies have to undergo a period of 4 to 5 years in Sri Lanka where they have to dedicate themselves for further studying and training in the relevant speciality. Afterwards they need to work in hospitals abroad for foreign training for about 1 to 2 years. For this, they are granted paid leave, and if they are going for unpaid jobs, an additional allowance. This is after signing a bond which requires them to work in the government sector for 8 years after returning to Sri Lanka.

Mr. Dodanwela has commented "the public spending on doctors' further training enhances your capacity for private earning. So you are in a win-win situation at the expense of the public". Again, the attention is on the "earnings" rather than the benefit the people of this country would be getting. It's unbelievable how the much needed specialized services they would be providing in rural places most of the time, and the commitment they have put into their training are disregarded. To call it a "win-win situation at the expense of the public" is unacceptable, because when more hospitals are facilitated with specialized services, the ultimate winners would be the public. Also, a large number of patients are transferred to other hospitals each day because of lack of specialized services.Not only doctors, but a number of employees in other public institutions are also going abroad for various training programs at the expense of public money, but no one seems to be concerned about how they use their training to provide a better service to the public. Though consultants can earn through private channelling, they are doing a great service to the public in the government sector, which unfortunately is disregarded.

There are more important issues in Mr. Dodanwela's article that need be to addressed, but they would be discussed in another article.

The writer is a Medical Officer attached to the Ratnapura Provincial General Hospital, and is a graduate of the Faculty of Medical Sciences, University of Sri Jayewardenepura.