---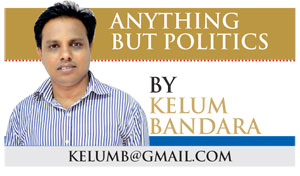 India's Prime Minister Narendra Modi, soon after being sworn in, had a meeting with President Mahinda Rajapaksa and spelt out his government's policy on Sri Lanka. The media quoted India's Foreign Secretary Sujatha Singh, as having said that Mr. Modi asked President Rajapaksa to expedite the reconciliation process in Sri Lanka. Quoting the Prime Minister, she said the full implementation of the 13th Amendment or going beyond that would contribute to this process.

While highlighting the need to strengthen the bilateral relations, the two leaders focused on the entire gamut of issues. The implementation of the Sampur coal power project was also among the matters discussed by the two leaders, and there was a quick appraisal of Indian funded projects being implemented in various stages in Sri Lanka.

According to the transcript of the press conference, Ms. Singh has said, "In his meeting with President Mahinda Rajapaksa of Sri Lanka, PM noted that India valued its relations with Sri Lanka. He requested the government of Sri Lanka to expedite the process of national reconciliation in a manner that meets the aspirations of the Tamil community for a life of equality, justice, peace and dignity in a united Sri Lanka. Early and full implementation of the Thirteenth Amendment and going beyond would contribute to this process. They also discussed the fishermen's issue, India's development assistance programme, and economic and commercial cooperation. In particular, PM expressed interest in early launch of the 500 MW Sampur Coal Power project and greater connectivity between the two countries. Both leaders reiterated their desire to further strengthen bilateral relations."

A closer examination of these remarks makes one thing clear - that India's overall policy approach towards Sri Lanka remains, more or less, the same despite the regime change that took place in the world's largest democracy after ten years. In that sense, there is no reason, either for the government of Sri Lanka or the general public, to be overly excited about the victory of Mr. Modi's Bharatiya Janatha Party (BJP). Nonetheless, there is one plus point. BJP swept the elections and secured a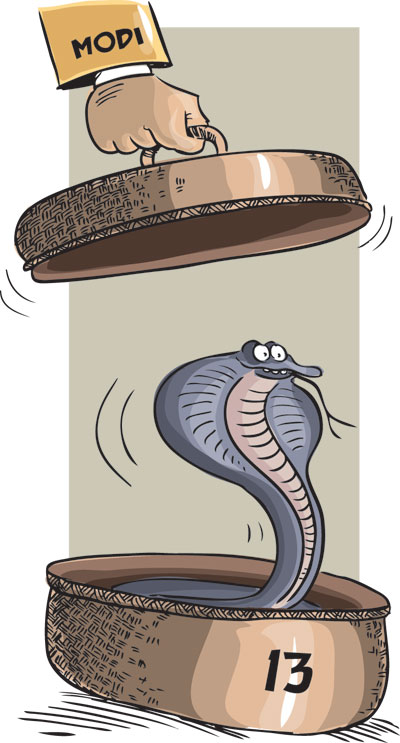 clear cut majority to run the government, and therefore it can take decisions without being subjugated by regional parties aligned with it politically.

Yet, in a broader context, India's stand on Sri Lanka is unlikely to change. And, it is then questionable why the policy makers here are overly anxious about BJP returning to office.

The Congress government also made the same pronouncements when in power. The talks between the two leaders centred around the full implementation of the 13th Amendment and going beyond that was its key request, and it remained the same with BJP now.
During the press conference, several questions were directed at Mrs. Singh on the meeting with the President, and the External Affairs Ministry of India released the transcript of that interaction soon after.
An excerpt of this press interaction is as follows:
Q:

Madam, what is the reaction of President Rajapaksa regarding the Thirteenth Amendment? For more than 25 years both governments were in dialogue about the implementation of this amendment. So far nothing has happened. What was the reaction from the Sri Lankan President? Is he really keen to go for the Amendment or has he given some kind of excuses in today's meeting?

Foreign Secretary: The Prime Minister discussed this with President Rajapaksa. He took it up and they discussed it at some length. So, we on our side have urged upon President Rajapaksa that it is important for the wellbeing of the Tamils in Sri Lanka, that the Thirteenth Amendment be implemented, and that it is also important for it to go beyond. So, we are hopeful that this request that is coming from the Prime Minister will be taken into consideration and that Sri Lanka will take appropriate action as required.




Q:

Mrs. Singh, although you have said that you would not go into details, it is not so much a detail. In the matter of this conflict over fishermen, there are different perceptions but the predominant perception is that the fishermen from Tamil Nadu stray beyond the Indian territorial waters and they get picked up and jailed there and that is creating the problem. Has any kind of agreement been arrived at or at least a broad understanding that we will prevent the Indian fishermen from straying beyond the territorial waters in search of fish, because they are not finding it within our territorial waters, is there any such understanding or at least a tacit agreement that we will work towards this?

Foreign Secretary: Yes, of course. There was the agreement between the two leaders that we need a long-term solution towards this because the fishermen's issue is a livelihood issue, whether it is for our Tamils or the Tamils in Sri Lanka. So, they both agreed that this need to be addressed, and that we should encourage the fishermen's talks to go ahead, and we should try every means to find a solution.

Here, interesting parallels can be drawn between BJP and the Congress on the approach to the fishermen's issue. A permanent solution to the fisheries' issue, and a continuous dialogue between the representatives of fishermen of both sides were among the salient points highlighted by Congress leaders as well during the highest level meetings at that time.


UNP seeks strategies
As the government is engaged with the new Indian government, the main opposition United National Party (UNP) is intending to meet with Mr. Modi. For that, it is learnt that party leader Ranil Wickremesinghe has an idea to visit India soon. He has discussed it so far with his confidants.
Mr. Wickremesinghe is reportedly having a rapport with Mr. Modi. The UNP leader once met Mr. Modi when he was the chief minister of Gujarat. Also, he reportedly wanted to invite Mr. Modi for the inauguration of the political academy at J.R. Jayewardene Centre last year. However, the UNP could not open it because some other matters cropped up on its way.

The UNP Leadership Council met at a leading hotel a couple of days back, and discussed future political strategies, especially with the focus on engineering a defect in the ruling party. Party's Matara district MP Mangala Samaraweera mentioned that despondency reigned among some members of the government, and they could be won over at any time.

Mr. Wickremesinghe also attended this meeting. Also, the UNP leaders discussed the strategies for Uva Provincial Council Election scheduled for September. UNP MP Harin Fernando had already agreed to contest for the chief minister post after resigning from Parliament. However, his decision has not yet been announced officially.


Women MPs off to United States
" He requested the government of Sri Lanka to expedite the process of national reconciliation in a manner that meets the aspirations of the Tamil community for a life of equality, justice, peace and dignity in a united Sri Lanka"



The Women MPs, across the political divide, were invited by the US State Department for a study tour on women's role in politics and governance. All the MPs, barring MP Thalata Athukorale of UNP and Deputy Minister of Water Supply and Drainage Nirupama Rajapaksa, left for this tour on May 24. They are expected to complete their study tour on June 4.



Kamala Ranatunga shares her sorrow with MPs across the divide
Before the tour, MP Kamala Ranatunga, a National List member of the government, was at pain in Parliament last week. The police officers, assigned for her security, had lodged complaints against her saying that she got them to do household chores for her such as husking coconuts.
Disappointed by the negative publicity against her after this complaint, she approached MPs, both representing the Government and the Opposition, in the parliamentary complex during their spare time, and tried to rubbish allegations against her. She shared her grief with MPs such JVP leader Anura Kumara Dissanayake, UNP MP Gayantha Karunatilake and many others.

"This is a complaint against me. There is a conspiracy to remove me from Parliament to create a vacancy on the National List for a person with vested interests to come in. These policemen were ungrateful. I used to give them uncooked rice and coconut to be taken home for their household consumptions. Yet, they are the ones to complain against me," she told the MPs.



MEP calls for an urgent meeting with UPFA
Mahajana Eksath Peramuna (MEP) led by Water Supply and Drainage Minister Dinesh Gunawardane has sought an urgent meeting of the executive committee of the United People's Freedom Alliance (UPFA) to discuss the present political situation.

The UPFA was formed in 2004, with Sri Lanka Freedom Party (SLFP) and JVP, being the main allies. Today, former President Chandrika Kumaratunga was its leader. Today, she is no longer engaged in politics with UPFA. JVP is also not a part of it now. Then, JVP MP Nandana Gunatilake was its chairman. Today, he has defected from the JVP and joined SLFP. Its National Organizer Anura Bandaranaike is no more.



Govt engineers a defect in Wimal's party
"The victory of Mr. Modi's Bharatiya Janatha Party (BJP) is confirmed. Nonetheless, there is one plus point. BJP swept the elections and secured a clear cut majority to run the government, and therefore it can take decisions without being subjugated by regional parties aligned with it politically"



Recently, two Uva Provincial Council members of the National Freedom Front (NFF) defected from the party. Of them, Udaya Kumara decided to join the Sri Lanka Freedom Party and Mihimal Munasinghe to the UNP. It is widely believed that a powerful minister of the government engineered this defect in NFF, as a warning against its leader Wimal Weerawansa criticising the government. Mr.Weerawansa has been critical of the government on a number of issues. In fact, his party was absent during the vote on the no confidence motion against the government.

NFF has now initiated disciplinary inquiries against these two members. Meanwhile, NFF stalwart Piyasiri Wijenayake has complained to President Rajapaksa against the decision to entertain one of these members to SLFP.

"It is against the founding principles of the UPFA to entertain crossovers among its alliance partners," he told the President.

However, the UPFA seniors such as Ministers Susil Premajayantha and Maithripala Sirisena held the view that no crossover had been accepted to the SLFP fold officially, and therefore a problem would not arise.