---
Images of riot police beating protesting students outside the University Grants Commission (UGC) have been circulating widely in the media, especially in social media. Of the many images, those of police attacking female students have attracted the most attention. While this is certainly not the first time that female university students have been subject to police brutality, I would like to use the opportunity created by the people's condemnation of this incident to highlight some broader issues of concern.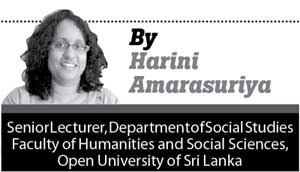 Sri Lanka has for many years been justifiably proud of the fact that it has managed to achieve a significant degree of equality with regard to female education at all levels. While many other countries are still struggling to achieve equality even at primary level, in Sri Lanka we are in a situation, where girls are out-performing boys at education even at the highest levels. Apart from in the technology and IT streams, today our universities have a higher number of female students than male. Yet, at the same time, it has been a cause of concern, that universities and university cultures continue to be very patriarchal and that even student sub-cultures are very masculine.

In gender discourse, education is seen as empowering – yet, this is not evident in our education institutions. Girls and women are struggling to translate their achievements in education to other aspects of their lives. For instance, there are very few female student leaders in the university student movement. Female students in universities continue to be constrained by culture and codes of respectability that restrict their lives and subject them to surveillance.

Sexual harassment and gender based violence is a problem within universities. There are higher rates of unemployment among educated women than educated men. So clearly, even though Sri Lanka has been successful in increasing female participation in education, there are many other problems with regard to women's education and empowerment that need to be addressed.

Of course, what is happening in universities is very much a reflection of what goes on in society: the extremely low level of female participation in politics is a problem that Sri Lanka has been facing for many years. It is in this context, that the sight of the police brutally beating up female students, who were exercising their democratic right of protest, is all the more disturbing. What kind of message does this send to girls aspiring to enter university let alone girls with leadership ambitions? That brute force is the response of the state's law and order institutions when faced with resistance and dissent?




" In gender discourse, education is seen as empowering – yet, this is not evident in our education institutions "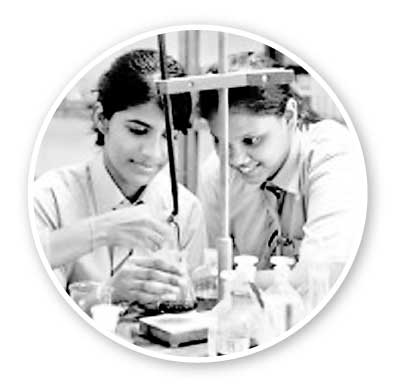 On the one hand, education is about promoting critical thinking, critical engagement, developing leadership and producing citizens with a sense of social responsibility and democratic values. Yet, our treatment of university students, especially students who dissent, sends a diametrically opposite message.

Those images are also alarming at another level. The high levels of violence against women, high incidents of domestic abuse, sexual violence in our society have also been receiving attention recently. Many women's groups have been highlighting this problem now for many years.

Despite a supposed culture of 'respect' for women and gender equality, the stories of violence and abuse in the lives of many women in this country – women from all walks of lives, professions and backgrounds – suggests that the rhetoric of respect and equality is a far cry from the lived realities of most women's lives.

During the past years, we have had powerful individuals in responsible positions, including Ministers, come out with the most misogynistic and sexist statements in public and getting away with it scot-free. This reflected a generally regressive era for women's rights recently. Talking to women's groups and feminists in Sri Lanka, it is clear, that they feel that the past several years have taken the women's movement in Sri Lanka back considerably. This was largely due to the State ideology towards women and women's rights which was not simply conservative but disrespectful and dis-empowering. This is the reason, that many female activists joined the campaign for change, with the hope of bringing about a more respectful and progressive culture for women. However, the incidents of last week and the images which have been flashed around the country shows that state ideology towards women has not shifted – or if indeed there has been a change, then this message has certainly not been heard by one of the most important institutions in the country: Law enforcement.

Going beyond what those images might mean for the female student population, which women would feel comfortable or safe taking a problem to the police after seeing those images? If the police are capable of beating up, unarmed female students in public so ferociously, what might they be doing within the confines of police stations? Is this the same police that is expected to handle Women and Children's Desks with their special units to deal with violence against women and sexual and gender-based violence? To say that those images as well as the subsequent public statements made by the police force did little to inspire confidence among women would be an understatement.




" On the one hand, education is about promoting critical thinking, critical engagement, developing leadership and producing citizens with a sense of social responsibility and democratic values. "




It appears that the law enforcement authorities in Sri Lanka have forgotten a basic principle of democracy that dissent and protest are not crimes. Indeed, they are part of democratic cultures and how citizens participate in democracy. Law enforcement officers are responsible for the safety and security of the protesters as well as the general public. In this country, the police are placed immediately in an antagonistic relationship with protestors – the police consider it their sole duty to display hostility and aggression towards protest. This needs to change and change fast.

The fact that the Police Commission has started investigations and that the Human Rights Commission is acting on complaints that it has received from students and also the broad civil society response to this incident are the silver linings on this cloud; it does show that the democratic impulse and energy that was released during the past several months has not quite dissipated. However, the response of the state – the response that will go beyond investigations and reports and committees to actual actions that will hold people accountable – will be the real test of sincerity and commitment of this government to a change of political culture and State ideology.