---

he initial reaction of the United Peoples Freedom Alliance (UPFA) to the Opposition's move to field one of the ruling coalition's bigwigs as the Opposition's common presidential candidate was not unexpected, though ludicrous.

On the very next day after former Health Minister and Sri Lanka Freedom Party (SLFP) General Secretary Maithripala Sirisena announced he would take on his former boss Mahinda Rajapaksa at the January 8 presidential election, a group of minsters convened a news conference to say that Sirisena's candidacy was the result of a Western conspiracy.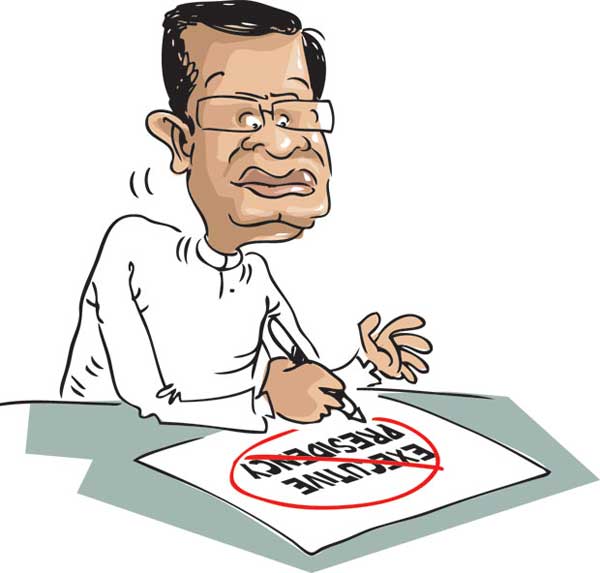 The irony was that nobody took this claim seriously, though a foreign conspiracy is a serious matter. At least if the Government leaders are serious about their claim of a foreign conspiracy, they must have the courage to expose those foreign forces who are conspiring against the country. One minster said that certain Western embassies were behind the move to field Maithripala as the common opposition candidate, but stopped short of naming the embassies.The reason for not naming the foreign conspirators must either be because they know of a conspiracy, but not sure who the culprits are or they know who the conspirators are, but are scared to expose them or the whole conspiracy theory is a fabrication.

Until the day previous when Maithripala announced his candidacy no government leader was aware of any foreign coup against the government, but within a day they had investigated and uncovered a plot hatched by Western forces to topple the government. The irony this time is that these claims by government leaders are being countered by none other than the leaders of the Jathika Hela Urumaya (JHU).

UPFA leaders were earlier anticipating or hoping that Opposition Leader Ranil Wickremesinghe would contest the presidential election against President Mahinda Rajapaksa and they fabricated an absurd story that the European Court had ordered the EU to de-proscribe the LTTE in Europe after a purported meeting between Ranil and the Tamil diaspora. It is common knowledge that European Court cannot be influenced by a meeting with the Tamil diaspora which has always been fighting for the de-proscription of the LTTE in Europe. They shelved their attempt when the opposition shot back alleging that the government had offered a contract in Geneva to a man who was alleged to have been arrested for supporting the LTTE.

The SLFP-led coalitions throughout recent history have been making it a habit at every election to brand the other major contestants, especially the UNP as either agents of the ugly West or of the separatists. But their claims have never been proved.

One may argue with substantiations that Maithripala's declared policies are flawed or his strategy to bring about good governance is unrealistic, but even if his policies are flawed or his strategies are unrealistic that wouldn't be sufficient to prove that he had fallen prey to a Western conspiracy or to a separatist plot.

In any election any morally strong political party has to expect a contest of policies. If a political party attempts to dodge a contest of policy by way of distractions through absurd claims such as foreign conspiracies that would tantamount to a total bankruptcy on its part. As we have editorially told several times in the recent times people must be given an opportunity for an intelligent and free choice in any election without distractions.