---
I have been critical of Aloysius before
We are true to what we are doing
Deputy Minister of Economic Affairs and Policy Planning Dr. Harsha de Silva in an interview with the asserts that his commitment to a corruption- free market is undeterred. He said that the government is committed in ensuring economic justice to the masses of the country. Following are excerpts of the interview which can be viewed in full on our website.

Q : You've been a vociferous critic of the previous regime. Don't you feel that there is something wrong when one primary dealer is allocated over 5 billion rupees worth of bonds?

Yahapalanaya is about due process. Irrespective of it being an appointment made by us or by someone else, although of it was a transaction that happened post or pre January 8th, it is about following the due process. That is why people are finding a bit frustrating now. When I walk in my electorate- Kotte- 80 % of the people keep asking me ' Harsha why haven't you put anyone behind bars yet?' It is not because of the lack of ability, we can easily send a few people behind bars, but that's not what we promised to do. That's not good governance. So the due process is a fundamental we have to follow.

You may say A or B has done wrong, but we need evidence to [prove the wrong] in an independent judiciary there has been wrong doing.

It looks a bit odd, but I don't want to cover up for anyone, because like you said I have always been a vociferous critic of the previous regime. I have particularly criticised the person who is being accused of benefiting from inside information in this particular case.

Q : Who is that person?

We all know, it is Arjun Aloysius. In a previous case I was very critical of his conduct. To me justice has to be done and for the masses it has to be seen to have been done. I may be here today and may not be here tomorrow. I have made a promise to the people and I will deliver that promise.

Q : Interesting that you bring the due process up because when you made allegations against the previous government, I doubt the due process was followed. Isn't it right that since you came under the banner of 'Good Governance', some action should be taken against this perceived bias, even if it isn't on the face of it manifest?

Two wrongs don't make a right. Just because you do something wrong I can't do the same wrong. Just because they did wrong I can't be doing wrong. Due process is due process. That is why with regard to Wimal Weerawanse or Rohitha Abeygunawardena due process is taking place. There will come a particular point when the attorney general will be able to file action for a conviction.

Q : As far as you know what is the status of the investigation into the bond issue?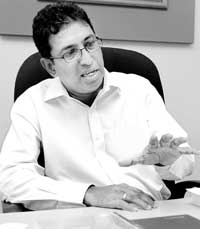 As soon as these allegations surfaced, the prime minister and I discussed this matter. I told him, ' Sir, we have to find out what happened', because even though it is not something that impacts the masses and it is a Colombo-centered issue, there are people who are trying to make life difficult for this government. Those who were benefited from the previous regime in corrupt practices and in financial markets are now ganging up to bring us down so that they can return to their merry ways. So it was decided that we look into this issue considering against whom these allegations have been made. That will also give them the opportunity to clear their names through the proper process.


With regard to your question, we have appointed three lawyers and framed their terms of reference. We will also have expert analysts to look at the complex analysis that is required to sift through all the material because it is not something a layman could figure out. We have instructed the panel to come back with the report as soon as possible.

Q : What is the time frame given? What does 'as soon as possible' mean? We have seen committees being appointed before at the drop of a hat with no outcome. Will this also be confined to a brief media blitz?

I have sprung many scandals before with regard to the stock markets, bond markets and others but never ever did the previous government appoint even a commission, to probe the issues let alone bringing the culprits to book. Then I remember when 11 trade unions filed a fundamental rights case in the Supreme Court, it was just thrown out. Do you know that the chief justice who was purportedly appointed had asked the trade unions ' what do you know about the stock market?'. How dare he ask such a question? Are those people not eligible to ask questions? It is their money-the money of the Employees' Provident Fund (EPF). When the previous governor continued to violate every code of practice with allegations upon allegations brought against him on malpractices did they ever appoint a committee to look into the charges? Did they even acknowledge that there was a single issue with regard to market manipulation? No they never did.

Q : When will get the report?

The allegation is not a simple one. Financial markets are complex. What is a bond market? How do people bid? What difference does it make if you move from placing bonds privately to auctioning? How does that help the government in lowering or increasing impacting the government budgetary process? These are among the many questions that are to be asked. There is no black and white answer here; as a government we have brought macro stability to the country.

Q : Personally don't you think that the governor has to step down at least temporarily until he is cleared of the allegations?

Arjun Mahendran has been a professional for a long time. He has worked in the Central Bank, other government agencies and banks overseas throughout his life. If he believes he needs to do that, he will. I believe he will make that call. Harsha de Silva, Ranil Wickremesinghe or Sunil Handunetthi do not need to ask him to do that. Let us give professionals space to make that call.

Q : This is the first time you are in government since you came into politics. Are you in a spot of bother right now? Being the champion of the opposition and now having to take responsibility?

Yes I am. I am doing what I am doing because I have one objective in life: serving this country. I have made money the right way, served my family, brought up my kids and given them an education and there is nothing more for me to do except serve my country. I will hit 50 this year and I could go on for another 10 years.

I don't like these distractions, the prime minister has given me my dream job as the deputy minister under him to plan policy and economic affairs of this country; I can ask for more except this a ministry ( laughs). I sleep for about 4 to 5 hours because of this 100-day policy and working with the PM is an absolute challenge. It's a superb learning experience for me, and I want to get the job done.

I have already convened committees with some of the best brains I could find. They are young people and are focused in ensuring economic justice.

All what people say today is ' they robbed , they got rich, we also need a fair share'. But this can happen within a market framework where we can create a wider competitive economy which delivers the dividends of growth with political social and economic justice.

Q : Are you'll moving away from the 'Regaining Sri Lanka' economic policy that the then UNP government adopted?

Yes, we are moving beyond that. 'Regaining Sri Lanka' was the thinking at the time, since then the world has changed. The financial crisis happened after ' Regaining Sri Lanka' and why that happened was because there was no regulatory [frame work]. Instead there was cowboy type activity of powerful corporate entities. We are not saying that we are moving away from the market mechanism, but what we will do is to broaden the receiving end among the masses.

Q : 'Regaining Sri Lanka' was seen as a policy drift away from the national ethos and that it was not based on Lankan economic roots. Have you returned to Lankan economic roots?

That is utter bunkum. What is this nonsense about Sri Lankan economic roots? I used to severely criticise Basil Rajapaksa and his economic policies because I didn't believe you can develop this country by distributing seeds. One day, when I was criticising some of his policies in Parliament Rajapaksa cohorts sat next to him and one of them shouted at me and asked what I knew about the Sri Lankan economy. They catcalled me throughout and wanted me to sit down. After they were done I told them that the person they were paying 'pooja' to ( Basil Rajapaksa) is carrying a US passport. I asked them what they were trying to do because they were paying pooja to someone who was fooling the people with a national dress and a Satakaya. I don't want to wear the national dress and fool the people. But we are true to what we are doing: we are committed to what we are doing: we are calling it as we see it and we are doing things that will benefit Sri Lanka. We are going to become a player in the global market place. That is the only way we can sustainably take this country forward.