Health and Health Sector Development
The President proposed to set up radio-iodine treatment and radiotherapy units at Jaffna, Kandy, Kurunegala, Badulla, Anuradhapura and Galle hospitals to reduce the waiting list of patients for such treatment at the Maharagama Cancer Hospital from three and a half years to less than six months.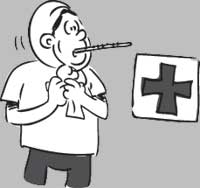 Facilities to provide medicare to kidney patients availing sufficient doctors and medicine will also be provided on an accelerated basis. Preventive care against kidney diseases will also be taken through the provision of safe drinking water to all on an urgent basis, through awareness champagnes to prompt farmers to move away from the use of chemical fertilizer and pesticides and by promoting the consumption of unprocessed food more favourable for consumption.

It was proposed to allocate Rs. 900 million to provide Reverse Osmosis (RO) water purification plants to villages in the North Central Province in which access to quality pipe borne water is not available. This is in order to prevent waterborne diseases.

It has been planned to provide an additional allocation of Rs. 2,000 million in 2014 for the development of cost effective infrastructure facilities to deal with non- communicable diseases during the 2014 -16 Medium Term Budget Framework.
Rs. 1,000 million has been allocated for the accelerated modernization of the two national children's hospitals as centers of excellence capable of providing the next 10 year pediatric care needs of our country and the related medical research facilities.

The President said that he was encouraged that the People's Republic of China has extended an outright grant to develop the OPD treatment and ancillary facilities of these 3 hospitals at a cost of around US$ 180 million. I propose to provide additional provisions in 2014 and 2015 to accommodate this grant aid for the development of health services in the country

President said there has been an increase in the number of medical specialists to 1,500 through an increase in the number of doctors and medical researchers with postgraduate qualifications. Our strategy is to double the number, so that every 100,000 of the population will have 11 Specialist Doctors.
A proposal was made to allocate Rs. 2,500 million to build a state—of-the-art Post Graduate Institute of Medicine over the next 3 years

It was proposed to give priority to increase medical specialists capable of treating kidney ailments, malnutrition and similar contemporary challenges in our society. I also propose to grant a monthly Intern Allowance of Rs.750 for medical interns engaged in hospital services and a Research Allowance for medical professionals to encourage them to engage in internationally recognized research and professional development initiatives.