---
A wide cross section of society, from professional groups right down to farmers, resists the budget with vigour. Yet, it was approved with a two-thirds majority after its Second Reading in Parliament.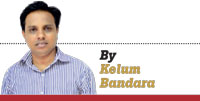 Now, the 2016 budget has been referred to the Committee Stage of the House for debate till its final vote on December 19. As things stand at the moment, a strong build-up is visible against the budgetary provisions, even with private bus operators threatening to launch a strike countrywide next Monday. Also, trade unions in various sectors have flexed their muscles.
However, Finance Minister Ravi Karunanayake has toughened his stand that the original proposals cannot be amended, for it would throw the entire budget out of gear. The only amendment, being contemplated by him, is to extend the fertilizer subsidy to fruit and vegetable growers at non-commercial level. Undoubtedly, the budget will have its passage through Parliament given the comfortable majority enjoyed by the joint government of the United National Party (UNP) and the Sri Lanka Freedom Party (SLFP). Yet, it will not be receptive to the general public as such due to lack of concessions and welfare measures, albeit it has envisioned reforms for long term economic targets.

In that sense, the budget takes the form of a concept paper, containing certain proposals even advocated by the Committee of Public Enterprises (COPE) in Parliament during the previous rule. The proposal to amalgamate some loss-making State institutions with others is one of them. The proposal to reform the State institutions on a Singaporean model can be justified under the UNP's economic vision, but unaccepted under the SLFP viewpoint.
SLFP MPs, who are not party to the National Government, are in a dire predicament in Parliament as they do not have the numerical strength to prevail upon the government to modify the budgetary proposals as they wish. These MPs, acting obviously under the leadership of former President Mahinda Rajapaksa, have now decided to write to Speaker Karu Jayasuriya asking for recognition of them as a formal Opposition entity.
They alleged that they were subjected to injustice in the allotment of time in Parliament during debates while the party MPs, serving in the government, were favoured.

Denial of time and space in Parliament, as alleged by them, does not bode well for maintaining normality in the country. It is because they, in such an eventuality, tend to resort to street political activities in the form of protests marches, rallies and sit-in campaigns. Already, clear signs have emerged, indicative of this trend.
"We do not get enough time to speak in Parliament. So, we will resort to some other means to fight for our rights outside Parliament," SLFP MP Bandula Gunawardane said.

SLFP Ministers also unhappy with budget


Alongside, SLFP MPs, who hold positions in the government, are also unhappy about key budgetary provisions. These Ministers and Deputy Ministers had a discussion in the parliamentary complex on Tuesday and decided to engage further with the President and the UNP leadership, seeking alterations to the budget. President Sirisena also attended parliamentary sessions for the last few days, and even had his meals together with others. During such informal luncheon interactions, some SLFP MPs expressed concern about the budget, and sought his intervention to address the matter. At one point, the President is reported to have said that he was also not in total agreement with some of the matters proposed in the budget for the next year.

Manusha contemplates crossover?
SLFP MP for the Galle district Manusha Nanayakkara had a chit chat with Deputy Disaster Management Minister Dunesh Gankanda and UNP MP S.M.Marikkar in the members' canteen of Parliament. MP Nanayakkara, who is seen as a loyalist of former President Mahinda Rajapaksa, and was a politician much talked about in political circles. It was rumoured that he was planning to team up with the government. During the friendly talk, Mr. Gankanda raised this query.

"Is it true that you are planning to join the government?" asked Gankanda.
Mr. Nanayakkara remained silent, but it gave scope for the two others to interpret his move.
In the meantime, Mr. Nanayakkara attended the meeting conducted by the joint opposition in Parliament. This time, the question was directed at him by former Sports Minister Mahindananda Aluthgamage. At that moment, he scotched speculation about his planned crossover.
After the formation of the National Government, there was a vote in Parliament to approve its Cabinet size, as provided in the Constitution. The joint opposition boycotted the vote as a mark of protest. But, Mr. Nanayakkara supported it. Also, on a later occasion in the House, he tried to get involved in cross talks across the divide on the Avant Garde Security Firm and matters associated with it. He sought time to speak on it as an MP from Galle where a ship belonging to this firm had been docked.

Then, he was shot down by Prime Minister Ranil Wickremesinghe who said there were those who unsuccessfully tried to secure a Cabinet post. It was an obvious reference to Mr. Nanayakkara at that time.

Mahindananda lifts Buddika
Mr. Aluthgamage, in a corridor of the parliamentary complex, ran to UNP MP Buddika Pathirane, and embraced him jovially. Afterwards, he lifted Mr. Pathirane up in his arms as if he were a child. It provided much amusement to those present at that place. Mr. Pathirane is the shortest MP. He pleaded with Mr. Aluthgamage to place him down, without embarrassing him.

President reconciles Akila and Dayasiri
President Sirisena, Sports Minister Dayasiri Jayasekara and Education Minister Akila Viraj Kariyawasam were invited for a prize giving at Maliyadeva Girls' College in Kurunegala. They discussed it in the parliamentary complex while having lunch, and decided to travel by air on the day concerned. But, the helicopter could not take off due to the inclement weather that prevailed at the time. So, they had to travel by road in a vehicle convoy from Colombo. Mr. Kariyawasam and Mr. Jayasekara are arch political rivals in the Kurunegala district, and most of the time, they were not on talking terms.
Nonetheless, they were compelled to converse with each other as they boarded the same vehicle to travel to Kurunegala. On the way, they had a friendly chat. In political circles, it drew the attention of many, and the President was credited with uniting the duo. It is a foregone conclusion that there are no permanent enemies or friends in politics. It is very true in Sri Lanka's context.

MR back in the fray
Former President Mahinda Rajapaksa kept himself aloof from mainstream political activities after the defeat at the General Elections in August, this year. He was elected to Parliament, but has participated in a debate only once since then. He made comments to the media on occasions, but stayed away from major political activities. However, he has now decided to take part in active politics. For the first time, he attended the regular meeting of the joint opposition at the residence of former External Affairs Minister Prof. G.L. Peiris on Tuesday.

What transpired at the meeting was not available for media in great detail. But, it is learnt that the joint opposition, combining a section of Sri Lanka Freedom Party (SLFP), has discussed at great length that there was a dire threat to national security due to the release of LTTE suspects. So, it decided to accelerate its political activities under the leadership of Mr. Rajapaksa, and go all out against any act that, in its opinion, jeopardizes national security.
Former Defence Secretary Gotabhaya Rajapaksa also addressed a public seminar on the matter, and said the efforts made to rid the country of terrorism, would be of no avail if the hardcore LTTE cadres were released. He said the organizations that were de-proscribed, were involved in fund raising for the creation of Tamil Eelam.

In the meantime, Prof. Peiris addressed a seminar organized by professionals in Anuradhapura during the past weekend, and dealt with the same subject.
"There is a serious concern about security in that area," he said. After that, he met leading Buddhist monks in Anuradhapura.
However, the government leaders repeatedly say that de-proscription was done after a proper and professional analysis of intelligence information, and therefore it will not pose any security threat. Instead, they say it will help build much needed reconciliation in the country.
Rehabilitation, Resettlement and Prison Reforms Minister D.M. Swaminathan said none of the LTTE suspects, facing serious charges of terrorist activities, would be released at all. He said only those detained for a long time without charges would be considered for a pardon.

TNA-controlled NPC collects funds for Tamil Nadu flood victims
The Tamil National Alliance (TNA)-controlled Northern Provincial Council has opened up a bank account seeking public contributions to assist flood victims of Tamil Nadu. Council's Chairman C.V.K. Sivagnanam said a few persons had already deposited some money, bound for Chennai through the High Commission of India in Colombo.

"We make this contribution as a token of our assistance to those victims," he said.
The National Audit Commission has been set up for the first time in Sri Lanka under the 19th Amendment to the Constitution. Like other commissions introduced for the first time, this one is also grappling with shortcomings at the moment.

New Independent Commissions grapple with shortcomings
Recently, the Constitutional Council (CC), which nominates members to the independent commissions, had a meeting with the members of the National Audit Commission to discuss its roles and functions. But, it was found that there was no permanent building to carry out its work. Nor, had the budgetary allocation been made this time. Speaker Karu Jayasuriya , as the head of CC, decided to look into ways and means to address such concerns of the newly established commissions.

The National De-limitation and Election Commissions have also encountered similar issues in their operations. Fresh legislations are proposed to be worked out to sort them out.