---
By Ameen Izzadeen
The United States Secretary of State, Hillary Clinton, during her recent eight-day visit to Asia was acting more like a matron than the chief diplomat of her country. Her aim, obviously, was to thrust a US-centric world view The United States Secretary of State, Hillary Clinton, during her recent eight-day visit to Asia was acting more like a matron than the chief diplomat of her country. Her aim, obviously, was to thrust a US-centric world view -- that serves the US interest -- on the countries she visited

Her matron-like behaviour was evident when she advised Bangladesh's rival political leaders that they sort out their problems and urged the government not to harass Muhammad Yunus, the pioneer of Grameen microcredit Bank which has helped millions of poor Bangladeshis.
Bangladesh annoyed

On Tuesday, Bangladesh Finance Minister A.M.A. Muhith hit out at Clinton saying her comments, particularly those on Yunus, were unwarranted. He told a news conference that regardless of what Clinton had said, the Bangladesh government would not change its position regarding Grameen Bank, Yunus' Nobel prize-winning project, models of which have been adopted by many developing nations as a poverty-alleviation measure.

Last year, the government of Sheikh Haseena Wajed removed Yunus from the Grameen Bank's board in a shocking move which many analysts saw as a pre-emptive action to stall the 70-year-old social justice activist's possible entry into politics.

After meeting Yunus in Dhaka, Clinton told journalists on Sunday, "I highly respect Muhammad Yunus and I highly respect the work that he has done and I am hoping to see it continue without being in any way undermined or affected by any government action."

The controversy over the removal of Yunus is a matter for Bangladesh and its people to decide. Bangladesh has a powerful and independent judiciary and Yunus and his supporters have appealed against a High Court decision which in a March ruling upheld the government's right to remove him and the grounds on which he was removed.

Against this backdrop, especially when the matter is before an appellate court, Clinton's remarks were certainly unwarranted and amounted to interference in Bangladesh's internal affairs. Her remarks also underscore that meddling in other countries' internal affairs is part and parcel of US diplomacy.

Surely, no leader visiting the United States will call on the Barack Obama administration to change the law that has disenfranchised hundreds of thousands people, especially African Americans, because they have served jail terms. Won't the Americans consider interference in their internal affairs if a visiting head of state tells Obama to dismantle the Guantanamo torture and detention centre? What other countries consider as diplomatically uncivilized behavior is apparently a norm in US diplomacy. Surely, Clinton's interference in Bangladeshi politics was neither a part of the Responsibility-to-Protect doctrine nor a humanitarian intervention in terms of international law.

India told what to do

Such meddling was also evident when on Monday in India she told government leaders there that they should stop buying oil from Iran. India's oil imports from Iran account for 12 percent of its fuel requirement. Stopping imports from Iran would seriously affect India's economic progress. In talks with Prime Minister Manmohan Singh and Congress Party leader Sonia Gandhi, Clinton warned that the United States might not grant an exemption to India from financial sanctions if it continued to import oil from Iran.

When the United States announced its sanctions on Iran last year, India took a defiant stance saying it would only respect sanctions imposed by the United Nations and definitely not those imposed by individual countries. India and Iran subsequently agreed to continue their oil deals with payments being made in India rupees.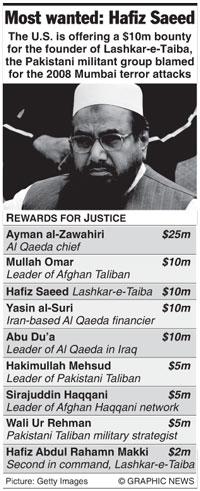 But on Monday, Clinton was insisting that India comply with US sanctions. Prime Minister Singh responded by saying that India's energy deals were linked to its national interest.
India and China were among the countries that demanded exemptions from the United States claiming that compliance with the US sanctions would hurt their economies. But Washington refused to grant the exemption.

But it appears that India now takes the US warning seriously. Reports indicate that New Delhi has already begun to cut down on oil imports from Iran – a move which may please Washington.

India was, however, seen performing a balancing act last week. This was because the Clinton visit came at a time when an Iranian trade delegation was in New Delhi, meeting top Indian business leaders and offering them lucrative deals specifically designed to circumvent the harmful effects of the US sanctions.

India is obviously weighing the pros and cons of its relations with the US and Iran. India's relations with Iran cannot be underestimated, given India's strategy to strengthen its foothold in Afghanistan and broaden trade with Central Asia.

With uncertainty looming in Afghanistan where India has some two dozen consulates that add to the security worries of Pakistan, Iranian ports lying west of India across the ocean are the outlets through which India could send supplies to that country and export its goods to Central Asia. This strategic route become all the more importance given India's many road-building projects in Afghanistan and its close military ties with the Kabul regime.
Barkha Dutt bowls

Although Indian leaders were not perturbed by Clinton's matron-like diplomacy, in the blogspot, the US Secretary General came under heavy fire, with some describing her as Aunty Clinton for her dictatorial diplomacy, a part of which was evident when she addressed a town-hall style gathering in Kolkata.
Addressing the Kolkata show conducted and broadcast live by the NDTV, Clinton played to the gallery or, to use cricketing parlance, played her shots to the field set by Barkha Dutt. India's most famous television journalist handled Clinton in such a way that she got the Secretary of State to say what the Indians wanted to hear from her.

There, Clinton had a tough message or two for Pakistan. She said the present al-Qaeda leader, Ayman al-Zawahiri, was hiding in Pakistan and Islamabad was not doing enough in the war on terror. She was probably unaware that nine Pakistani soldiers were captured and beheaded by Taliban militants almost at the same time she was making these comments. Nearly 10,000 Pakistani soldiers have died in the war on terror which began in October 2001.

The war, imposed on Pakistan, has also claimed the lives of some 30,000 Pakistani civilians. Yet Clinton says the country has not done enough.

Probably, she wanted Pakistan to open the supply routes to Afghanistan. Pakistan closed the the routes in November last year following countrywide angry protests that erupted after 28 Pakistani soldiers were killed in a US attack on a border post.

Clinton's charge that Pakistan was not doing enough was not new. In the past, US politicians, diplomats and military leaders have said it. Pakistan has responded by pointing to its sacrifices and countercharged that NATO troops and the Afghan government have not done enough to ensure the border security. However, it is the US allegations that get more display in the world media.

In another Pakistan-bashing-and-India-pleasing remark, Clinton called on Islamabad to arrest Jamaat-ud-Da'wah leader Hafez al-Saeed, the alleged mastermind of the Mumbai terror attacks on November 26, 2008. Saeed was also the leader of the banned Lakshar-e-Tayyiba, a militant group dedicated to the liberation of Kashmir. To make India happy, the US last month announced a bounty of $10 million on Saeed, for his alleged role in the Mumbai attacks.

Whatever disagreements India may have had with the United States over Iran sanctions, the Clinton TV show in Kolkata highlighted the growing strategic partnership between the United States and India. The two countries think and act alike when it comes to Islamic militancy, the war on terror, Afghanistan and moves aimed at checking China's growing military power. There is also congruence in their Myanmar policies. Besides, the US was also pleased to note India's support for the resolution against Sri Lanka at the Untied Nations Human Rights Council in Geneva in March.

In the final analysis after all the deductions, India and the US are strategic partners. The gains are more for the two countries if they stand together.