---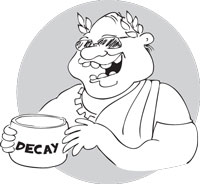 This may be a question most Sri Lankans find absurd with the end of the war in 2009. But the enlightened citizens, we hope, will grasp the gravity of it.

For those who find the question absurd—a beautifully designed walking path through nicely trimmed grass lit by solar panels could be an incubator to a decaying society, as much as a two-and-half-decade-old war that was marked by blood and unimaginable suffering.

Rape, murder, embezzling of money, abuse of power, corruption, nepotism, racism, religious extremism, lack of governance and rule of law, income inequality and white collar crimes have seen a visible rise, threatening the peace achieved after years of bloodshed. This does not mean that these vicissitudes did not exist earlier when we mostly heard of bombs, bullets and blood.

But now, the newspapers are full of highly disturbing stories of drug trafficking by high profile personalities, sex scandals and rape, involving local politicos.

It was recently revealed that the education sector was the most corrupt in Sri Lanka, which is closely followed by the Police Department. There is no doubt about it, when it is a public secret that most principals and high-ranking officials in popular schools take all kinds of bribes when enrolling children to their schools.

In the same way, the manner in which the law is applied by the Police depends on the persons involved in a crime or other misdeed. For most people lodging a complaint at a Police station has become quite dismal as there is doubt whether the Police would take note of your complaint, unless some influential person pushes it. Thus the confidence in law and order among the general public seems to be on a decline. Such a loss of faith in law and order is quite serious as it weakens the very foundations of a society.

Meanwhile, glaring income inequality is also increasingly becoming an issue that could shake the stability of the society. This is in light of a deal-making culture which has emerged in the recent past, paving the way for a set of crony capitalists to come into existence, who have made their money not by any productive enterprise or service but merely through profitable deals.

In such a backdrop it is disturbing that the authorities, without addressing the real issues faced by the common man have resorted to festivals and tamashas to distract public attention. It should be recalled that during the period of the decline of the Roman Empire, mainly due to economic inequality, the Roman rulers resorted to festivals such as gladiator fights to divert the attention of the people from their day-to-day problems.
---
---
Add comment

Comments will be edited (grammar, spelling and slang) and authorized at the discretion of Daily Mirror online. The website also has the right not to publish selected comments.

---