---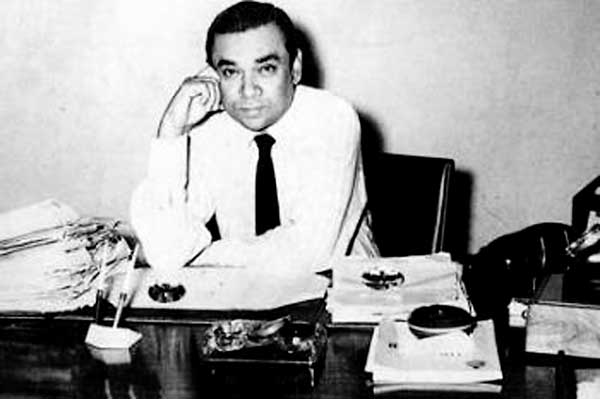 86th birth anniversary of Mervyn De Silva on September 5th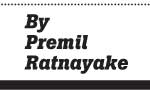 "…He was the feared outsider - he was almost left to languish in a set-up monopolized by Tarzie Vittachi and Denzil Peiris. To them Mervyn was the dangerous concealed material that should not be allowed to explode. For Mervyn was an intellectual thinking alone - even in intellectualism he was a loner."


When Mervyn de Silva died a few years ago we lost one of the finest journalists of our times, a brilliant product of Lake House,a puckish satirist, the Art Buchwald of Sri Lanka. He was a unique editor, unobtrusive, hardly getting out of the editor's room, leaving the rest of the work of producing the newspaper to others who had been assigned to do their particular jobs - he had immense faith and confidence in his men.

Mervyn was a loner ("I don't hunt in packs" - his motto); he preferred to drink alone and eat alone - except when he took his wife Lakshmi and little son Dayan to dine out, which was quite often.

If Clarence Fernando's humour was loudly overt, Mervyn's was almost mutely covert and subtle. His satirical pieces under the pseudonyms Daedalus and'The Outsider' were classics. In the Observer he was the feared outsider - he was almost left to languish in a setup monopolized by Tarzie Vittachi and Denzil Peiris. To them Mervyn was the dangerous concealed material that should not be allowed to explode. For Mervyn was an intellectual thinking alone - even in intellectualism he was a loner.





Cold Storage Syndrome Ends


The cold storage syndrome ended in 1970 when Mrs. Bandaranaike was swept to power with a massive two-thirds majority. Mervyn was appointed Editor, Daily News and Ernest Corea was sent to the Observer. Ernest Corea took his gang of followers with him to the Observer; Mervyn brought Clarence Fernando to the Daily News which was a brilliant coup in newspaperism. For, "Clarry Bua" became Mervyn's deputy and the man who virtually ran the Daily News show.
When Mervyn took over there was a sigh of relief everywhere in the Daily News. Finally a man with no prejudices and no one-upmanship had come to take over the Daily News. In addition to the editorship Mervyn was made a Director of Lake House. That was a singular achievement.

I remember Mervyn's first day in office as Editor, CDN. He had just finished his first editorial on his portable. He was pacing about in the editorial; he seemed nervous. He was biting his nails. He had titled his first editorial CREDO, a superb essay in journalism. In it he had categorically written that from that day on Daily News would accord top priority to truth. After the first edition hit the streets, Lake House Chairman Ranjit Wijewardena telephoned the news desk. I was the night reporter. Wijewardena who never interfered in the editorial work as far as the content of the Daily News was concerned wanted a slight change made in the 'Credo' editorial - from that day on 'should be substituted with 'always' - insinuating that the Daily News had always believed in the truth and followed it. I had a rather delicate job on my hands. I had to track down Mervyn at that late hour.

I finally managed to locate him at the Capri. Mervyn had no reservations. He told me to do the correction which I did. Neither Wijewardena nor Mervyn talked about it later.

Mervyn came to office very early in the morning driven to work by wife Lakshmi. In the editor's room Dennis Vandebona, Mervyn's steno plus secretary was waiting seated at the typewriter. Mervyn lit a cigarette and began dictating the next day's editorial. Vandebona was a first rate typist, the best steno I had known at Lake House. Mervyn was fast in his dictation rattling off words common and uncommon, but Vandebona was equal in his speed.

No sooner Mervyn finished off a sentence than Dennis Vandebona had it all on the typewriter sheet. Then the two took a break, Mervyn to attend to some paper work or use the telephone, and Vandebona to sneak out for a smoke. Dennis had the quaint habit of smoking cigarettes in halves - he broke the cigarette in half and smoked. We wondered whether he did it to catch up fast on the typing - no; neither was he being frugal, stingy or thrifty - it was just a habit.

By noon the editorial was done and Mervyn took off to the Taprobane for his beer. Often he was joined by the SLFP political stalwart Hema Dabare who hung around the hotel to work out his clandestine business deals. Mervyn had no dealings with the dealer but only shared a drink with him.
Hema was known among friends as Dr. Dabare and when once he got a real doctor to stand him six straight whisky shots over a deal Mervyn said puckishly "Our own doctor extracted from the real doctor his quota of whisky." After the noon beer Mervyn lunched somewhere in the Fort alone and returned to office only in the night. By then the Daily News had been put to bed.





A Literary Giant


Mervyn was a literary giant. He knew his art and profession so well that no journalist would challenge him. Yet he did not seek the company of the hybrids. Occasionally he used to come over to me while I was typing and whisper in my ear: "Come to the Press Club for a drink." I had to obey him, he was my editor but I knew that Clarry would be mad because it was press time. At Simeon's Press Club which was at the Galle Face Hotel and where the present Indian High Commission is located, we drank beer and talked - Mervyn doing most of the talking.

When I returned to the desk Clarry Bua, I knew, was gritting his teeth, but he did not throw a fit, perhaps because he knew I had gone out with the editor. But on another occasion he went into a rage when Gamini Weerakoon (who later became the Editor of Island), Ranjit Peiris, the irrepressible bundle of mischief, a bomb of a journalist, son of the late illustrious editor Denzil Peiris and I popped in at the Hotel Taprobane during the crucial, 'press time' for a binge. Binge it was going to be because our host was Ranjit who had just drawn a mighty festival advance.


---
Mervyn used to contribute to the Daily News articles on foreign affairs --he was an acknowledged expert on the subject. Fred de Silva perhaps over intoxicated in his new post 'killed' them and did not publish a single article.Gratitude in its most perverted form!
---


Ranjit was perennially broke but thrust few bucks in his palm he would transform into a rich Indian Prince Ranjitsinhji. That was the rich atmosphere at the Tap while the three of us were imbibing double-distilled arrack. Then we were taken unawares. Mervyn walked in with his friend Nimal Karunatilleke, former MP for Matale the first MEP candidate to be announced victorious at the historic '56 general election. Nimal was also a journalist.

Mervyn is about to order drinks - we were all now seated on bar stools - but Ranjit interrupts and drawls in his high accent (it was not phoney, his was a trained and cultivated voice) "allow us, please Mervyn," and then orders a double whiskey for Mervyn and arrack for Nimal. The whiskey was expensive but Ranjit was happy to order our editor the drink he loved. The three of us - Ranjit, Gamma and I - were going high and perhaps sensing this Mervyn warned: "Drink but don't get drunk." We were drunk anyway as we trooped out of Taprobane after Mervyn left with Nimal.

On the following day there was hell to play: furious at our malingering Clarry Bua sent us curt notes calling explanation on our unauthorized absence from office at peak press time. We sat down to write down our explanations when Mervyn arrived and laughingly asked: "Hey, where did you fellows go after the binge? Did Ranjit bust his entire festival advance?"

Clarry was listening. And after Mervyn left he snatched his notes from us and shredding them to bits, cursed: "How could you run this place when the Editor himself boozes with my reporters!" Bua was not laughing this time around, but we sniggered to ourselves quietly.

Then there was calamity in the Daily News. Fred de Silva, a senior deputy editor was jailed for contempt of court. Mervyn was abroad and Clarence was acting for him. In a miscellaneous column Fred wrote a piece titled 'Dress Sense' which was found to be derogatory of the Criminal Justice Commission set up by the then Justice Minister Felix Dias Bandaranaike. Fred de Silva was hauled before the CJC, was found guilty of contempt and sentenced to a month's hard labour.

Lake House provided him with everything in jail. Fred, a meticulous man and epicurean always ate at Pagoda Hotel in the Fort. So Pagoda provided Fred's meals in prison. Fred smoked only Ardath cigarettes and when George Mason, Lake House Legal Officer and leader writer of the Daily News sent him a carton of cigarettes of another brand, Fred promptly returned it.

He was provided with a portable and seemingly the stubborn man (he had refused to make a full apology to the CJC) was enjoying his stay behind bars.
Then Mervyn returned and distressed by the incarceration of his friend drove direct from the airport to the residence of Felix Dias Bandaranaike (Felix was Mervyn's pal) to appeal on behalf of Fred.





Back to Cold Storage


Minister Bandaranaike wanted a specific and genuine expression of contribution from Fred. Mervyn got a document prepared and rushed to Fred in jail and after great persuasion got Fred to sign the letter of contribution. Fred was released. Then another calamity struck the Daily News. Suddenly Lake House Chairman A. K. Premadasa removed Mervyn from Daily News editorship, made Fred the editor and shoved Mervyn again to cold storage.

Mervyn used to contribute to the Daily News articles on foreign affairs --he was an acknowledged expert on the subject. Fred de Silva perhaps over intoxicated in his new post 'killed' them and did not publish a single article.Gratitude in its most perverted form!

Suddenly Mervyn was sacked but within 24 hours the Times Group, which apparently valued his journalism more than Lake House invited him to be their Editor-in-Chief. Mervyn did work for a while at the Times but the Times was doddering and after a while it collapsed.





Finest Articles


Mervyn bade good-bye to all newspaper institutions and started his own monthly magazine Lanka Guardian.

It was tough to run an independent magazine with limited resources. The Lanka Guardian carried some of the finest articles in the history of journalism. But commercially it could not sustain itself. Mervyn handed it over to his son, Dayan. Mervyn was a disillusioned man and he died leaving a big void in our field of writing and newspaperism.

(This article by the late Premil Ratnayake originally appeared in the Daily News on Jan 5th 2010 in the series 'Premil Ratnayaka Reminisces: Lake House Then and Now'.)