---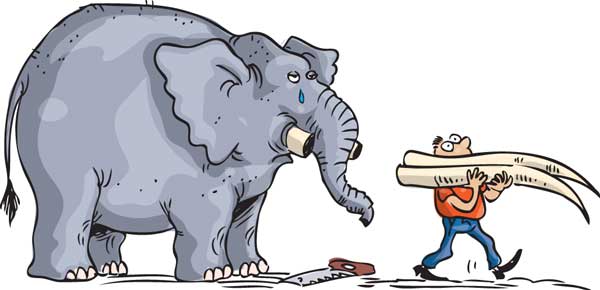 D

uring the former regime, Sri Lanka earned worldwide notoriety for the multi-million dollar plunder and pillage of public wealth and resources by leading politicians, officials and their stooges.
Tomorrow Sri Lanka will earn worldwide fame, when for the first time in Asia, if not the world, full State honours are given to majestic tuskers that are believed to have been slaughtered in Tanzania and their 359 tusks that were seized at the Colombo Port, while they were being smuggled, probably to China, through Kenya and Dubai.

President Maithripala Sirisena, Prime Minister Ranil Wickremesinghe, Wildlife Conservation Minister Gamini Jayawickrama Perera, other VIPS and thousands of people including schoolchildren are expected to attend this historic Galle Face Green ceremony starting at 10 a.m. tomorrow.
Elephants and especially the majestic tuskers have for centuries been part of Sri Lanka's culture, with the tuskers carrying sacred Buddha relics at the spectacular Kandy Perahera, the Kelaniya, Kataragama and other Peraheras.

These tusks and some other tusks recovered from slaughtered Lankan elephants will be crushed to pieces with the help of a high-powered machine donated by a gas company. The pieces will then be taken to the Puttalam cement factory, where they will be burnt in an incinerator and the ashes thrown in to the sea. There will be tight security for the whole mission with armed services and Special Task Force personnel also being called in.

Stamps will be issued at the Galle Face Green and among the special foreign guests will be John E. Scanlon, Secretary General of Convention on International Trade in Endangered Species (CITES). Thousands of leaflets appealing to the people to avoid causing cruelty to animals will also be distributed among the gathering, while pirith chanting will be conducted by Buddhist monks with prayers by representatives of other religions also.

Former Customs Deputy Director Samantha Gunasekara, the official who set up the Customs' Biodiversity Protection Unit (BPU), said the tusks were seized at the Colombo Port in 2012. Sri Lanka wildlife protection groups alleged that rogue politicians and officials at that time had tried to grab these priceless treasures but the Customs had managed to keep them safely for tomorrow's ceremony, which coincides with International Customs Day. Customs Chief Chulananda Perera will also be present.

According to international media reports, poachers are now slaughtering up to 35,000 of the estimated 500,000 African elephants every year for their tusks. A single male elephant's two tusks can weigh more than 250 pounds, with a pound of ivory fetching as much as US$1,500 (About Rs. 21,750,000) on the black market. The ivory is so valuable because all across Asia — particularly in China — ivory figurines are given as traditional gifts, and ivory chopsticks, hair ornaments, and jewellery are highly prized luxuries.

"China regards ivory as a cultural heritage; they are not going to ban it," said Grace Gabriel of the International Fund for Animal Welfare. Many Chinese consumers don't realise that elephants must be killed for their ivory; in one survey, more than two thirds of Chinese respondents said they thought tusks grew back like fingernails.

Some wildlife protection movements say that terrorist groups like Boko Haram are also making millions of dollars from the smuggling of elephant tusks. Therefore to support this in any way would amount to supporting savage terrorism and in any event on spiritual and moral grounds, the cutting of elephants' tusks and the slaughter of this wonderful animal amount to an act of terrorism.

While performing this noble deed tomorrow, the national government also needs to take tough action to stop the slaughter of elephants and the sale of the tusks. Before January last year there were also reports that some in the rich and ruling elite have bought or captured elephants illegally and were using them as domestic pets in a disgraceful act that smacks of the abuse of wealth.

We hope that tomorrow's landmark event, a rumble from the jungle, will inspire Sri Lanka's people including our leaders and officials to realise that protecting our elephants needs to be part of the battle to save the environment and mother nature.
---
Add comment

Comments will be edited (grammar, spelling and slang) and authorized at the discretion of Daily Mirror online. The website also has the right not to publish selected comments.

---