---
Medical professionals opine that this exam adversely affects children's mental health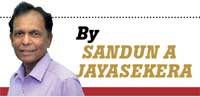 At a time, when the Education Ministry is toying with the idea to abolish the Grade V scholarship and conduct it at Grade VIII to alleviate young students from unnecessary mental pressure, a study conducted by two medical professionals says that latest research shows Grade V scholarship examination adversely affects children's mental health

The three months study conducted by Dr. Dimuth Peiris, Registrar, Community Medicine, Post Graduate Institute of Medicine (PGIM) under the supervision and guidance of Dr. Kapila Jayaratne (MBBS, MSc, DCH, MD) Consultant Community Physician, National Programme Manager, Maternal, Child Health and Mortality Surveillance, at the Family Health Bureau of the Ministry of Health finds that Grade five scholarship examination has reached a level where it decides the future of a child, while it causes severe stress among children and has caused hindrance to the growth of the child.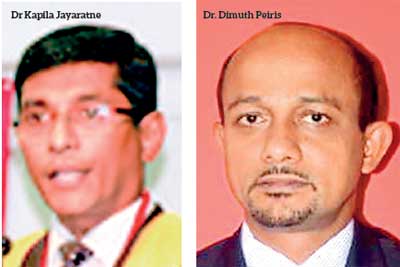 To look into this matter, in the year 2013, just before the grade five scholarship examination during July and August, the research was carried out among grade five students in 12 schools in Moratuwa.

Moratuwa was selected for this study as it is a highly populated commercial town with cultural variation. As there are 31 schools in Moratuwa and the level of these schools differ from each other also contributed for the selection of this town.

To assess the mental health status of children, a questionnaire which has been developed by several consultant psychiatrists and used in several developed countries was used. This questionnaire had been used among Sri Lankan children even in the past. This questionnaire comprises of three questionnaires namely student, parent and teacher questionnaires and mental health status can be calculated according to each respondent as well as a combined effect of all respondents.

The previous researches carried out in Sri Lanka, had used only the student response questionnaire but in this research all three questionnaires were used.

At the data analysis the 557 children who participated in the research were categorized as 'Children likely to develop unsatisfactory mental health status' and 'Children unlikely to develop unsatisfactory mental health status".

Out of all children participated, 24.8% of children fell in to the likely category according to the student response and the percentages according to the parents and teachers were 29.1% and 33.9% respectively. When all the responses of students, teachers and the parents taken together, overall percentage of "Children likely to develop unsatisfactory mental health status" was found to be 48.1%.

When considering the scholarship marks it was noticed that the marks were significantly low among those children who were likely to develop unsatisfactory mental health status and there was no difference among the two sexes.

It was also found that the children likely to develop unsatisfactory mental health status were the children whose parents had lower educational level.

It was revealed that if the parents had an opinion that their children should somehow pass this examination, there was a higher tendency that they develop unsatisfactory mental health status.

This research also revealed that the children have a higher chance of developing unsatisfactory mental health status if their parents keep on advising and reprimanding regarding studies.

It was also discovered that, as the total difficulty scores which were calculated using the questionnaires reach a higher value, the scholarship marks obtained reached a lower value.

According to this research, it was seen that the scholarship marks depend on the mental health status of the child. On the other hand the mental health status depends on the parent's education level and their attitudes and reactions towards the education of their children.

"The study, aimed at exploring whether grade five scholarship examination has an adverse effect on children's mental health was conducted in accordance to the International standard and specifications for a medical evaluation with the participation of students, teachers and parents," Dr. Jayaratne said.