---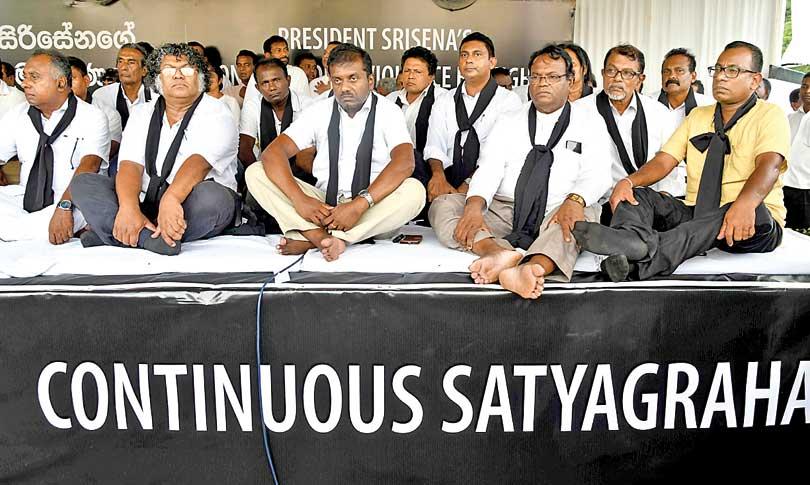 Sri Lankan pro-democracy activists sit in protest against the functioning of an illegal 51-day government which operated with the blessings of President Maithripala Sirisena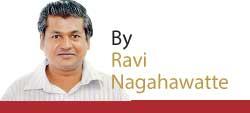 By about the end of the second year of the Yahapalana regime those voted for a change hung their heads in shame. They had already started thinking whether they had done the right thing. The much promised Executive Presidency wasn't abolished and there was enough plundering of state wealth and robbing taking place.
People who voted for a change wanted one thing; to stop the dictatorship which was making Sri Lanka a frustrated nation. The Rajapaksa family was taking all the decisions regarding the country and there was state control on everything around them, including the law, police and media. This fact is acknowledged in a piece written by Nadi Kammallaweera to the Sunday Ravaya.
So the best thing to do at that time was change the regime and check the damage being caused; not necessarily think of the credentials of the man who was coming in as the alternative.
That was right thinking in 2015, but now this writer is wondering as to how many among those who voted for Sirisena four and half years ago to initiate damage control thought that such a noble thought would become a disaster!
Sri Lankans as a habit vote for a change through impulse and without exercising rational thinking. Now we see and read in newspapers that people are demanding that the old set of lawmakers return to oust the Wickremesinghe regime; possibly believing that presidential hopeful Gotabaya Rajapaksa might be able to develop the nation and ease some of the debt commitment. But these are all just assumptions.
Sri Lankans as a habit vote for a change through impulse and without exercising rational thinking.
We assumed the same in 2010 at the presidential elections voting for Sarath Fonseka, believing that he would deliver the goods, provided he would win. Luckily for us he didn't win! And why? Because military men all over the world have taken to tormenting citizens once assuming power. There are many who genuinely say that Gotabaya is a refined man, friendly and approachable after taking to politics. But others have perceptions that this man has not presented us with enough credentials to make us believe that he would not return to his old 'military' way of thinking.
But voting for him is the only credible alternative people have because Gotabaya now has a following; largely consisting of well-to-do entrepreneurs and people representing civil organisations. The last big name to get on the podium and promote Gotabaya was one-time record holder of the highest number of Test wickets in bowling Muttiah Muralitharan.

Far removed from the truth
Given that the presidential elections would be held between November 10 and December 8 there is a mini war taking place in the social media platform promoting election candidates.
This same thing was witnessed at the time Sarath Fonseka took on Mahinda Rajapaksa at the 2010 presidential elections. These days we see Gotabaya being promoted as a man with a vision; a person who has no time to criticize other candidates. We also witness ethical and unethical attempts being made to tarnish the image of President Sirisena and UNP Leader and Premier Ranil Wickremesinghe. Gotabaya is promoted on social media as the one and only person who can save the country, but nothing is mentioned about the court cases against him nor whether the much talked about relinquishing of his citizenship in USA was confirmed by the American Authorities. There are concerns these days that about people having a tendency to follow propaganda on social media rather than confirmed news appearing on mainstream media. This is because people listen to or read what they fancy or want to hear. Such minds are not open to ideas and may be far removed from the truth.
If one reverses the clock back by four and half years and we were in a better frame of mind to take a decision to vote against the dictatorial Rajapaksa family centred regime. But right now most minds are filled with doubts because politicians who promise change have time and again let us down and proved to be untrustworthy. We have learned the hard way that no politician would change the present system available for lawmakers to enjoy parliamentary perks, steal and plunder state wealth.
This writer refers to 'we' as those who value democracy. We got that in loads during the Wickremesinghe regime. Those who belong to this group also value freedom of speech, a state that doesn't indulge in extrajudicial killings and values the right to information. We enjoyed all that and in abundance. But these benefits came to us at the expense of lapses in security, those who breach the law not being brought to book, maintaining a jumbo cabinet and plundering of state wealth. So the promoters of a Yahapalana regime must be concerned about the first phase of the 'change' in government which empowered Sirisena and then the rising of a Wickremesinghe Government. These voters chocked during a 52-day illegal regime where Sirisena brought in Mahinda Rajapaksa as the premier. Now those who voted to bring in that Yahapalana regime prefer to stay low key. This is a time where the evil reigns over the good. Those who promoted the Yahapalana regime will not be forgiven and are looked upon as those who ushered in a curse. Like in horse racing, where spectators try their luck at betting, voters backed Sirisena, but he proved incompetent in taking those 'executive' decisions. Yahapalana promoters believe in one thing and that is good triumphing over evil. One evil was defeated after the regime change, but the good that was anticipated never arrived. We've waited far too long and now the clock ticks away towards another presidential election. This wait for a solid candidate to arrive is making us depressing like the wet weather these days. Will the Yahapalana promoters have the patience of vultures?