---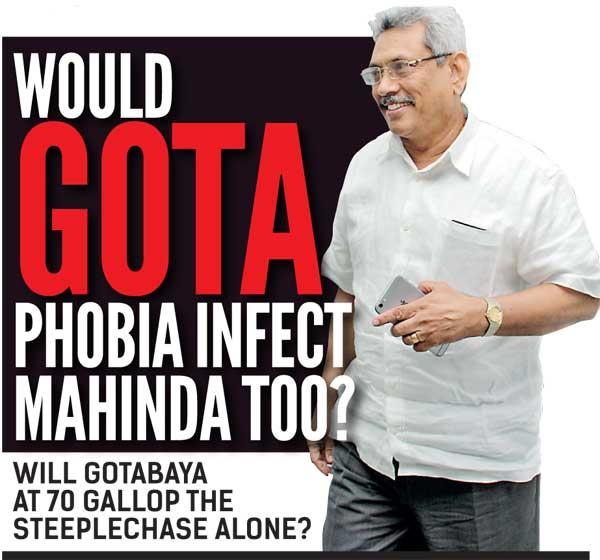 The name Nandasena Gotabaya Rajapaksa has been pestering and annoying the ruling party for a long time; the unexplained procrastination of naming the obvious choice by the brother is puzzling. Did Gotabaya Rajapaksa jump-the-gun when he announced three months ago his intention to run for the top post even before receiving the blessings of the party or family top-order? It is obvious that he expected to gallop on a racecourse with a smooth surface having no ditches and hedges as jumps. Can the former Defence Secretary expect a quality, consistent going, where he could perform to optimum level, but with a few 'Swords of Damocles' dangling above his neck?
A Hidden Truth in Things Funny-
"When a thing is funny, search it carefully for a hidden truth" -- George Bernard Shaw
Mahinda, the most popular leader in the island, clearly states that the decision on who contests will be his and his alone. Former Minister and Mahinda loyalist Kumara Welgama believes that the two-times President could contest again by seeking a ruling from the Supreme Court on this issue or by handing over nomination as a candidate and then go to courts for a favourable judgment from the SC; a gamble that sounds stupid.
On his arrival at the BIA from USA a couple of months ago, Gotabaya declared that all necessary steps essential to relinquish his American citizenship had been successfully fulfilled during his short stay in America. Speaking to the media he said, "I was in the US to take necessary steps to get my US citizenship renounced and to meet lawyers in this regard. I concluded all procedures needed for that successfully. However, I will have to get it done from here." Gotabaya has to relinquish his US citizenship to be able to contest the presidential elections due in Nov/Dec. "Once the embassy authorities at this end call me, I will surrender necessary papers to get it renounced." The situation remains the same.
Gotabaya, the dual US Sri Lankan citizen, who was on holiday in California, was formally served with notice to appear in a civil damages case in California filed by International Truth and Justice Project through US law firm Hausfeld. A complain was made by Canadian citizen Roy Samathanam, who claimed to be a Tamil torture survivor.
Dual citizenship and Civil Lawsuits
Samathanam was alleged to have detained in Colombo in September 2007 by TID, who worked directly under Gotabaya. Samathanam won a compensation ruling by a UNHRC case in 2016, but the Government of Sri Lanka has failed to pay compensation, it was alleged. The second civil action lawsuit was filed by former Sunday Leader Editor Lasantha Wickrematunga's daughter, who seeks compensatory and punitive damages from Gotabaya for instigating and authorising the killing of her father.
Build the Nation; like Hitler Did?
The Anunayaka of the Asgiriya Chapter, Ven. Vendaruwe Upali Thera in an anusasana (Sermon) marking the 69th birthday of Gotabaya on June 20, 2018 said that he should decide whether he should be a Hitler type rule if that is what is necessary. The Thera was referring to some opponent's claims that Gotabaya would act like a Hitler. The thera suggested that if that is so he should be a Hitler and build the country. We all know that Hitler's was the worst period in the history of Germany. Hope on his 70th birthday, no well-wisher makes such contradictory statements—"build the nation; like Hitler did!"
Maithri-Ranil's higgledy-piggledy –"randu wevi yaluwevi"
Remember the brother and sister song'randu wevi yaluwevi duvapena wathu midule' by Sunil and Chandrika Siriwardene, son and daughter of musical parents Peter Siriwardene and Karunadevi of Radio Ceylon fame. We all have siblings; we understand that getting into a quarrel infrequently is normal. Sometimes siblings get into clashes as they compete with each other for other's attention or approval. The closer siblings, age-wise, the more they tend to fight. The ultimate result is the delay in nominating their Presidential Candidate.
Olive Branch ?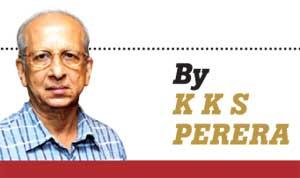 Did Ranil hold out the olive branch or someone make a peace offering in Malik's picturesque location over-looking Mahaveli's almost dry streambed with tumbling rocks and water worn stones and a few drought tolerant plants that have survived with little moisture —saying, let by-gones-be-bygones?
It was a chance meeting of country's number one and two at the controversial minister's Kandy residence following the colourful ceremony held at Malwaththa Viharaya to bestow a title of honour on UNP Deputy Leader Sajith Premadasa two months ago. Both Minister Samarawickrema and the Prime Minister declared they were pleasantly surprised to see the President.
Three alternatives
There is a strong possibility that Maithri being chosen as the Common candidate with UNF backing for a second term; or will he contest under a SLFP-Sajith group alliance making it a three-cornered fight? Another alternative is Maithri backed by Mahinda competing against Gota as the Pohottuwa nominee in another possible three-cornered battle with Ranil expecting a split in the Anti UNP vote forging-ahead like a hero from his camp, after skipping twice in 2010 and 2015?
The civil lawsuit against former Defence Secretary has been unsealed on April 15 in a District Court of California, in Los Angeles U.S. Gotabaya accuses our diplomat in California for playing a role in the secret affair; which was denied by Sri Lanka Consul General in Los Angeles, Swarna Pushpa Kanthi Gunaratne, the sister of assassinated Kolonnawa politico Bharatha Luxman Premachandra. She denied any involvement in the court action against Gotabaya Rajapaksa.
Ditches and Hedges as Jumps
19 A restricted dual citizens— now, two civil cases and more to follow can disqualify him. The lawsuit against Rajapaksa regime's strongman is seeking compensation for his alleged role in the murder of journalist Lasantha, who exposed alleged corruption by Rajapaksas. Lasantha's daughter, Ahimsa Wickramatunge filed it under her seal. The Centre for the Protection of Journalists states, "Despite a wealth of evidence pointing to accused, for over a decade, authorities in Sri Lanka have utterly failed to deliver justice in the brutal killing," continued CPJ, "…successful prosecution in a US court will finally urge Sri Lanka to follow."
According to the complaint Lasantha Wickramatunge had been killed, allegedly by men who were part of the Tripoli Platoon, operating under Gota's command—they however conveniently ignored the fact that the UNP Leaders in 2009 from opposition directly accused Gen Sarath Fonseka, Commander of the Army for the crime.
Writer can be contacted at - [email protected]
Caption-Gotabaya has to relinquish his US citizenship to be able to contest the presidential elections