---
American novelist and poet Josiah Gilbert Holland in a legendary plea said--give us men and women a time like this demands, strong minds, great hearts, true faith and ready hands. Men and women whom the lust of office does not kill. Those whom the spoils of office cannot buy. Those who possess opinions and a will. Those who have honour. Those who will not lie. Those who can stand before a demagogue and damn his treacherous flatteries without winking. Tall people, sun-crowned, who live above the fog in public duty and in private thinking. For while the rabble, with their thumb-worn creeds, their large professions and their little deeds, mingle in selfish strife. lo! freedom weeps, wrong rules the land and waiting justice sleeps.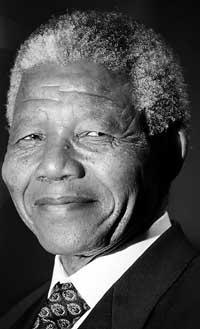 As Sri Lanka prepares for the August 5 general election the sovereign people and responsible citizens need to ponder deeply on these inspiring words. Where do we find models of such virtues and values in a Parliament where we have seen disgraceful and despicable behaviour with bribery, corruption and other crimes? For most party politicians, with a few precious exceptions, Parliament has become a den of robbers with politicians doing big business to become multi-millionaires at the expense of servant leadership and its values of sincere, selfless and sacrificial public service.

Whatever the crisis we are in and whatever the hypocrisy where high values are preached at party meetings while criminal conduct goes on with high level protection, people could be transformed when they are confronted by a great model of the highest value and a vision that goes beyond personal gain or glory. One such model is South Africa's legendary former president Nelson Mandela.

Today is Nelson Mandela International Day and the United Nations Secretary General António Guterres will deliver the 18th Nelson Mandela annual lecture on the theme "Tackling the Inequality Pandemic: A New Social Contract for a New Era,". He will highlight the various layers of inequality that are being exposed and exacerbated by the COVID-19 pandemic, which has turned out to be one of the worst in history. He will outline the threat posed to the world's well-being and future by historic injustices and current trends from colonialism and patriarchy to racism and the digital divide and make concrete recommendations for a more equitable and just way forward in line with the sustainable development goals. The virtual event will feature the Secretary-General in New York and additional speakers in South Africa, including South Africa's current President Cyril Ramaphosa and Graça Machel, stateswoman, women and children's rights advocate and wife of the late Nelson Mandela. The UN has invited all people to mark Nelson Mandela International Day by making a difference in our communities. It says everyone has the ability and the responsibility to change the world for the better. Mandela Day is an occasion for all to take action and inspire change.

According to the UN, Nelson Mandela devoted his life to the service of humanity — as a human rights lawyer, a prisoner of conscience, an international peacemaker and the first democratically elected president of a free
South Africa.

On fighting poverty, Nelson Mandela says, "South Africans have shown a tremendous capacity to join hands when facing difficulty. The apartheid system eventually fell because of the unity of those who were denied their rights and because all sectors of society recognised that they had more to gain from working together than from fighting each other. It is that same quality that has helped us, so quickly, to lay the foundations for a better life. Essentially our task was to create the conditions in which all South Africans have the opportunity to create a better life for themselves. But government cannot meet these challenges by itself. It requires of us all to pull together, into a partnership to bring about the necessary changes."
n building peace, Mandela says, "Peace is not just the absence of conflict; peace is the creation of an environment where all can flourish, regardless of race, colour, creed, religion, gender, class, caste, or any other social markers of difference. Religion, ethnicity, language, social and cultural practices are elements which enrich human civilisation, adding to the wealth of our diversity. Why should they be allowed to become a cause of division and violence? We demean our common humanity by allowing that to happen."

Former UN Secretary-General Ban Ki-Moon says, "Nelson Mandela showed what is possible for our world and within each one of us — if we believe, dream and work together. Let us continue each day to be inspired by his lifelong example and his call to never cease working for a better and more just world."