---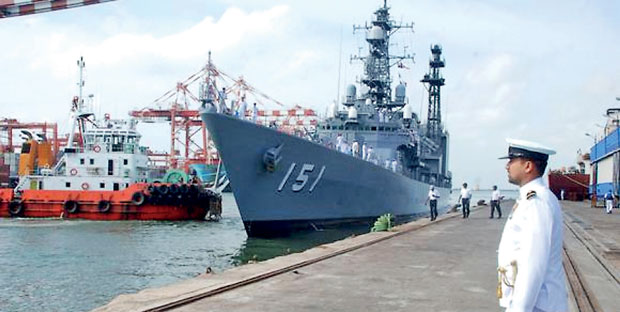 BY Swaran Singh
On Saturday, Sri Lanka finally signed a US $ 1.1 billion deal selling China a 70 percent stake in its strategic Hambantota port. The fact that the Chinese signatory, the state-run China Merchant Port Holdings, is a Hong Kong-based firm reminds not just of a similar 99-year lease that Chinese had signed in 1841 following their Opium War with Great Britain. A much closer example would be China's recent 43-year lease for managing Pakistan Gwadar port and adjoining 2,282-acre special economic zone that was signed in November 2015.

But this time round, China has moved several steps forward from than those older models. First, its Concession Agreement for a 99-year lease of running operations of the Hambantota port and an enormous special economic zone of 15,000 acres around it has formalised much anticipated 'debt-into-equity' swap model.

Second, this 99-year Concession Agreement comes after protracted negotiations following their original 2014 draft under the Rajapaksa government but more recently following their January 2017 framework agreement and these negotiations have since been accompanied by widespread public criticism and concerns in Sri Lanka and abroad.

The Sri Lankan government had accordingly promised to renegotiate the deal and has now changed the ratio of Chinese ownership from original 80 percent to less than 70 percent. It has also provided security assurances for Colombo's other partners including India, Japan, United States, etc. as also inserted newer provisions for relocation and compensation for thousands of villagers who will be uprooted from their traditional homes.

This wheel of time appears increasingly unstoppable and its pace is likely to be further accelerated as part of China's Belt and Road juggernaut, which will ensure that this evolving new model will be further improvised and replicated elsewhere as well.

China has clearly emerged as the fastest growing investor nation in Sri Lanka. This trends had witnessed an upsurge especially following the brutal civil war of 2009. Hambantota that was completed in 2010 represents today as the most symbolic 'flagship' project of their ever expanding partnership involving a slew of several mega projects.

Indeed, the new coalition National Unity government came to power in 2015 riding the wave of anti-Rajapaksa sentiment promising to review all Chinese projects sanctioned by President Mahinda Rajapaksa. After a brief period of haggling and talking tough, however, the realty of external debt was to dawn upon these new set of leaders who's have gradually moved to accommodating Chinese demands and drifted towards Beijing for Sri Lanka's much-needed financial relief and redemption.

Debt-traps model
The rising debt has made the Sri Lankan leaders admit having landed in debt-trap, which remains their most formidable existential challenge with limited exit options. As of April 2017, Sri Lanka's total outstanding external debt stood at US $ 25.61 billion. This means it has to pay back around US $ 2.42 billion during this year itself and this figure will rise to US $ 2.56 for the coming year and so on.
The Chinese loans alone account for over US $ 8 billion and the Chinese projects have especially not yielded any returns. The Hambantota port today presents one such white elephant with no teeth or tusk. It has progressively handled a lesser number of ships each year. From 19 ships in 2015, the ships visiting this port have decreased to 14 in 2016 and only 10 ships have anchored for first half of this year. These numbers of course exclude car carriers that have been forcibly diverted from the Colombo port since year 2012.

These investments had been originally invited by the Rajapaksa government, which had also initiated this 'debt-into-equity' framework during 2014. This agreement however could not be signed then in view of declaration of elections followed by the change of government. But the debt trap thus created has not disappeared. The only change today is that the new government has reduced the Chinese share ratio from 80:20 to now 69:55 and 30:45 between China Merchant Port Holdings and the Sri Lanka Port Authority.

Worse, the lease in case of Hambantota involves evicting thousands of villagers, which have also triggered simmering resentment though government promises to provide new lands as also appropriate compensations. In view of Chinese practices elsewhere, the Sri Lankan government has also been facing huge resistance from various trade unions and petroleum workers last week had brought the whole nation to a standstill with their two days of stopping fuel distribution.

It is interesting that Namal Rajapaksa, Member of Parliament and son of former president, recently told BBC how he feels India would "be very uncomfortable with this arrangement". No doubt India's anxieties have also continued. Provisions of this new deal do provide ample clarifications on how the Chinese company will be responsible only for commercial operations and the Sri Lankan navy will be responsible for security yet this 99 lease of this deep-sea port is bound to trigger speculations about this port becoming a base for the Chinese navy.

Let alone India, such sentiments have also been expressed by various Chinese commentators. Indian experts of course feel convinced of this being at least potentially part of China's so-called string of pearls. Sitting close to the east-west shipping lines in busy Indian Ocean, the port of Hambantota is bound to become a major staging post in China's Maritime Silk Road initiative.

Addressing India's concerns
Sri Lanka of course has made efforts to balance its relations with all major partners. As Prime Minister Ranil Wickremesinghe recently explained, the accumulated loss of the port was more than US $ 304 million and the money realised from the deal will set off the debts Sri Lanka owed to the Chinese.
Before being elected to office, the leaders of the opposition had criticised the project but have gradually come around to understand the inevitability about China's help in addressing its problems of the port's underperformance and heavy debt repayments. It is reported that the port's annual load repayment stands at US $ 59 million and by 2016 the port had suffered a loss of US $ 304 million.
As regards India, this Concession Agreement is sure not a happy news but given Colombo's debt situation India perhaps has few options other than accepting this fait acompali and shore up its pragmatic defence mechanism. Already entangled in rough relations with China for last two years, India is politically not in position to choose confrontation with China through any emergency bailout of Sri Lanka in case of Hambantota.

India is believed to having been kept in confidence by Colombo's negotiators who apparently included several specific security clauses in this agreement on insistence from or in deference to India. For instance, as per the July 25 cabinet note, the concession agreement has provisions to prohibit "any form of military-related activities" by China clarifying that the "sole responsibility and authority for such activity and for national security of the port of Hambantota with the Government of Sri Lanka", which will be the only authority to grant permission to any naval vessels to anchor at this port.

Also, all personnel involved in security-related apparatus will be Sri Lankan nationals. While such security assurances may be important, yet India cannot escape the fact that this deal clearly signifies Sri Lanka's increasing path dependency on China with deeper strategic implications.

Moreover, India also remains engaged in various projects including the development of northern deep-sea port of Trincomalee and an adjoining oil tank farm. India also remains Sri Lanka's largest trading partners with their bilateral trade standing at US $ 4.38 billion.

India has also committed development assistance of over US $ 2.6 billion in various loans and grants. But given India's understanding on its core security interests in its immediate periphery, Sri Lanka's policy of equidistance itself generates anxieties amongst India's policymakers.

It is equally important for India not to overlook Sri Lanka's domestic unease about this agreement. Their experience with China is likely to make Sri Lankans far too cautious even with India. The 'joint opposition' made up of the Rajapaksa loyalists and left parties has already been critical of 'giving' Trincomalee to India.

There are questions about Sri Lankan leaders overlooking widespread and persistent protests and signing the deal in a hurry without deliberating it in their national parliament. The Sri Lankan leaders could have used this to buy time to assuage anxieties of these domestic and foreign stakeholders though they could never have fully addressed their concerns.

(Swaran Singh is Senior Fellow at Institute for National Security Studies Sri Lanka (Colombo) and Professor of Diplomacy and Disarmament at Jawaharlal Nehru University, New Delhi)