---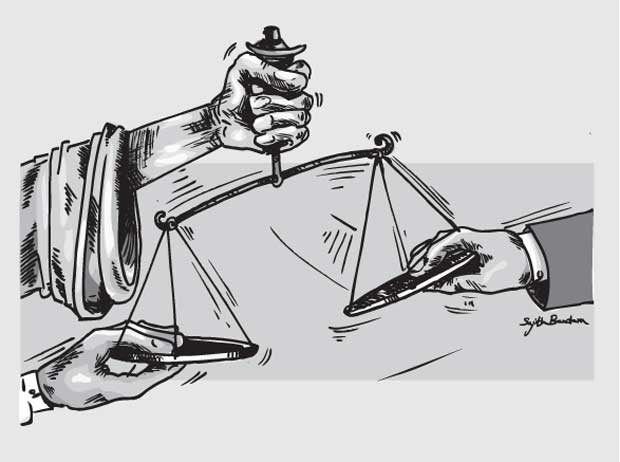 In a move that hopefully would expedite inquiries and the prosecution of cases involving allegations that some of the former regime's VIPs plundered hundreds of millions of dollars from public funds, the government yesterday appointed Thalatha Athukorale as Minister of Justice in addition to her present portfolio of Foreign Employment.
Ms. Athukorale who won the woman of the year award this year, took over the Justice Ministry after a dramatic fortnight during which the former Justice Minister Wijeyadasa Rajapakshe came under severe criticism from his own United National Party. The two main charges against Mr. Rajapakshe were that he was mainly responsible for the long delay in the prosecution of major corruption cases and the violation of the principle of collective responsibility in the Cabinet. Two weeks ago, the Cabinet, after long delay and discussion, had approved the controversial multi-billion rupee Hambantota Port deal with a big Chinese company. A few days later, Mr. Rajapakshe publicly criticised the deal as a sell-out of the country's resources and said that if given the opportunity, he would cancel the deal.
UNP ministers and backbenchers were furious. They initially wanted to move a no confidence motion against Mr. Rajapakshe, but Prime Minister and Party Leader Ranil Wickremesinghe was not in favour. But on Monday, the UNP's decision-making Working Committee and the Parliamentary Group unanimously adopted a resolution calling for Mr. Rajapakshe's resignation or expulsion from the Cabinet. Later, the Prime Minister met President Maithripala Sirisena to notify him of the UNP decision and on Wednesday the President wrote a letter to Mr. Rajapakshe informing him that he was being expelled from the Cabinet.

Upto then, Mr. Rajapakshe had remained silent. But after receiving the letter, he spoke out and told the media that his conscience was clear and he was ashamed to be in a Cabinet that was violating Sri Lanka's sovereignty and virtually selling out hundreds of acres of Sri Lanka's land to China. Referring to the charges of delaying the prosecution of big corruption cases, Mr. Rajapakshe said the Attorney General's Department was not under him and his crime was that he did not interfere in the working of an independent department. He said he would remain as an independent MP.
But critics specially Minister Rajitha Senaratne and Deputy Minister Ajith P. Perera said Mr. Rajapakshe had delayed prosecution specially in the Avant Garde case because that company's chairman Nissanka Senadhipathy was his close friend. They said the Financial Crimes Investigation Division (FCID) and the Criminal Investigation Department (CID) had submitted to the AG's Departments 101 files containing substantial evidence relating to big corruption allegations against former President Mahinda Rajapaksa, his family members, top officials and close associates. Prosecutions had been launched in less than 20 cases.
Minister Senaratne and other government leaders have pointed out that it took an average of about 10 years for a High Court to hear and give a verdict in a case of murder or other major crimes. Therefore they have been asking that one or two High Courts be assigned to hear these major corruption cases so that trials-at-bar could be held in the morning and the evening. Thereby the cases could be completed in three to six months. They point out that in the case of the killing of Judge Sarath Ambepitiya, a trial-at-bar was held and the suspects were found guilty within six months.
The former Justice Minister had claimed that a constitutional amendment would be needed to set up a special High Court or courts to hear corruption cases. But government leaders and legal experts have challenged his claim.
Whatever the political manoeuvres or manipulations, what is clear is that there is widespread public criticism of the delay in proceeding with the cases.
If justice hurried is justice miscarried, then it is also true that justice delayed is justice denied. Therefore we hope the new Justice Minister coordinating with the AG's Department, the FCID, the CID and other agencies will act effectively to ensure that justice is done.