---
Parliament today has become a place for comedy. They argue about trivial things. They are unable to discuss matters together
If one has worked with Lalith Athulathmudali, the wealth of knowledge and experience gained is invaluable
There is still a way out of this mess. First of all bribery and corruption must be fought with a top-down approach instead of bottoms up

Every year as I write commemoration articles on Lalith Athulathmudali, I feel his absence more and more because every year this country appears to be taking many steps backwards. We continue to be a 'developing nation' and we seem to have lost our way somewhere.

Development is a Process
As a nation, we have failed to understand that development is a process and development comes over a long period of time. There is this common belief among many politicians that they can make huge changes in our country within a short span of time of five years. They are dead wrong!!!. We continue to see that successive governments, no sooner they come to power change many or almost all the projects and policies of the previous government and begin to introduce new Policies and Programmes. This is because we do not have, what is called "National Policies" at all. Once elected, politicians have to work for the "whole country" and work towards agreement on National Policies and thereafter pursue its implementation. Sadly, this is not understood or followed by many of the elected representatives which is a reason for our "failures".

Quality over Quantity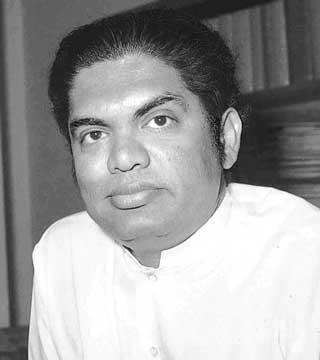 The present government was given a large majority to do good for the country. Thus, you have the quantity. When you compare to the politicians and officials of yesteryear, quality people are a dying breed. Twenty-one years into the new millennium, there is a lacuna of people who can make proper decisions or oppose wrong decisions. Out of the 225 lawmakers, I bet that around a great majority would not even be familiar with the general laws of the country!!!. It is aptly demonstrated in the way they speak and also act.

Today we see that people come into power to make money for themselves, their kith and kin and generations. Institutions such as 'Mahapola' that Mr. Athulathmudali created with good intentions are still functioning to serve the public. The present government appears to be having difficulty in administration and implementation. The reason is that most of the new members of parliament have experience in governance. They have not served even in an Urban council to understand how to serve the public. Without the experience of serving the people, the decisions they make tends to bring bad results.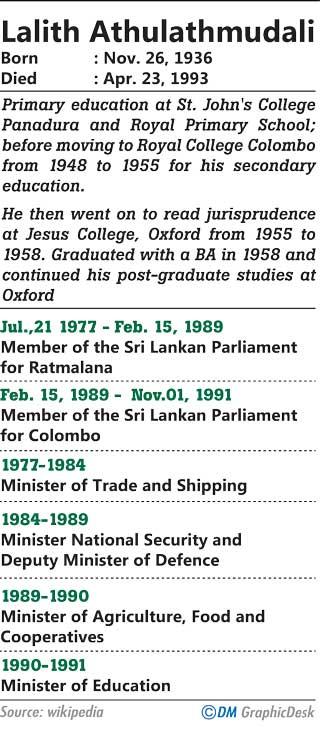 Parliament today has become a place for comedy. They argue about trivial things. They are unable to discuss matters together. Even the seniors have stooped to lower levels where the language they used has to be removed from the Hansard. MPs lack patience and understanding of matters before them. Listening to another point of view is unseen in parliament. All they want to do is to disrupt. Educated and qualified government officials have to take orders from the less learned which is unfortunate for the country. Mr. Athulathmudali always consulted experts on the subject when he held important portfolios, but he also knew to decide on expert opinion.

Personal gains or gains for the country
During Mr. Athulathmudali's time, he made the Port of Colombo to become a transshipment hub in the region. He created and developed the Jaya Container Terminal and successive administrations benefited from his farsightedness. But today why are we trying to sell our assets to fast track development? We need Investment from overseas, but should it be at the expense of losing our ownership in our national ventures? But are the present politicians after personal gains or gains for the country is the question every politician should ask themselves.
Angela Merkel the iron lady has ruled Germany the strongest economy of Europe for around two decades, and she still possesses only the solitary apartment she already had.

If one has worked with Lalith Athulathmudali, the wealth of knowledge and experience gained is invaluable. But today what can the officials learn from the Ministers? Sadly, every person with the means to educate their children is leaving the country or packing the children off. This is a great loss to the country.

Curbing the Media
The old-fashioned way of silencing the media will not work anymore as there is a very strong social media platform for people to express themselves. Although mainstream media may take sides, social media cannot be silenced. Therefore, the administrators must learn to live with social media and pay attention to the issues raised by them. Miscreants are always prevalent in any sector. For example, when someone raises the issues of trees being felled, the right thing to do is to inquire into the issue.

The way out
There is still a way out of this mess. First of all bribery and corruption must be fought with a top-down approach instead of bottoms up. All leading parties must understand that their role is not to make every attempt to topple the government no sooner it is elected!, they must try to work with the system for the greater good of the country.
Reforms are urgently needed for Parliamentary proceedings, general sessions of parliament need not be 8-10 days per month; the lawmakers should devise a system for extensive committee study and implementation to better serve the public. Opening ceremonies, ribbon cutting and taking part in media shows for popularity must be put aside. MPs should really focus on Policy formulation, Formulation of laws and regulations, Review of laws and policies and finally Financial control. But for all that, we need Quality, Qualified and most importantly Sensible and Genuine people to govern this country.

As we grieve the absence of Lalith William Athulathmudali for yet another year, the damage done to this country is accumulating, and we must find our way back.