---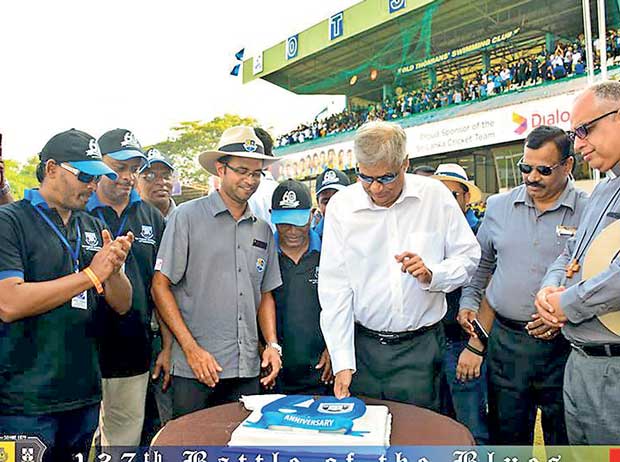 The ceremonial cake is cut by distinguished old Royalist, Prime Minister Ranil Wickremesinghe during the 137 th Battle of The Blues held at the SSC Grounds in Colombo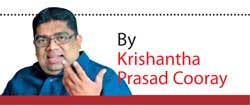 Stunned. The word sums up the overall sentiment at the SSC ground on the evening of the 12th day of March, 2016. It didn't matter which camp you belonged to, whether Royal or S Thomas'. If you had been following the game from day one, you would have been stunned by the result of the 137th Battle of the Blues.

At the end of day one it was smooth sailing and the Thomians were on top. They had started off as favourites and it seemed Royal's gamble to put the opposition in after winning the toss had well and truly backfired. There was talk of a possible Thora victory. When Royal, in response to the Thomians' first innings total of 350 for 5 lost 5 wickets for 122 shortly after lunch on the second day, possible turned into probable.
Cricket is a game of glorious uncertainties' was affirmed. That begs the question, why was everyone so stunned by the outcome, and what really happened?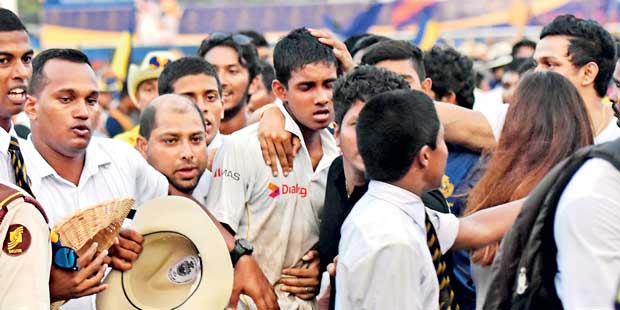 Even with Royal clawing back to get to 280 for 7, with 16-year-old fresher Pasindu Sooriyabandara unbeaten on 97 at the close, Thomian coach Dinesh Kumarasinghe was still upbeat. He envisaged his boys picking up quick wickets, then putting up a challenging total and the bowlers finishing off the job, presumably sometime during the 3rd session of the 3rd day. Things did not work out that way however, and Royal, after fighting with their backs to the wall on day two, took the fight to the Thomians from the word go on day three. Quick runs and a declaration even though they were still 22 runs in arrears indicated a new found self-confidence. Things went downhill for the Thomians thereafter and Royal scored the winning runs in the rapidly fading light during the last hour of play.

Walking out of the SSC after the match I saw lots of young Thomians, looking as upset as they were stunned. Right next to me was an elderly Old Thomian. His phone rang. I assumed it was his wife.
I couldn't help but overhear the conversation that ensured between the two. It was the account of a man who was looking for some kind of consolation.
Indeed it was as though the Thomians had neglected an important element of fighting: all opponents have reserves of energy and sometimes THEY PUNCH BACK!

This is the gist of what he said: 'We lost but it was a good match. It was very good for cricket.' He was spot on. Even the most ardent Thomian would admit that young Sooriyabandara played an exceptional role in Royal's win. He is just 16, a fresher. His team was struggling to save the match. He was facing bigger boys with big reputations. He stood tall. We cannot but admire him, even though in effect he demonstrated the grit that all Thomians believe was their preserve. The old gentleman was right about cricket being the ultimate winner. It was not a one-sided affair or one that played out a script based on form and strength. Instead, the old adage 'Cricket is a game of glorious uncertainties' was affirmed. That begs the question, why was everyone so stunned by the outcome, and what really happened? How was it that the favourite went down after being in a position of immense strength? What went wrong? Cricketing pundits will no doubt talk about turning points; the umpiring decision that went the other way, the dropped catch, the key bowling change, the decision to declare on the first day, sending in this batsman early or that batsman late and so on. Of course, these things count. They add up. But perhaps there was something else in the factor-mix.

The Thomians came into the match as hot favourites. Royal were the underdogs. This everyone knows. Both teams had talented players, but the Thomians were better balanced and had more depth in both their batting and bowling. The Thomians were ready to hit and hit hard. They did just that. Put into bat, the Thomian openers negotiated the traditionally difficult first hour at the SSC and went on to post a formidable first innings score. They continued their onslaught the next day as well. Both teams played according to the script that had been written.
However, all this were important in making this particular encounter a memorable one and deserving of his observation, 'it was good for cricket'.

Then something unexpected happened. Two Royalists, almost as if they had stolen a page from the age-old Thomian text book on grit, dug in and fought back. They took the hits but refused to be knocked down. It was almost as though this was Royal's plan all along: to expect some hard knocks but refuse to go down without a fight. Indeed it was as though the Thomians had neglected an important element of fighting: all opponents have reserves of energy and sometimes THEY PUNCH BACK!. They didn't expect a punch-drunk opponent to punch back and when the punches came they just weren't prepared to take the hits. The lesson to learn here is that while one should be prepared to hit hard one should also be prepared to take a hard hit and while one should put pressure on the opponent one should be ready to absorb pressure in turn.

The Thomians had talent. They worked hard. One wonders if they forgot that 'spirit' which is also an important element in any contest. When Sooriyabandara, ably supported by Malith Kariyawasam, showed some pluck, when they changed gear from solid defence to fluent stroke-play, it appeared that S Thomas' had come to the SSC without a Plan B. It was naturally infectious. These two affected a radical transformation in the mindset of the rest of the team.

They smelled blood. They went for the kill. To the credit of the Thomians, they continued to fight even after conceding the initiative. The tail showed the top order that there were no demons in the wicket that could not be negotiated. And when Royal began their chase, the bowlers stuck to their guns, picking wickets at regular intervals. Things had gone beyond the point of retrieval, however, and Royal squeezed out an improbable win.

Again, to the credit of the Thomians, their captain Sachitha Jayathilaka, kept his men under strict control, ensuring that there were no unwarranted delays which theoretically could have robbed Royal of a win which at that point was certainly deserved. In fact when a lone Thomian old boy attempted a field invasion he was rightfully and unanimously rebuked by the Thomians in the area who bellowed, 'We don't want to turn this into a Joe-Pete' referring to the ugly scenes that had marred the Battle of the Saints a few weeks before. Grit may have abandoned the Thomians at critical points but sportsmanship did not. That's something all Thomians should be proud of.

Whether or not the elderly gentlemen referred to above saw all this, I do not know. However, all this were important in making this particular encounter a memorable one and deserving of his observation, 'it was good for cricket'.

Is that enough for the Thomians, though? The disappointment of not winning a game they were expected to will take time to wear off, but sooner or later there will have to be a post-mortem and thereafter it will be about looking to the future. It is the last part that I concern myself with. The issue is 2017 and thereafter. We were shocked, we are upset. That's natural. Moving forward is about leaving behind emotion and taking the lessons that only the employment of reason will obtain.

Talent will not be an issue. There is ample talent and if the Under 20 rule is brought almost the entire team will be around one year from now. They will be better and mentally that much more tougher.
They have taken a big hit so that will not be something new. They have all put in hard work and now they have to understand that it is always possible and always important to work harder. They must always remember that hard work can beat talent. If 'grit' was something robbed by the Royalists then the onus is on the Thomians to show one and all that they have enormous reserves of that precious commodity and prove it too at every turn when called upon to do so.

Spirit is not the preserve of Royalists. Neither is 'fighting back'. 'Character' is something that every Thomian in this team 'won' from this Royal-Thomian encounter. It is precious. It has to be nurtured. It has to be protected for it can also slip through the fingers easily where there is no hard work, no humility, no determination and no love for the alma mater. Thomians, as the school song goes, must 'do and dare' and they can because again as the school song puts it they have to learn how to take defeat when fortune frowns. That is the 'call of duty' as S Thomas' press onward to the goal of recovering from this defeat and indeed use it as a stepping-stone to reach the heights of glory.
Character, in this effort, will be tested because defeat more than victory is what can build character.
The Royal-Thomian was lost. But if you think about it, there were many victories that were secured even in defeat, less glamorous no doubt but which are necessary ingredients of future successes. No one perhaps is better positioned under these circumstances to take S Thomas' forward than the members of this highly talented team. They can learn from each other and they can pass on the lessons learnt at the SSC over those amazing three days, when Royal scored an improbable win but cricket and sportsmanship were the ultimate winners.