---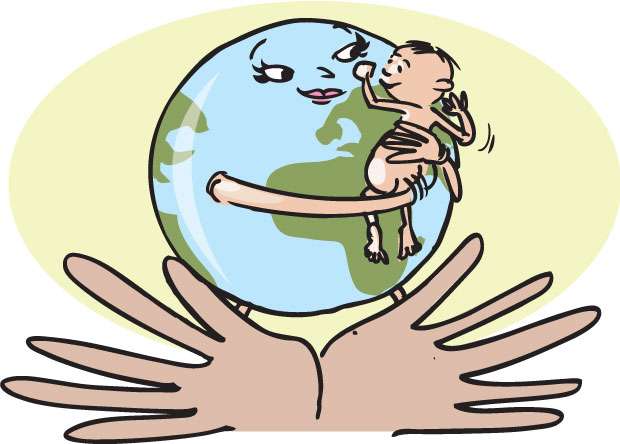 As we celebrate the National New Year which marks the new journey of the sun from Pisces to Aries, in many parts of the world there are also events to mark the National Safe Motherhood Week. What the sun is to the Solar System including our Planet Earth, so is what the mother is to society.
In India National Safe-Motherhood Day is observed today to ensure that women have adequate access to care during pregnancy, childbirth and the postnatal period. At the request of India's White Ribbon Alliance (WRAI), an alliance of more than 1,000 organisations, the Indian government in 2003 declared April 11, the anniversary of Kasturba Gandhi's birth, as National Safe-Motherhood Day. Kasturba Gandhi is the mother of Mahatma Gandhi widely regarded as the Father of the nation and one of the greatest statesmen of the century because of the non-violent way in which he led India to overthrow what the wartime British Premier Winston Churchill thought was the greatest empire in the world.
According to WRAI, maternal deaths could be prevented in different ways. These include, ensuring delivery by qualified and skilled professionals; reducing anaemia among women during adolescence and child-bearing age; educating women on nutrition during pregnancy; to inform women about family planning and safe methods; improving antenatal care; education on the importance of breast feeding; providing postnatal care for mothers for pain and infections; preventing excessive bleeding and postnatal nutrition; preventing child marriage, improving education for the girl child, providing immunization and other disease prevention methods and early detection and management of birth complications.
In Sri Lanka, partly because of a smaller population and a higher literacy rate, we have more advanced methods for safe motherhood. Yet in this changing world where high technology and marvels of modern medical technology are working wonders we need to set our sights on improving the care and quality of
safe motherhood.
We often tend to believe that Europe is far more advanced than Sri Lanka or Asia, but the latest figures show that out of five million births in Europe one in ten do not have access to proper care during the first months of pregnancy.
In 2013 there were about 1,900 maternal deaths in Europe. Of course Europe and the United States have a huge problem in a related crisis -- abortions. So when we talk of Safe Motherhood Week we also need to reflect on the hundreds of thousands of voiceless children who are killed in the womb. Many seek a liberalisation of laws relating to abortions if the mother's life is in danger and if there is clear medical evidence that the child to be born would have such serious deformities that he or she would be a burden to the family or society.
Another case is where a young girl is raped. While the rapist often gets away, the girl, especially if she is from a village, is condemned and marginalised for life in such a manner that she is often driven to suicide with the innocent child in the womb. Such issues also need to find a place in the values and virtues of Safe Motherhood Day or Week.