---
It is time therefore for Rajapaksa to accede to this repeated compromise Wickremesinghe is offering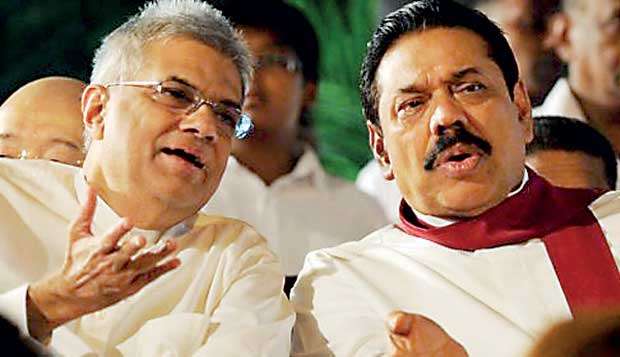 It is a lingering crisis on two demands for political power. Ranil Wickremesinghe and his UNP are asking for their Government back with their PM. With ITAK leadership providing in writing the TNA would support the UNF with no political conditions attached, Wickremesinghe is assured of a majority beyond the required 113 votes in Parliament.

Rajapaksa has his demand too. It is an early Parliamentary Election.
He promised an early election as the major promise of his care-taker Government, when appointed PM on October 26 through a special Gazette.
The Supreme Court that sat over 14 FR Petitions was expected to deliver its decision on Monday and then Tuesday (11) but never came even on Wednesday (12), and is still being speculated while this is being written.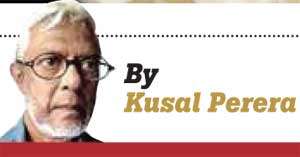 Keeping the SC ruling aside for the moment, politically, could there be a compromise to end this impasse in Parliament?
There is a middle ground if the leaders were keen to compromise.
A compromise is possible on Wickremesinghe having his Government that he says is legitimate and Rajapaksa having the Parliamentary Election he wants in early 2019.
"Court vacations from tomorrow till early January would certainly deter such crazy interventions or drag this chaotic situation to 2019 as well"

Those protesting and sitting for Satyagrahas in Colombo demanding this Parliament to continue with its four years and six-month term, demanding that 70(1) of the Constitution be respected, have been left behind by Wickremesinghe for a Parliamentary Election with his condition of a legitimate government attached.
He said the UNP was not afraid of an election under a legitimate Government if other parties agreed. Thereafter addressing a representation of the business community in Colombo, he explained that political stability for economic growth needs a new Parliament.
Wickremesinghe has moved away from his earlier demand of having his Government back and nothing less.

MP Champika Ranawaka has also tagged himself with Wickremesinghe echoing the same slogan of an election under a legitimate Government.
The Colombo middle-class democrats are now with slogans that have lost their shelf life.
It is time therefore for Rajapaksa to accede to this repeated compromise Wickremesinghe is offering.
Rajapaksa should accept he cannot gain a majority in this Parliament and therefore cannot decide on an early election on his own terms. He has half a possibility if the SC rules the gazette dissolving Parliament as valid. As it is still speculation, it is prudent for Rajapaksa to accept Wickremesinghe's condition in lieu of an election, if an election is what he ultimately wants.

Even if the SC rules the Gazette dissolving Parliament as valid, it would not clear a smooth path for an early election as expected.
It may leave a controversy over the status quo that should thereafter prevail.
Should it be that before October 26, the UNP would keep demanding or, will it be that before the November 09 Gazette? Whatever the confusion, it would have to wait till the SC proceeds today (14 December) with the appeal against the CA temporary stay order on the Quo Warranto writ application testing the eligibility of persons holding public office.

Constitution under Article 170 interprets public officers like those employed by the Republic excluding Judicial officers and also elected representatives from President to Parliamentarians including PM, Ministers and Deputy Ministers.
Yet, would the status quo spur another round of FR petitions to the SC?
Court vacations from tomorrow till early January would certainly deter such crazy interventions or drag this chaotic situation to 2019 as well.
In such uncertainty, it would still be worth a compromise between Wickremesinghe and Rajapaksa. Logistics, no doubt have to be agreed upon. Wickremesinghe should have a resolution in Parliament calling for its dissolution and an election to be held within three months before Rajapaksa gives way for his Government and accepts Wickremesinghe as PM.
"Compromise is possible Wickremesinghe having his Government and Rajapaksa having the Parliamentary Election"

If that compromise can be worked out clean without individual egos playing out against each other, then President Sirisena will have to go back on his nonsensical decision and appoint Wickremesinghe as PM.
An election under Wickremesinghe and a new Parliament elected is expected to establish political stability and economic growth.
Political stability, yes for a short while.
That temporary breather, I wrote in these pages not long ago, was necessary for this country right now.
The economic growth, maybe, but certainly not development.

Development and economic growth don't go together in an insanely open, free market economy.
It was three decades ago, the World Bank too agreed these free markets cannot even promise a trickledown effect, good enough to keep social stability.
That, in fact, is what would make a new Parliament also unstable before long. Before long, the economy that breeds more and more corruption would not leave a Parliament representing People.
Politicians and political parties have long given up on their responsibility to represent and serve People.
That makes me repeatedly use MP Eran Wickramaratne's recent statement made in front of an audience a few days after the October 26 Gazette that created this mayhem.

"Who has gained in this crisis?" he asked and answered it himself.
"It is only the politician who has gained. It is unimaginable you know, what monies are offered, to actually buy people over." He says the evidence is there on social media.
Though evidence is not stories shared and liked in Facebook and in other social media,
MP Wickramaratne's claim was endorsed by no other than President Sirisena himself. President went on record over a week ago saying, Mahinda Rajapaksa failed to collect the necessary numbers as the price of MPs went too high.
Wickramaratne thus stands literally right.

Yet his bland statement "This is an indictment on our whole society and on the values we hold" is another way of palming off responsibility.
It is the society and not politicians alone. He nevertheless underlines one single, indisputable truth.
"Politicians will never change the destiny of this country….." he stresses.
"I have been the advisor to many politicians. And after advising them, one day a politician turned to me and said, "Eran', a minister said (obviously a UNP Minister), you have been working with me for two or three years, you haven't still understood something……don't you realise that this system works for us," he told me. And why should we change it?...." It is no indictment on the whole society. It is an indictment on politicians without reservations.
He says the whole society as he believes the People as responsible for electing politicians who would never change the destiny of this country and for electing politicians who will not "change the system that serves them.
"It is prudent for Rajapaksa to accept Wickremesinghe's condition in lieu of an election"

There is no better proof of it than the advisor-turned-politician Eran Wickramaratne MP, who now argues publicly to continue with this Parliament full of politicians, who would never change the destiny of this country and he is a strong advocate of this system that serves politicians only.
How decent and dignified is that politics? It is proof, there cannot be decent and dignified politicians in this system, however professionally and academically qualified they could be or however religiously pious and culturally refined their upbringing is.
It is a system that is being nurtured by the filthy rich born out of the system itself and thus become half-brothers of politicians who wouldn't change the system that both thrive upon.

People thus have a role to play. They need to find a way out of this unholy system.
They need to discuss to find an alternative to this 'system' which means this awfully corrupt, incurable open market economy. The crisis is much deeper and more complex than what is said in media briefings and electing a new Parliament for a temporary respite. It is a new intellectual debate that this crisis demands.