---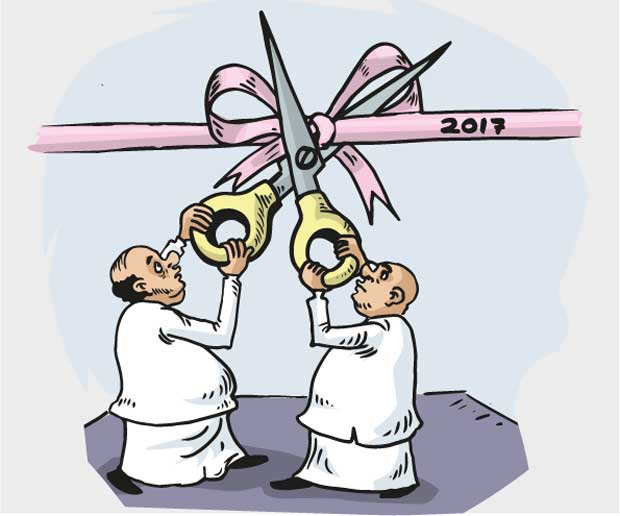 alling on parties and people to rise beyond petty party politics or the desire for personal gain, President Maithripala Sirisena and Prime Minister Ranil Wickremesinghe yesterday launched a vital mission for sustainable, eco-friendly and all inclusive development.
A confident President, addressing a gathering to mark the occasion, said the National Unity Government for the past year had worked out countrywide mega development projects and 2017 would be the year of accelerated implementation. He pointed out that the United Nations also had drawn up worldwide Sustainable Development Goals to be achieved by 2030. While taking the right lessons from the UN's goals, Sri Lanka had worked out and would implement its Sustainable Development Goals, according to the needs and aspirations of our people, the human and material resources available to us.

For the first time since independence, the two major political parties – the United National Party (UNP) and the Sri Lanka Freedom Party (SLFP)—are working together with the vision of rebuilding a new Sri Lanka. Last year and especially in the past few months, differences and disputes have arisen among front-liners of the two parties. But the President, the Premier and religious prelates have appealed to them to come together for an accommodation on the middle path to achieve common goals for the benefit of all Sri Lankans.
Premier Wickremesinghe, the architect of the sustainable development strategy, has also appealed for a dialogue on issues where the two parties have differences of opinion. Essentially the Premier and leading UNP ministers are trying to work out what they describe as a Socialist Market Economy.
They say, one of the main aims, is to bring about the involvement of the impoverished people who have been enslaved in a poverty trap, humiliated and rejected by mainstream society. Not just involvement but also the active participation of these people.

The President and the Prime Minister have called on Ministers and MPs, Local Council members, public servants and others to make a commitment to do a hard and honest job of work, being sincere and ready to make sacrifices.
Significantly public servants, whose first 2017 working day was yesterday, took such an oath with the main ceremony being held at the Presidential Secretariat in Colombo. Taking the oath is one step. Acting on it or living it is another. We hope public servants will remember they are the servants of the people, not government servants or servants of some political party.
Public servants need to remember that poor people come from long distances to get some important work attended to. Public servants need to serve these poor people with extra commitment and dedication.

In recent weeks, one of the controversial issues has been the Development (Special Provisions) draft bill presented by the Prime Minister in his capacity as the Minister in charge of National and Economic Affairs and head of the Cabinet Committee for economic management.
He has explained that the aim is to set up a high-powered development council to co-ordinate the sustainable development strategy and expedite offers of foreign direct investments.
But pro-Rajapaksa Joint Opposition critics have charged it is a move to create a Super Minister. Several SLFP controlled provincial councils have also rejected this draft bill saying it reduces their powers by creating provincial development councils.
Some dialogue is needed to work out amendments so that wrong signals of division or instability will not be sent to foreign direct investors who need to play a vital role in the sustainable development strategy.

One of the first and biggest projects in this sustainable development strategy is the Hambantota Port project and the setting up of 15,000 acres of industrial zones, where thousands of jobs could be provided to rural youth.
This project is expected to be signed on January 7, the eve of the second anniversary of President Sirisena's dramatic election. Some differences of opinion have arisen over this project also, with critics describing it as a sell-out to China.
Here again, dialogue in a spirit of reaching some consensus could bring about the unity and power needed for this and other projects to succeed and make Sri Lanka a hub of the region.