---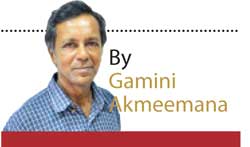 Chandana Ruwan Kumara, who teaches violin at two universities -- Kelaniya and Sri Jayawardhanepura -- is a dedicated researcher into music and the arts. A prolific journalist on the subject, he has produced three books so far. This soft-spoken, extraordinary young man owns four violins and little else apart from his much loved musical instruments and books.

I met him at a musical instruments store in Maradana. One of his books was for sale inside a showcase, and we started talking about music. He's passionate about the subject. In fact, I have rarely met anyone from our universities so passionate about the subject they teach.

Chandana Kumara was born in a very remote village in Medawachchiya, constantly under threat during the war. His parents are paddy farmers and he is the only graduate so far from the entire village. His interest in music began early, but the school he attended, the Medawachchiya MMV, had neither facilities for teaching music nor a music teacher. A few of his friends owned electronic organs or harmoniums. He first studied the keyboard of an electronic keyboard by etching the notes on a log, and his first lessons were given by village friends. After some time, his brother in the army bought him a small organ and that's how he got started.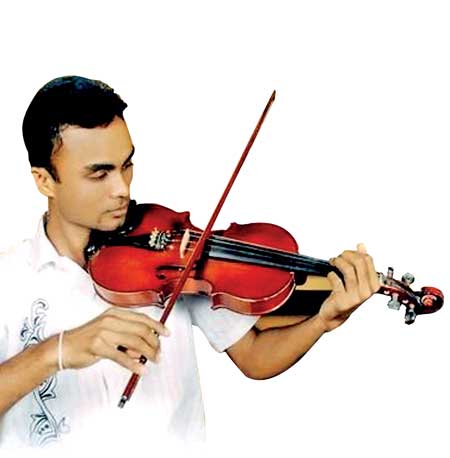 His first break came when he joined the Anuradhapura Central School for his Advanced Level studies. There, facilities and good teachers were available for the systematic study of music. He felt a natural affinity with the violin and chose to study it, going on to be adjudged the best violinist in the north east province annual music competition no less than three times.

While at school, he received private vocal lessons by a teacher called Thilak Kumara; he and his wife, who taught violin, helped the gifted young man to reach new levels of competence. Kokila Wijesuriya, his music teacher at the school, too, recognized his talent and encouraged him a great deal.

Chandana Kumara enrolled for the visharadha course in Indian music at a private institute in Peradeniya. After finishing it, he was selected for studies at the Kelaniya university, and obtained his Bachelor of performing Arts Special (honours) degree in music in 2011.

But greater things followed for this talented, hard-working musician from remote Medawachchiya. He was selected for the prestigious Moulana Azad scholarship from India in 2012, and obtained his Masters in Arts Music (MA) in Hindustani music from Delhi University. Returning home with a First Division Masters in violin was a crowning achievement for him.

In 2011, he won the National Youth Award for the best classical violinist from the Ministry of Youth Affairs. In 2008, the first place in the national award for classical orchestra by the Ministry of Cultural Affairs.

But it's astonishing that this multi-talented personality is working as a temporary lecturer at the Department of Fine Arts, University of Kelaniya, surviving on a two-year contract. One would have expected him to be offered a more stable working environment.

Apart from being a musician, Chandana Kumara is a dedicated researcher and writer, too. He began writing poems, short stories and essays while schooling. A friend at campus encouraged him to publish and his first published poem appeared in the Lakbima newspaper. His poem titled Paradeesayak Nowe Sarasaviyak (University is not a Paradise) was written as a protest against ragging.

Having formed a poetry circle at campus, Chandana Kumara later formed the Makaranda Poetry Society with senior poets Thimbiriyagama Bandara, Rathna Sri Wijesinghe and novelist K. Jayathilake at the latter's cultural centre in the village of Kannimahara. He beame a prolific journalist, writing literary criticism, reviews and articles for Sinhala newspapers.

After obtaining his BA in 2011, Chandana Kumara began working as a free-lance journalist and critic, and edited the Randiva newspaper's poetry page. Right now, he is working hard to translate a text on Hindustani music from Hindi to Sinhala. One can discern a born researcher in him. Like many such people, he works with minimum facilities, using public transport and not carrying the ubiquitous laptop. Talking to him, one has an old world, back-to-basics feeling, that he has reduced his life to bare essentials and has focused his intense gaze on the task at hand.

Of his three books in print, Prasangika Kala Wimarshana is the more esoteric, aimed for external students of the Kelaniya university. But anyone interested in the theory and history of Indian music, both northern and southern, as well as the development of Sri Lankan music and music drama (musicals) will find it interesting. There are detailed descriptions of Sri Lanka's leading musicians, their work, and of various folk and other musical idioms, packed into such a compact work.

Ethuluwatha is bigger (232 pages), meant for more general reading. It's a collection of his newspaper articles on personalities in the arts ranging from dramatist Henry Jayasena, novelist Martin Wickremasinghe, lyricist Madawala S. Ratnayake and dramatist Gamini Haththotuwegama. These 29 articles encompass three generations, ranging from the very top (Rukmani Devi, Gamini Fonseka, W. D. Amaradeva, Sri Chandaratne Manawasinghe etc) to popular artistes of the younger generation such as Anton Jude and Rebecca Nirmali. These stories aren't merely anecdotal. The author doesn't hesitate to bring out the dark side of our politics and art (such as racism) which profoundly affected the lives of pioneer and prolific musicians such as R. Muttusami and M. K. Rocksami.

Geya Kavya Sanhitha is a book invaluable to students of music. It provides notation for 25 songs, including classics such as Galana Gangaki Jeevithe (Nanda Malini) to more recent hits such as Ruwak Edenawa (Gunadasa Kapuge and Karunaratne Divulgane). His notations are much simpler, hence easier for the novice and intermediate players, than many offered in similar works. Each song is accompanied by an article about the song writer, singer and how the song came into being. That's what really sets this book apart from similar books in this genre.

He has several research publications to his credit, including Positive Aspects of Indian Classical Music on Child Personality Development, University of Kelaniya, for the International Post Graduate Research Conference 2015, and the Seven Strings Veena in Pitalkhora Buddhist Caves Temple, University of Rajarata, Third International Research Symposium 2016.