---
The arrest of singer Victor Ratnayake's wife for alleged misappropriation of jewellery from a state bank must be a terrible blow to him, and it hasn't been made any easier by the way the news has been glorified by the media.

Several newspapers, both Sinhala and English, made this page one news. While the arrest of Hashini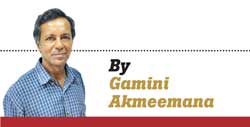 Nilakshi Amendra could be valued as such in purely news terms, it's the manner of presentation, or highlighting, which leaves much to be desired.

Some carried the news in a subdued manner, showing a hooded figure of the suspect being escorted by the police or with a simple mugshot. But a prominent Sinhala daily, put an image of shining gold jewellery next to the arrested woman's image on the top left corner of page 1. Very sadly, this newspaper opted to carry the news item on top of page 1 with a graphic which makes her look like a cheerleader. It looks as if she's holding a placard which says in big bold lettering: Victor Ratnayake's wife arrested. It's a clever piece of computer graphics but not worthy of a highly respected national newspaper. It smacks of being unethical.

This story has in fact been circulating from the time Victor Ratnayake married Hashini Nilakshi, a former People' Bank employee, in 2017 amidst severe criticism from his family, some friends and sections of his fans and the general public. His sons castigated Victor over the marriage cited this case at the time. The singer may have been aware of these accusations when he married her. His choice is entirely up to him, or is it? Being a public figure and one of the most revered of our singers, sections of the public felt free to pass judgement – not on the alleged fraud, about which no one can comment until the suspect is tried and found guilty, but about the nature of this unique union. And now, they can freely shake their heads and say, didn't we say so?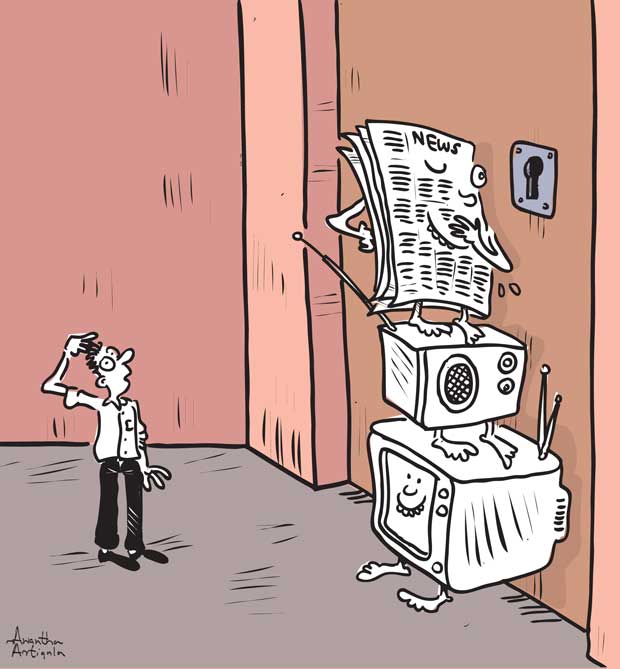 But what exactly did they say? If we take the media reaction first, one can remember a number of other 'celebrities' being arrested by the police or questioned by the FCID over similarly serious charges. The case of former minister Wimal Weerawansa's wife comes to mind. While it became page 1 news, one can't remember the story being highlighted by sensational graphics. Similarly, the wife of former president Mahinda Rajapakse was questioned by the FCID regarding allegations of graft. No pictures of banknotes ever highlighted in this story.

The other aspect is the 'I told you so' business which comes in the wake. That social castigation too, is strengthened by sensational media treatment of the story. Victor Ratnayake went through severe stress because of all the criticism from family, friends and society. Now he'd have to face an army of 'I told you so' enthusiasts. The problem was not so much with the alleged fraud (and all the shadows cast by that on Victor's wife's personality, character and her motives for marrying him) but with the considerable age gap between the two. It's a question of an old man of 74 marrying a 33-year-old woman. One university lecturer was quoted by saying such an age gap isn't acceptable. By what socio-cultural or ethical criteria, one might ask.

According to a news feature published by this newspaper on 15. 03. 2017, it was the singer who proposed to his second wife, and they did not meet at the bank where she worked, as many have assumed. She says she attended his concerts as a schoolgirl, and became acquainted with him at one. The affair continued for almost nine years before they got married in 2017. Victor's first wife died 14 years ago. She has studied eastern music which lays some basis for her admiration. People who claim that she's a vamp should consider those facts. The marriage provided a neat template for mud-slinging moralists and singer Iraj Weeraratne exploited the media hype by producing a crude music video based on it.

We can now get to the question: Is there something wrong with a 74-year-old man (the singer's age when he married for the second time) marrying a woman 30 years his junior? Is this morally reprehensible? The only famous precedent we have is that of Dr. Ediriweera Sarachchandra, who was 60 when he married his second wife Lalitha (his first wife was Eileen Beleth, married when he was 25). Lalitha Sarchchandra's age at the time marriage cannot be determined but the age gap between them was even bigger.

After him, Victor Ratanayake was the first public figure to break this age and socio-cultural barrier regarding marriage. By that, we can surmise that such unions are uncommon. That doesn't mean that they aren't 'right.' Such unions are uncommon in societies where monogamous heterosexual marriages take place. But some cultures and religions provide exceptions. Historically, we too, have such unions on record. British agent John D'Oyly has stated how he was shocked when a beautiful aristocratic Kandyan girl he met was married to an 'ugly old Kandyan chief.'

Uncommon doesn't mean that such marriages, when they happen, should be bottomless feeders for gossip columns. Victor Ratnayake, though he may look highly conservative with his repertoire of devotional and patriotic songs, is in fact a bold innovator when it comes to music, in his instrumentation and composition. It's hardly surprising that he was able to inspire a much younger woman to marry him at an age when most men have nothing more to look forward to.
That his wife is involved now in a scandal is a personal dilemma for him and he should be left alone to deal with that. There's nothing at all for the media or anyone else to celebrate.