---
Whether people know it or not an autoimmune disease epidemic is sweeping the globe. It has already hit tens of thousands of Sri Lankan people and most of them do not even know they are having some of these secret diseases. The mysterious epidemic is aided and abetted by the poisons used in agriculture and in our food. Subtly marketed by multi-million dollar profit-making multi-national corporations and so called local experts including specialist organizations.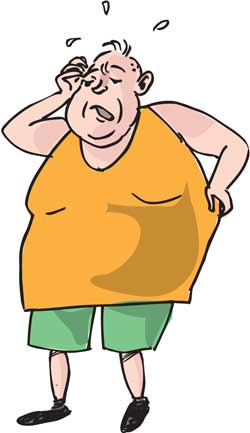 At a recent meeting held by the Toxicological Society of Sri Lanka (TSSL) some experts revealed their agendas as to what their aim was and who they were working for. On World Obesity Day, the Sri Lanka Medical Association held a seminar which was sponsored by a transnational company known to have played a major role in dismantlling Sri Lanka's once thriving fresh milk industry and creating a crisis where Sri Lanka now imports powdered milk to the value of hundreds of millions of dollars each year. The "Nutrition Society of SL recently held a seminar to promote a drug therapy for obesity forgetting that nutrition is largely about food and not drugs.

Obesity, known to be caused largely by overeating fast foods and highly priced or highly relished processed rubbish is the main cause of many diseases including Hashimoto's or thyroiditis, Crohn's or a inflammatory bowel disease, Rheumatoid Arthritis, Multiple Sclerosis and Alzheimer's. From this week a controversial film is being screened and it could save millions of lives. By watching this you could empower yourself and your loved ones to help turn this crisis around.

You could watch this riveting and powerful 7-part documentary series, called 'Betrayal', that exposes the truth about auto-immune disease – and more importantly, what you can do about it. From next week you can watch it online free-of-charge. According to experts, this series illumines the problem and also focuses on proven and life-changing solutions. There are countless people who have prevented, stopped, or even reversed auto-immune disease.

In Sri Lanka the National Government appears to be successfully pushing through its programme for our farmer community to switch from the use of large quantities of imported agro-chemicals to safe and more affordable organic fertiliser including cow dung fertiliser. During the past few months we have seen several farmer organisations coming out strongly against this change. They want to continue using imported agro-chemicals some of which are known to be toxic and have polluted not only the soil but also the underground water resources. This is known to be one of the main causes of the chronic kidney disease that has paralysed mainly the farming community in the North Central and other provinces. Most of the protesting farmers are apparently not aware that the secret hand sponsoring their protest is linked to transnational companies. The government needs to take a strong stand on this and the people need to be made aware that we cannot continue polluting our soil and ground water resources though sections of the media appear to be giving too much publicity to the protest.

The government has also launched a programme for Sri Lanka to produce its own nutritious food over the next three years and we hope the people will cooperate in this mission which will make us healthier, wealthier and wiser while also saving billions of rupees in foreign exchange at a time when our foreign debt is reported to be in the region of a staggering nine trillion rupees.