---
Amid the tight security in the aftermath of the Easter Sunday suicide bomb massacres and the backlash three weeks later, Sri Lanka celebrates Vesak today. This thrice-blessed day marks the birth, enlightenment and death (parinibbana) of Siddhartha Gauthama the Buddha. Due to the security situation, Vesak this year will be more spiritual and largely confined to temples where hundreds of thousands of people are expected to take part in 'Prathipatthi poojas, Aamisa poojas' and other religious ceremonies. On the advice of the Mahanayaka Theras, the Buddha Sasana Ministry and the security forces, most organizers have dropped plans to erect big pandals, dansals and Vesak zones which normally attract large crowds and may pose a security risk.

Significantly, turning a calamity into a blessing, people of other faiths including Christians, Hindus and Muslims are also expected to take part in the temple ceremonies. The Mahanayake Theras and other prelates have in the weeks after April 21, emphasized one of the Buddha Dhamma's main principles that violence does not cease by violence, hatred does not cease by hatred but by merciful love and compassion.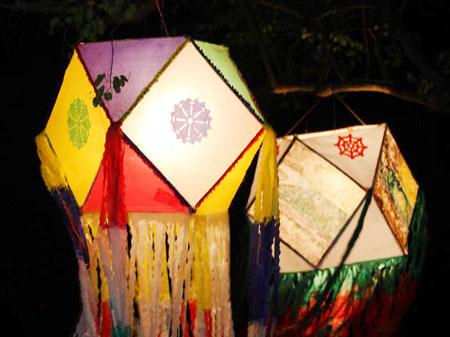 Since the Easter Sunday carnage by two or three IS-led terror groups, highest level religious leaders have been meeting regularly to consolidate the movement for inter-religious and inter-racial unity in diversity. This unity is vital if Sri Lanka is to bring about poverty alleviation make headway in the battle against global warming or climate change and in other socio-economic issues. We hope that Vesak today will be a turning point in sincere and selfless religious unity where while we honestly practise our own faith and beliefs instead of just preaching, we will also have deep respect for the faith and beliefs of those who practise other religions. Inter-religious scholars have pointed out that an important common feature in all major religions is the principle of doing unto others what we wish they would do unto us.

If the people deeply meditate on this and prastice it, behold we will see something new in Sri Lanka. The important factor is not just to preach but to practise so that our lives will become a sermon or a message. When we love those who hate us, help those who hurt us and bless those who curse us, when we keep on forgiving, showing mercy and compassion our lives will become a powerful sermon, we will be liberated from the venom of anger, bitterness, unforgiveness, violence and hatred, we will have deep freedom in our lives while the other person or people will be transformed.

As scholar monks have told us, those who lived the Dhamma, would be protected by the Dhamma. Jesus Christ also has told us, that he is giving us only one commandment, "love one another, as I love you". Mainstream Muslim and Hindu teachings also propagate the same principles. Though in all religions, extremist elements emerge and they often have some party political agenda.

Buddhahood being essentially wisdom we need to also reflect deeply on what happened in the Easter Sunday's slaughter, on why IS chose Sri Lanka as its target and who was behind the mobs who attacked Muslim owned businesses and homes in several parts of the Wayamba Province and the Gampaha Police Division. The May 13, 14 and 15 attacks, just days before Vesak were apparently intended to disrupt Vesak.

The Arab traders are known to have come here around 800 AD and have got on well with the Sinhala community, even supporting the Sinhala people during the invasions by the Portuguese, the Dutch and the British. Historians say the Muslims even brought arms from Arab countries and gave them to the Sinhala Kings in their battle against the British forces. Even during the 25-year-war, the Muslim people were persecuted by the LTTE and they gave full support to the security forces in the battle against the terrorists.

Then why this sudden enmity? Are there invisible hands behind the IS-led terror groups here. If there is documentary evidence of this, then all religions need to come together and insist that they be brought to justice. As all religions say, while love and mercy are essential, equally important are justice and righteousness.