---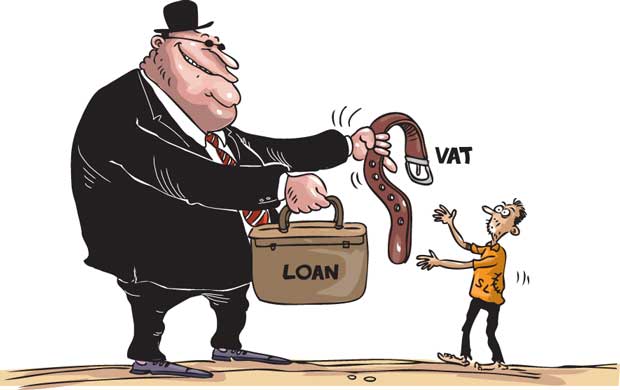 It is ironical if not cynical that immediately after May Day; it may be like the may day may day distress signal for millions of workers and the common people. According to a finance ministry announcement, the cost of living is likely to soar with the value added tax on goods and services including utilities being raised to 15%. In addition to various items, essential or non-essential, the 15% VAT will also be imposed on some utility bills.

The people are aware and most do understand that the National Government is facing a major financial or debt crisis largely due to the reckless borrowing by the ousted Rajapaksa regime. In addition to the huge loans at high interest rates, some of the former regime's leaders and top officials are alleged to have been involved in multi-million-dollar rackets, with investigations going on for more than one year largely because there is little by way of documentary evidence. In most cases, covering up the tracks is part of the strategy of racketeers, as we see in the Panama papers where shell companies have invested billions of dollars through third or fourth parties.

In the spirit of the law, a case has to be proved beyond reasonable doubt. While most people understand the legal problems, the law's delays and complexities, there is also reasonable cause to believe that party political issues are adding to the delays, if not leading to cover-ups. Most people believe justice is being unduly delayed and may be eventually denied.

At a time when national unity in diversity is vital for reconciliation and transformation of Sri Lanka into a just society, what is happening in the Sri Lanka Freedom party-led United People's Freedom Alliance is disgraceful if not disgusting.

While free speech and respect for different or dissenting opinions are important for good governance and democracy, it is apparent that the dissent today is largely due to a greed for power, personal gain or glory. On May Day, the official SLEP-led UPFA will hold its rally in Galle while a dissenting group labeling itself as the joint opposition will hold its rally at Kirulapone. This group, led by Mahajana Eksath Peramuna Leader Dinesh Goonawardene, paid a National New Year visit to the Rajapaksa home-base of Carlton in Tangalle to formally invite former president Mahinda Rajapaksa for the Kirulapone rally. The UPFA General Secretary has also invited Mr. Rajapaksa for the Galle rally. So it may be one foot in Kirulapone, the other in Galle.

Some of the so-called joint opposition group leaders are apparently still trying to whip up racial or religious tension, this time even trying to create ISIS ghosts to cause fear among the people.

Reacting to this, President Maithripala Sirisena, as the SLFP and UPFA Leader is offering portfolios with perks to possible dissidents. As a result, the Cabinet is nearing the hundred mark. According to latest estimates, it costs the people about Rs. 5 million a month to maintain a Minister. That means about Rs. 500 million a month for all the Ministers, Deputy Ministers and Ministers of State. The annual cost is a staggering Rs. 6,000 million and it is paid from the people's money.

The President, when he was swept to power in the silent people's revolution of January 8th proclaimed himself as the chief servant leader of the people and pledged his lifestyle would be simple and humble. So is it. He and the Prime Minister Ranil Wickremesinghe pledged there would be cost-cutting at the top and all levels.

They called on all to avoid wasteful expenditure, luxuries and extravagance. But most people today see the obese Cabinet as a bellyful of wasteful expenditure. This has caused a major credibility crisis. Some of the SLFP ministers today could not even win their own seats and came through the back door. They have pledged to work for national unity and reconciliation. But one SLFP minister, known for his big if not bad mouth, publicity blasted the Prime Minister recently.

Discipline, collective responsibility and cost-cutting need to be restored immediately in the National Government. If some politicians have to be paid their loyalty or patriotism, then the President and the Prime Minister need to take tough action against such hired patriots.

Amid widespread concern and criticism, the President pledged he would not allow any VAT increases that could cast more burdens on the common people. In what was seen in one of his toughest speeches, the President warned at a Polonnaruwa rally he would sack any economic experts who proposed heavy taxes for the common people. We hope the government would find other means of tackling the financial crisis without imposing heavy indirect taxes on the common people.