---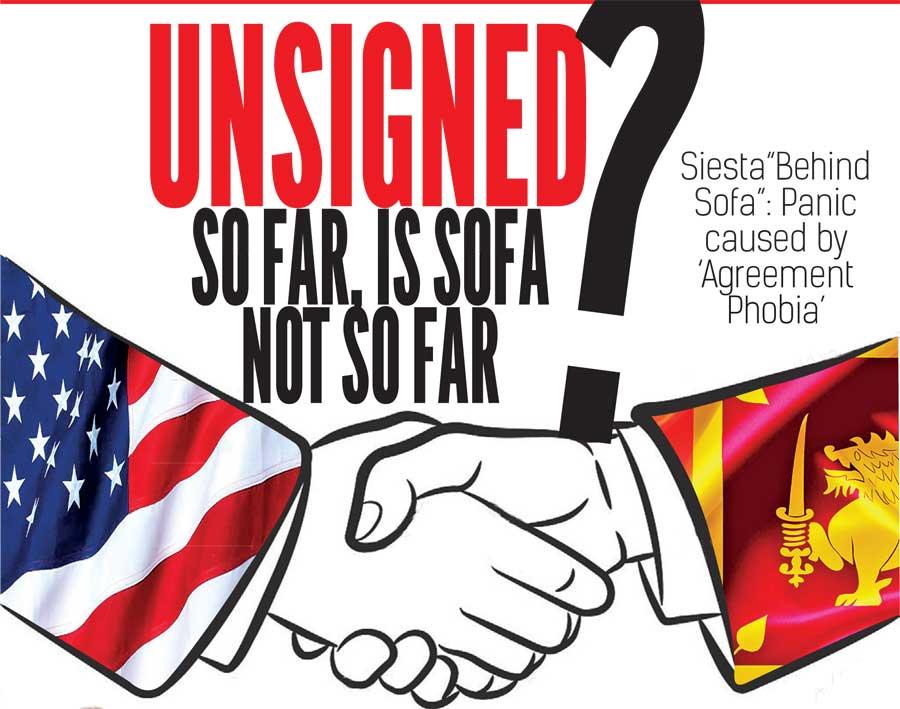 "There is no such agreement signed" - Prime Minister

"I am completely against SOFA that allow the US forces to access Sri Lanka,"-president
"…Death, will come when it will come" - Shakespeare [Julius Caesar-Act II]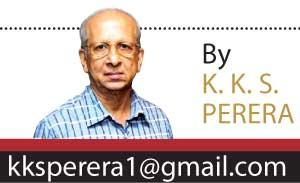 "Behind the SOFA" is an English pop culture phrase relating the frightened reaction of hiding behind a sofa to keep away from seeing startling parts of a TV drama, with the sofa offering a hiding place, to avoid the screen threat, with the suggestion that one wants to stay in the room to watch the rest of the drama. Although the expression is sometimes employed in a serious circumstance, its use is more often than not intended to be amusing or nostalgic. An upholstered seat with a raised back and one or two raised ends, SOFA is long enough to comfortably accommodate two; but, the 'big one' will invariably push the weak off.
"Siesta"Behind Sofa": Panic caused by 'Agreement Phobia'

Sean Cairncross, Chief Executive Director of the Millennium Challenge Corporation [MCC] wrote to Prime Minister [the letter was released by government to media]; it says the MCC looks forward to Ranil Wickremesinghe's continued leadership to advance their 'shared goals'! –Why Panic? MCC is all about 'aid' to Sri Lanka.
Opposition members posed several questions to the Premier about the controversial agreements ACSA and SOFA in parliament on July 11. PM noted that the SOFA was not the same agreement that was signed in 1995. He said there had been exchange of letters between the US and the Ministry of Foreign Affairs and he emphasized that there was no such SOFA agreement. He asked the opposition, "which Sofa, the one out in verandah?" [when asked about Bond scam in March 2015, PM chuckled calling it 'James Bond' and attempted to wriggle out.] He further stated that the ACSA which was signed in 2007 by the then Defence Secretary Gotabaya Rajapaksa has seven pages and the agreement they signed has only five pages; to which MP Anura Kumara Dissanayake responded saying the harm in an agreement is not calculated by the length of it. He said what's significant is to determine the content of the agreement. He also queried if they tabled the complete agreement with all the annexure.

Being questioned about the conditions incorporated in the agreement that are listed to be signed, the PM noted that there is no such agreement, but only a draft Bill was given. He said they have informed the points they would be in agreement with and would sign only if they are satisfied on it.
Hundreds of 'SOFAs' signed between nations
The US military has the biggest foreign presence and accounts for most SOFAs; many other nations like UK, Germany and Russia also station armed forces abroad under negotiated SOFAs with the host countries. The Soviet Union (USSR) had SOFAs with most of its union states. Most of the American SOFAs are transparent and public. A Status Of Forces Agreement is an accord between a host country and a powerful nation stationing military in that country. As part of a comprehensive defence arrangement SOFAs are often incorporated, along with various military agreements. A SOFA does not comprise a security agreement; it sets up the privileges and rights of foreigners present in a host country in support of the superior defence arrangement. SOFA differs from military occupation, under international law.
"Many host nations have mixed approaches to foreign bases. The political issue of SOFAs is complex due to this fact, and demands to renegotiate the agreement, calls for foreign troops to leave totally"

Many host nations have mixed approaches to foreign bases. The political issue of SOFAs is complex due to this fact, and demands to renegotiate the agreement, calls for foreign troops to leave totally. Issues of traditional customs have arisen –generally there are no agreements on what amount to a crime, many Americans feel that host country's justice systems are weak and are unable to provide protections to their men as does the US. They argue that the host country's authorities can be subject to pressure from citizens to make guilty verdicts. The host country observers, this as an irrelevant justification for demanding extraordinary treatment similar to agreements 'command' by imperialists during colonialism. To many American observers, the fact that most charged criminals ultimately end up being put on trial in a local court and found guilty. Host countries observe, it strengthens the opinion that the SOFAs protect the guilty.
Usually, crimes by military members against locals take place off duty. Local Police in many instances have complained that this hinders their skill to hold inquiry on suspects and investigate the crime.
Vietnam's My Lai village massacre by US military
Mass murder of unarmed South Vietnamese civilians by US troops 50 years ago. Unlike other tribunals, a military court does not clarify its judgments; they only obey orders! [Reminds court marshalling of Gen.Sarath Fonseka by the Rajapaksa regime]. Lt. William Calley of US did in fact kill many unresisting Vietnamese villagers at My Lai, when he was a platoon commander in Vietnam in 1968.Calley's defence never denied the crime, but upheld that it had been carried out under orders. All military forces function according to the ethics of discipline and submission to orders. Soldiers are prepared to serve the interests of their nations despite the adversities. The operation was to commence in the morning on March 16, 1968 with a short artillery preparation. The hamlet of My Lai was marked on US maps. The massacres at My Lai actually happened at Tu Cung, one of these sub-hamlets. Again, the whole Village was the target for Task Force over a period of three days; for two platoons to sweep through the hamlet, quickly taking out any enemy opposition they encountered.

From 16 to 19 March 1968, a tactical operation was conducted into My Lai Village, Son Tinh District, Quang Ngai Province, Republic of Vietnam, by Task Force Barker, a battalion-sized unit of the American Division. Around 100 soldiers following a short artillery and helicopter gunship barrage, landed in helicopters at, a patchwork of settlements, rice paddies, ditches, dikes, and dirt roads. They suspected there were guerrillas hiding in the huts; the gunships engaged several enemies in vicinity. Platoons fired at natives they saw in the fields. The killings started without caution. Around 15-20 people, all women and children, kneeling around at a temple were praying and crying all killed by gunshots. A group of 70–80 villagers was rounded up and led to an irrigation ditch, where all detainees were pushed into it and then killed after repeated orders by Calley, who also fired shots. Dennis Konti, a prosecution witness told of one particularly gruesome incident during the shooting, "Women had thrown themselves on top of the children to protect them, and the children were alive at first. Then, the children who were old enough to walk got up and Calley began to shoot the children."
"US military has the biggest foreign presence and accounts for most SOFAs; many other nations like UK, Germany and Russia also station armed forces abroad under negotiated SOFAs with the host countries"

Platoon members testified said that many of the deaths of individual men, women and children occurred during the security sweep. Livestock was shot as well. They set fire to the huts and waited for people to come out and then shot them. They gathered people in groups and shot them ... As I walked in, you could see piles of people, the village ... all over. They were gathered up into a large group and a M79 grenade launcher fired into the group. But it was mostly done with a machine gun. They were shooting women and children just like anybody else. The next day, they were involved in burning and destruction of dwellings.
Thomas Allison, professor of Military History at Georgia University, wrote, "By mid-morning, they had killed hundreds of civilians and raped or assaulted countless women and young girls. They encountered no enemy fire and found no weapons in My Lai itself"

The My Lai massacre in contemporary history serves as a typical reminder of the terror of foreign forces under the cover of obedience to superior orders, who massacred innocent people. The end result of this case conducted in US was disappointing, for no one person accountable for committing these atrocities fully served the sentence for his criminal act.
This was a major contention throughout the inquiry and trials of the soldiers implicated in the massacre. There were factors which arguably suggested that although there were no orders given to kill civilians, it was assumed from the orders that such was to happen. The intelligence information was that the civilians had gone to market, the village was entirely controlled by Viet Cong, the people had been previously warned to get out, and the use of direct artillery and gunship fire on the village seemed to suggest that everything was to be destroyed, including the locals. The plan of the operation, search and destroy was explained. One important aspect of Captain Medina's orders was that he was questioned on what was to happen to civilians in the village.
Conclusion
Only 26 American soldiers were charged with criminal offences and court marshalled. Lt. William Calley, the platoon leader was convicted. He was found guilty and originally given a life sentence, but served just three and a half years under house arrest. The massacre at My Lai is not an event that one wants to be reminded of. Its shame will live for generations. However, lessons should be learnt from this and future generations enlightened.