---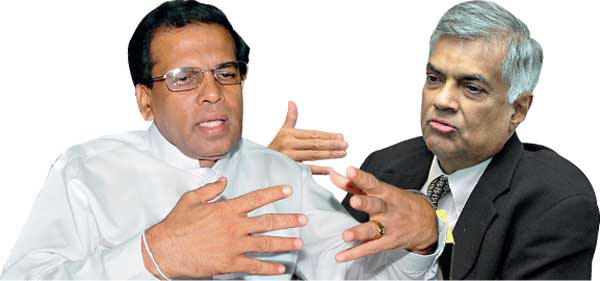 "Life only demands from you the strength that you possess. Only one feat is possible;
not to run away".
~ Dag Hammarskjold


It's not yet two full years, yet close enough. And close enough for us to pass our verdict on the Sirisena-Wickremesinghe Combo that is holding reins in Sri Lanka's polity today. Passing judgment on their performance on the political field is hard enough, yet the appetite for judgment shown by the masses and so-called intelligentsia might propel one to that inevitably dangerous haste: 'rush to judgment', and if wrongfully arrived at, may lead to more peril of the judge than those who are judged.

Ascending to power on the backs of a voter who was yearning for a better system of governance, a brighter scope for the future and a more equal sense of justice, the weight that imposes on the Sirisena-Wickremesinghe Combo is undeniably heavier than one would ascertain. But the burden of that 'Cross' should not retard the swift stride that they had pledged to undertake at the hustings, nor should they begrudge its unusual weight. The burden of leadership is exceptionally weighty and they and they alone should carry that burden. No passing of the buck should be welcome. The ordinary folks would not render any leverage in favour of the carrier, for that burden was not placed on them, the Sirisena-Wickremasinghe Combo, by the ordinary man or woman. It was sought after and placed on their shoulders by the carriers themselves. They should have realized the short and long-term effects and the incredible faith and trust that were inherent in the responsibility of leadership of a nation.

The luxury and extravagance of political power carries within itself a much more uplifting and awesome quality of responsibility. Those who cared only about the luxuries of power and the natural magnetism to it from the susceptible voter, those who disregarded the supreme sacrifices one had to make to be at the helm, would eventually be punished, without mercy, by the voter at the elections. Yet as demonstrated during the past decade when the Rajapaksas held those reins, they took it for granted that that power, instead of being of an utterly fleeting nature, granted them a warrant to preside over the whole gamut of Sri Lankan polity. An umpteen number of unforced errors committed by them ultimately swamped them into a comfort zone from which they could not extricate themselves. A tragic political dynamic took over the persona of the regime and the more corrupt elements of that coalition got attracted to the centre that was the First Family.

Certain white-collar offenses and even several criminal findings emerging from the various investigations that are under way are an unambiguous specimen of the way in which the previous First Family conducted their wicked and disreputable activities. Hence, the Rajapaksas met with the wrath of the voting public. The verdict by the public so unmistakably validated at last year's presidential elections still holds good. Yet the impatience and anger shown by them is no random demonstration of public emotion. It is justifiably aimed at the lethargic approach adopted by the investigators. However, the adverse political consequences are owned by the Government. In politics, optics matter more than one would concede. Both Maithripala Sirisena and Ranil Wickremasinghe realize that. Yet mere realization of a given political reality is one thing and taking prophylactic or remedial measures is totally another.

It is in that context of governmental response that I have prepared the following table. It must be emphasized that these are entirely personal judgments. And I have no fear in sharing them with the reading public. I have been quite, one may surmise, cruel in my judgment of the past regime. However, I have not been all that charitable to the present Combo either.
Legend: MS/RW is Maithripala Sirisena and Ranil Wickremasinghe Combo
MR is Mahinda Rajapaksa

Numeric appearing in each column signifies each party's score out of 10. zero being lowest and 10, highest
As illustrated in the above table, the reversal effect, which was expected by a majority of the electorate in the 2015 Presidential as well as General Elections, is not manifestly evident, particularly in the spheres of corruption and nepotism. I do not know if the present Combo could effectively change that reality. After inheriting an intrinsically corrupt structure of governance, tolerated and enlivened by a gullible but helpless public, adherence to normalcy where accountability and transparency reflect the actions of that government, seems almost impossible. The constraints and checks and balances that a new government introduces into the system invariably slow down the process. History bears testimony to this phenomenon at every defining turn.

Concentration of all power within one single person or family cultivates that delusionary character which abounds in all dictatorships, everlasting power. They get drenched in the notion that not only are they held in high esteem in matters of politics by mundane folks, but also in matters well outside the realm of the capacities of those who wield power. This myopic cycle catches hold of the psyche of these rulers and without their conscious scrutiny, begin to render advice and counsel on matters which are more profound and consequential in life altogether.

What happened during the previous regime was precisely that. Into their kith and kin, they recruited willing partners who are equally intoxicated by the lure of political power. The corruption and ill-behavior of these sidekicks, instead of being a disqualification, amounts, in the eyes of the rulers who require the support of their henchmen for the perpetuation of their lot, to a crucial character they highlight in the recruiting process. Their circle is full now. An infinite amount of cash and muscle begins to pour. A wild dance of power pregnant with corrupt practices and dishonesty starts its macabre spectacle.

While writing this column I stepped out of my French windows to the balcony. Housed in a tall tower of apartments, I'm fortunate to enjoy some lazy evenings, looking beyond the immediate geography that surrounds me. I behold a concrete woodland, bereft of any architectural character, style or class. Not a single piece of construction reminds me of our ancient heritage.

Only the old Parliament, which now is the Presidential Secretariat and Galle Face Hotel bear grace over an otherwise riotous collection of buildings. The calming effect of the Indian Ocean, with its emerald green waters and endless waves that hug the sands of the shores of Colombo leaves within me a profound sense of peace and melancholy.

What a characterless bunch of humanity have we become? Is this what we are going to bequeath to our young? Where has all the beauty gone? Whereas the endless stream of ordinary men, women and children whose each and every single countenance reveals a unique sense of identity, each at peace with their worldly pursuits, the ugly aspects of our national weaknesses and idiosyncrasies have overwhelmed us.
Values that once enriched our souls and purified mundane life, values that enhanced our dignity as a people full of compassion and kindness have eroded. An empty vessel of national life is awaiting the eventual sepulcher of a nation dragging its weary way around political shortcuts and expediency. A fatigued sun is dipping down over a painted sky, breathtaking in its grandeur, intrinsic of a sunset beheld on the coastlines of an island, and bidding adieu to another uneventful day. My mind wanders across the shoreline into the hinterland of our splendid Island. Water lapping over earthy bunds along a green paddy field, bordering a greener pasture enriched by monsoon rains hold a promise of a bountiful harvest.
The fragrance that emanates from our rural folks' sweat is pervasive; instead of driving his neighbours away, that very fragrance of sweat allures many a willing collaborator. The lucky farmer, whose tireless arms, hands and legs do not give way, when he reaches home and his beloved, is already planning for the next day's chores. Menika, the rustic wife of the farmer awaits his arrival with a thousand expectations and dreams. A better school for the firstborn, a tiled roof over their heads, a new tractor to plough and harvest, graduate from a motorcycle to a four-wheeler, they are all legitimate and ordinary dreams of ordinary villagers.
They are all gifts, less of nature and more of his indefatigable labour and his yearning for a more perfect union with nature and himself. Disciplined by the sublime teachings of the 'Great One', the Buddha, he and his family go through their lives without complaint and hate. Undisturbed by the town's canker, the family tries to spend a moonless night in the comfort of each others embrace. Man's thirst for betterment did not begin yesterday. Since the dawn of civilization, he has striven towards easier and more amenable settings, which are conducive to aweinspiring creations such as the Samadhi Buddha Statue in Anuradhapura and Gal Vihare in Polonnaruwa. I look beyond my balcony; the sun has disappeared into the embrace of the horizon and I'm haunted by the dialogue writer in the recent Hindi movie, 'Sarbjit': "however high the destination is, the path that leads to it is under our feet ". The writer can be contacted at vishwamithra1984@ gmail.com