---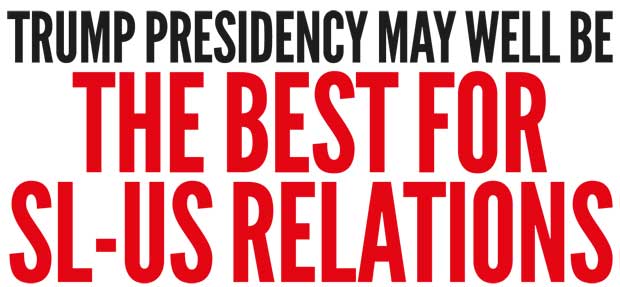 ven 1,000 coconuts could not stop Donald Trump from winning the US presidential election. A group of Tamil National Alliance politicians dashed 1,008 coconuts to invoke blessings for Hillary Clinton. Still she lost. Now President Maithripala Sirisena has written to President-elect Trump seeking his good offices to bring an end to persistent meddling by the UN Human Rights Council in Sri Lanka.
"I sent a special message to Donald Trump asking him to support us at the (council)," the President said in a statement issued from his office. "I am asking him to help completely clear my country (of war crimes allegations) and allow us to start afresh."
Mike Pence, the Vice-President-elect has phoned President Sirisena inviting him to visit Washington. It is not known whether Mr. Pence was responding to the President's letter.
It is also not clear whether the president's letter was written out of sheer desperation at the UNHRC or it was just a political gimmick. Usually as UNHRC sessions come closer, the South gets fired up. Navi Pillai, the former UNHRC chief was a household name, quite an accomplishment for an UN envoy. Though her successor Jordanian Prince ZeidRa'ad Al Hussein was not yet so well known, still any three-wheel driver in Colombo would easily recognize him.
However, this time around, it was a bit too early to raise the UNHRC red flag before the Southern electorate. What motivated the president, therefore, cannot be sheer domestic political calculations. If he is acting in response to the broader changes taking place in Washington, and a probable shift in political values there itself, one cannot help but applaud him for his realist ingenuity, which is something lacking in Sri Lankan foreign policy throughout our independence.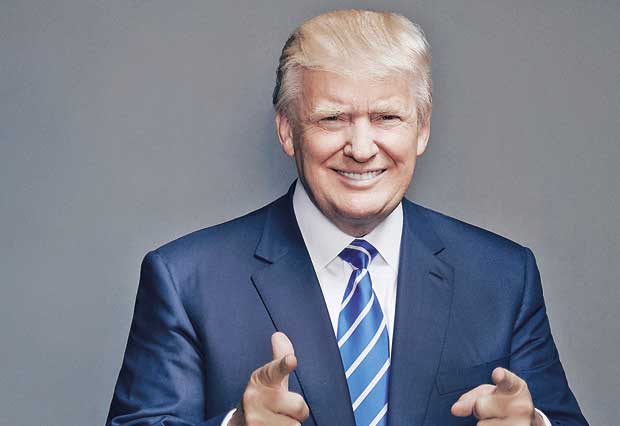 Mr. Trump may not share broader geopolitical interests of his predecessors, however, after assuming office, he will be compelled to socialize and adapt to them. However, if the tempo of his election campaign was any guide, he may not be too keen on preaching politically correct (and often ineffectual) approaches of solving domestic problems in foreign countries. He himself has vowed to bar Muslims from America, deport 11 million illegal immigrants and build a wall and make Mexico pay for it. He speaks of fighting Islamic State terrorists but describes the autocratic but secular president Asad of Syria who fights the same terrorists as incorrigible. He earlier vowed to authorize the use of waterboarding, and has now retracted it, because he has been told it does not elicit additional useful information. He has appointed a white nationalist as his chief strategist and picked a known former racist judge - who had previously been rejected as a federal judge for being too racist - as his Attorney General. All of that sounds awful. However, viewed from our angle, he may not be as enthusiastic as his predecessors to deliver justice to dead terrorists and unfortunate civilian victims of the final stage of war. That would probably make it easier for this government to work with the new administration in Washington.
If this government can reach out to Trump's administration and start afresh, it will be a very smart thing. It would indeed be easier now than later when the rest of the world get over the shock of Trump victory and line up to pay homage. Still, he is snubbed by most of America's closest allies. When he tweeted Nigel Farage would make a good British ambassador to the US, Downing Street said, "no vacancy".
On the contrary, less principled, and probably more practical leaders of small states like Philippines President Rodrigo Duterte have appointed Trump's business partner as Manila's envoy. After a telephone call between Messrs Duterte and Trump, the former's office said the two leaders had a 'very engaging' conversation and Trump said the president of Philippines was doing the right thing in fighting his controversial drug war, which has killed 4,000 people in five months. Obama administration's vocal concerns over killings prompted the mercurial Philippine president to threaten to sever military ties with America.
Our government heaped all hopes on the Obama Administration, partly driven by the modest recent thaw in relations, it hoped a continuum under a future presidency of Hillary Clinton. It also quickly developed a habit of echoing and often feigning the concerns raised by those Western powers.
"Philippines President Rodrigo Duterte has appointed Trump's business partner as Manila's envoy. After a telephone call between Messrs Duterte and Trump"
Recently the freedom of maritime commence was a buzz word in official communiques with Western leaders, because Washington had been organizing a broader regional consensus against China's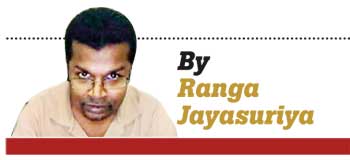 expansive maritime claims in South China Sea. That could have been the right thing to do then when the US was making a concerted effort of soft balancing of China -- though any 'band wagoning' has to take into account our costs and benefits.
Now the government is feigning the same bewilderment seen in Western Capitals towards the Trump presidency. Those big powers have the luxury to do so, but we don't. A country's relationship to the international system is predicated, first and foremost, by its relative power. We have very little of it. Countries like Philippines have boosted up their limited internal power through alliances with the US, which make them more important to the US grand strategy than they could otherwise have been. Again, we have none of that.
Much of the world is still reeling from the shock of the prospect of Trump presidency. Even cynics are flummoxed. They all surely have very noble concerns about the future of freedom and democracy. Foreign Minister Mangala Samaraweera in an interview with this newspaper earlier confided he could have been happier had there been a different outcome to the US presidential election. (He nonetheless said Sri Lanka would seek to build on the momentum left behind by the Obama administration)
"It is also not clear whether the president's letter was written out of sheer desperation at the UNHRC or it was just a political gimmick"

Leaders of small states like ours, especially with our current economic and social conditions, do not have luxury of acting on idealism. Such adventures in the past proved to be serial failures. This government is trying to harness our advantageous strategic location in the Indian Ocean and our recent democratic gains to leapfrog the country's development. To that end, stronger relations with the US would be in our greatest interest, which among others, give us a greater bargaining power in our relations with other world powers.
It does not matter who is in charge of America. The government should give a determined try to reach out to him. Perhaps, Prime Minister Ranil Wickremesinghe, who spends his intellectual energy in addressing seminars (the recent one in Hong Kong) can fix an appointment and see Mr. Trump. Of most leaders of this part of the world, Mr. Wickremesinghe should easily be able to impress the US- president elect. Who knows whether Donald Trump, as unpredictable as he is, could well turn out to the best thing happens to Sri Lanka-US relations.
Follow Ranga Jayasuriya @ Ranga Jayasuriya on Twitter