---
At any level of society, the decision-making process is flawed when it lacks the feminine qualities and characteristics such as patience, resilience and inner courage. Across the world, this is a widely-held viewpoint, though some male chauvinists – downgraded and degraded in the modern age -- still promote male domination and abuse of power. Unfortunately, since January 2016, the United States President Donald Trump has given encouragement to male chauvinistic groups though it is possible that the next US President could be a female.

These are among the worldwide trends which came to mind yesterday as we celebrated International Women's Day on a bigger scale than before, with the #MeToo movement and other gender equality groups making a powerful case for justice and the prevention of sexual abuse.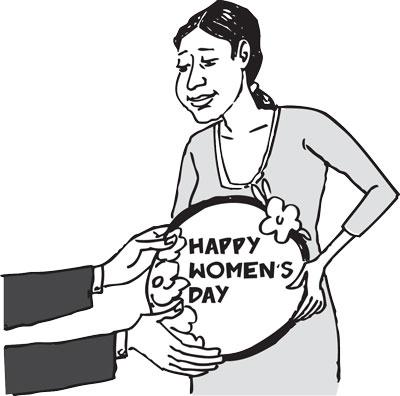 The United Nations IWD 2019 theme is think equal, build smart, innovate for change. In a statement, the UN says IWD is a time to reflect on progress made, to call for change and to celebrate acts of courage and determination by ordinary women who have played an extraordinary role in the history of their countries and communities.

The 2019 theme focuses on innovative ways in which the world can advance gender equality and the empowerment of women, particularly in the areas of social protection systems, access to public services and sustainable infrastructure. The achievement of the ambitious Sustainable Development Goals (SDGs) require transformative shifts, integrated approaches and new solutions, particularly when it comes to advancing gender equality and the empowerment of women and girls.
Innovation and technology provide unprecedented opportunities, yet trends indicate a growing gender digital divide and women are under-represented in the field of science, technology, engineering, mathematics and design. It prevents them from developing and influencing gender-responsive innovations to achieve transformative gains for society. From mobile banking to artificial intelligence and the internet of things, it is vital that women's ideas and experiences equally influence the design and implementation of the innovations that shape our future societies, the UN adds.

Echoing the priority theme of the sixty-third session of the Commission on the Status of Women, in 2019 the world looks to industry leaders, game-changing start-ups, social entrepreneurs, gender equality activists and women innovators to examine the ways in which innovation can remove barriers and accelerate progress for gender equality, encourage investment in gender-responsive social systems and build services and infrastructure that meet the needs of women and girls, the UN says.

In a Daily Mirror report today, investigative journalist Piyumi Fonseka says that in public transport, sexual harassment is virtually an everyday occurrence for tens of thousands of girls and women. She recalls the many horrible train and bus rides she has had in her life. Public transport is the only travel option for many women and girls even though they are aware that the possibility of being sexually harassed is high.

While President Maithripala Sirisena and Prime Minister Ranil Wickremesinghe issued
massages and presided at mega events in Polonnaruwa and Colombo to mark IWD, Transport Minister and World Cup wining Cricket captain Arjuna Ranatunga put Sri Lanka on the right track. Six trains were launched with separate compartments for women and girls.

In the 2019 budget, Finance Minister Mangala Samaraweera announced major steps to bring about gender equality in our workforce by providing more productive and well – paid jobs for women and girls. Non – Cabinet Minister and Economist, Harsha de Silva, in a budget analysis on television, also cited sexual harassment in buses and trains as one of the main reasons why women and girls opt to remain at home instead of going out and developing their multitude of vocational skills and talents. Men and boys should be ashamed of this perversion or desire to sexually harass women and girls in buses or trains. We hope that men and boys -- who seek goodwill, equality and justice -- will take a decision that they will treat women and girls as they treat their own mothers, sisters and daughters. For this to happen, the men and boys need to be inwardly liberated from their slavery to selfishness which leads to the abuse of women and girls.