---
Sri Lanka marked World Youth Day on October 1 by launching several important long-term programmes, perhaps the most important being the provision of life and health insurance for some 4.5 million children in about 11,000 schools countrywide.
In addition to launching e-classes in green or eco-friendly schools, the Government from next year will also ensure that all schoolchildren get at least 13 years of education even if they fail the GCE (Ordinary Level) examination or do not get sufficient marks at the A/L examination to enter an university. For this purpose the Government is to set up a multitude of vocational training centres mainly in the sphere of digital technology which appears to be soaring to Mars.
Microsoft Chief, Indian-born Satya Nadella, who took over from the legendary Bill Gates, in an interview with the Consumer News and Business Channel (CNBC) outlined details of how Microsoft intends to go beyond smart phones and to the incredible marvels of modern technology including artificial inteligence (AI).
Mr. Nadella says, "we are living in this mobile first Cloud first world every day making progress. So the question for us is how do we thrive in that world? What innovation can we bring? The co-evolution of hardware and software is going to define a lot of what is going to happen. Today, we have a particular definition of mobile, which is perhaps skewed to saying, oh, it's just a mobile phone. But if we take that and say the industrial internet, or the internet of everything, everything is going to be connected to our Cloud and data. That's the world we are building".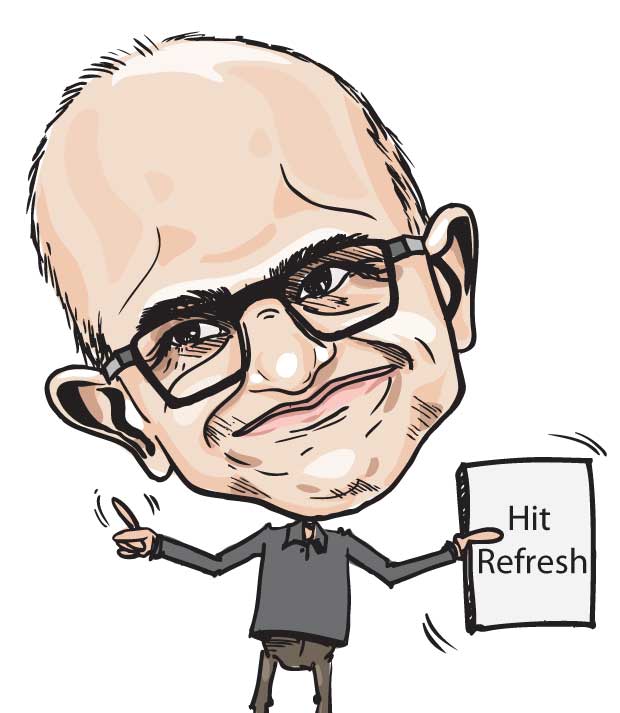 Recently, Mr. Nadella launched a book titled: "Hit Refresh: The quest to rediscover Microsoft's soul and imagine a better future for everyone." Asked about privacy and hacking in this era of artificial intelligence, Mr. Nadella said: "We don't want to change everything. We want to change the things that matter the most to be able to really go after the new concepts. Culture and culture change are in support of, in our case, innovation. And in tech there's no such thing as a constant, so the idea that we have to come up with new concepts, which need new capabilities, is what culture enables. So culture on its own is not just an agenda, but culture coupled with innovation is what really our business is all about."
"There's no doubt that as every part of our life and every part of our economy increasingly is driven by software and is becoming digital, cyber security is a top priority. In fact, if I look back, with any new technology there's always going to be the dark side, after all, with the telegraph there was wire fraud. We had to come up with both the laws, as well as technology to deal with it. I think the same is going to be true, whether it's with artificial intelligent or Cyber security," Mr Nadella says.
According to Mr. Nadella, some 43 years after the formation of Microsoft, one of the things they realized is that whatever novel new concept they come up with, ultimately, will stop being novel. "There will be a need to come up with the next thing. To do that we have to perhaps build a new capability like A.I. It is something we've always had, but we have to be building new types of A.I. And to do that we need a culture that fosters that capability-building long before, quite frankly, even the new concept is clear, so one of the great benefits is the long-term approach," he said.
It was in 1995 that Microsoft legend Bill Gates said, you know, the speech recognition thing is going to be important. Let's get started. Right, we didn't turn around just yesterday to start working on speech synthesis or speech recognition. That ability to take a long-term approach, but then seizing these market opportunities when they arrive, and it's not that we perfectly timed them, because we can't, but we need to be able to build capability and have a culture that allows us to build the capabilities so seize these opportunities, Mr Nadella said.
Microsoft is working towards artificial intelligence where visually-impaired people will be able to partially see and hearing-impaired people will be able to partially hear. We hope the Sri Lankan government would work towards acieving such enlightened objectives in vocational training.