---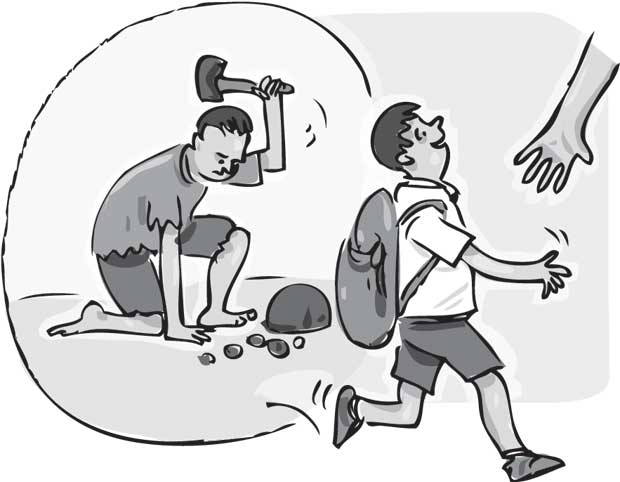 piritual leaders have told us that if anyone harms a little child he or she should be thrown into the deepest ocean with a millstone tied around the neck. Most social analysts also believe that if premeditated murder is the worst crime, then child labour, which often leads to physical or sexual abuse, must come next.
Yesterday, June 12 was the World Day Against Child Labour. The International Labour Organisation (ILO), affiliated to the United Nations, generally deals with issues relating to the working class. But in recent years, with child labour or child slavery and abuse spreading from the womb to the tomb, the ILO has focused special attention on this crisis which is a shame and a disgrace to humanity.

Last year the ILO theme was say 'No to child labour; Yes to quality education'. For this year's World Day Against Child Labour, the theme is Child labour and the supply chains.
In a message to the international community, the ILO reveals some shocking details which need to stir our conscience and push into action—as a community or a country, as family or individually. The ILO says that with about 168 million children still in child labour, all supply chains, from agriculture to manufacturing, services to construction, run the risk that child labour may be present.
ILO Director-General Guy Ryder says Child labour has no place in well-functioning and well regulated markets, or in any supply chain. The message that we must act now to stop child labour once and for all has been affirmed by the Sustainable Development Goals. "Acting together, it is within our means to make the future of work a future without child labour," he says.

In Sri Lanka, the battle against child labour needs to begin in families. Despite all the insights and enlightenment, we know that many families still keep poor children as domestic aides. The excuse they often give is that otherwise these children will languish in enslaved poverty somewhere. But we need to realise now that however well we treat the child servants, the denial of the right to quality education means that the child is condemned to live below the levels of human dignity. If at all it is essential to employ a child in a household, it is essential that the child must be sent to a school and given a quality education. Religious leaders need to emphasize these to every family.
According to the last survey, it was estimated that about 900,000 children were employed in different sectors here. There are indications that numbers of children in the worst forms of child labour are at a level that could be targeted for elimination by this year. We need to always remember that to be a child is a right.

According to the ILO's Secretary-General, Linda Kromjong, as economies become ever more integrated and the revolution in information and communications technology continues, the world is getting smaller at the same time that supply chains are getting more complex. The challenge that employers face to demonstrate that they respect human rights, to act with due diligence to avoid infringing the rights of others and to address adverse impacts that occur, has never been clearer. How to do this in contexts of widespread informality, insufficient law enforcement and persistent poverty, however, is far from simple. Child labour is a case in point: despite rapid gains in recent years, there are still 168 million child labourers in the world today, across all regions and sectors.

She says a Child Labour Guidance Tool was created jointly by the ILO and the International Organisation of Employers (IOE) as a resource for companies to meet the due diligence requirements laid out in the UN Guiding Principles on Business and Human Rights (UNGPs) as they pertain to child labour. It draws on the long experience of the ILO's International Programme on the Elimination of Child Labour (ILO-IPEC) in collaborating with employers to combat child labour in supply chains.