---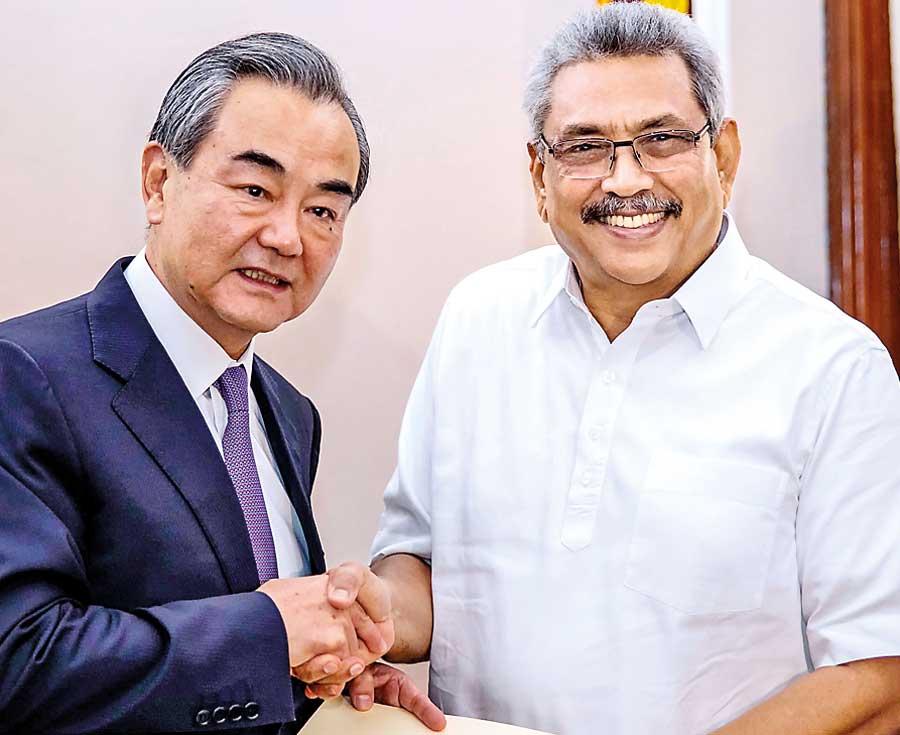 In this handout released by the Sri Lankan Presidential Media Division on January 14, 2020, Sri Lanka's President Gotabaya Rajapaksa (R) shakes hands with Chinese Foreign Minister Wang Yi during a meeting in Colombo (AFP)
U.S. lays emphasis on Indo-pacific dimension in bilateral ties with SL

Seeks constructive partnership with Sri Lanka

China seeks economic, security cooperation

Russia seeks to increase economic activities with SL
January 14 will go down in Sri Lanka's history of foreign relations since the country witnessed top level diplomatic engagements with three world powers- the United States (U.S.), Russia and China- which have competing interests in the region.
U.S. Principle Deputy Assistant Secretary of South and Central Asian Affairs Alice Wells, Russian Foreign Minister Sergey Lavrov and Chinese Foreign Minister Wang Yi were in town on the same day making it one of the busiest days for President Gotabaya Rajapaksa, Prime Minister Mahinda Rajapaksa, Foreign Relations Minister Dinesh Gunawardane and their officials.

All three sought to deepen cooperation with Sri Lanka. Economic ties, security cooperation and counterterrorism were three common aspects discussed by the representatives of these three countries with the leaders here in substantial terms. Besides, each raised matters specific to them.

Sri Lanka is in the reckoning for the world powers because of its strategic positioning, more than anything else. A power game plays out in the Indian Ocean region for strategic hegemony, and the respective countries engage Sri Lanka to prevent it from being slipped into the ambit of one player against the interests of the other.

In the Indian Ocean, Sri Lanka is only 12 nautical miles off the world's busiest shipping line. It is the trader artery that carries 72 percent of the world's energy supplies, 50 percent of containers and 35 percent of bulk cargos. Accordingly, Sri Lanka naturally falls within the radar of virtually every country in terms its security, trade, and investment perspectives.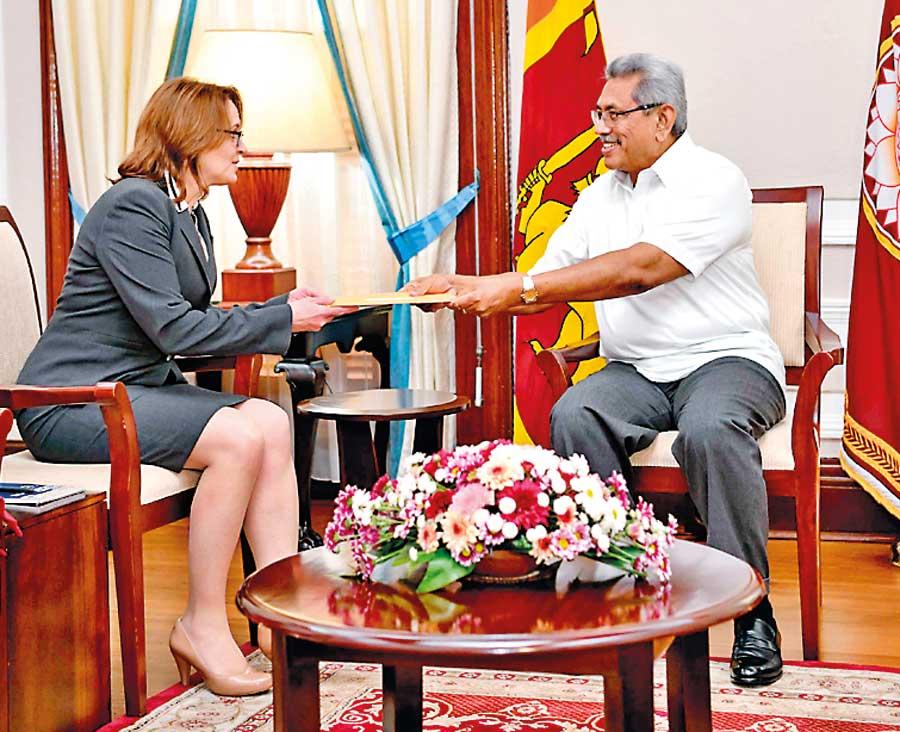 During the course of her meeting with President Rajapaksa, Ms. Wells delivered a letter from U.S. President Donald Trump, underscoring interest and commitment to further and deepen what she termed 'constructive partnership' with Sri Lanka. It is a significant symbol of the U.S making fresh engagements with the new government of Sri Lanka which is only two months into office.

She shared her views on the visit with a select group of journalists at the VIP lounge of the Katunayake Bandaranaike International Airport prior to her departure from the country after bilateral discussions with the Sri Lanka leaders.
Sri Lanka will count mostly on China for infrastructure development because no other country has such financial capacity to invest in this regard
That President Trump delivered a letter to President Rajapaksa is a clear signal that the U.S. is prepared to strengthen its ties with the new Government of Sri Lanka on the contrary to the views held in some quarters of Sri Lanka that relations will sour under the new set up here because of policy differences as far as human rights and minority issues are concerned.
Ms. Welles outlined this constructive partnership sought after by her country was something beneficial to both the countries and with significant potential, particularly given President Trump's broader vision on the Indo-Pacific region.

"We were able to discuss the dimensions of the Indo-pacific region with emphasis on increasing trade and investment as well as enhancing governance that allows for increase in investment," she said.
She laid emphasis on transparency, tariff and non-tariff barriers.

Aspects of maritime security featured prominently during her talks with the President. She underlined the importance of Sri Lanka in this respect because it lies geographically astride a major shipping lane in the India Ocean, which is responsible for a bulk of transnational trading.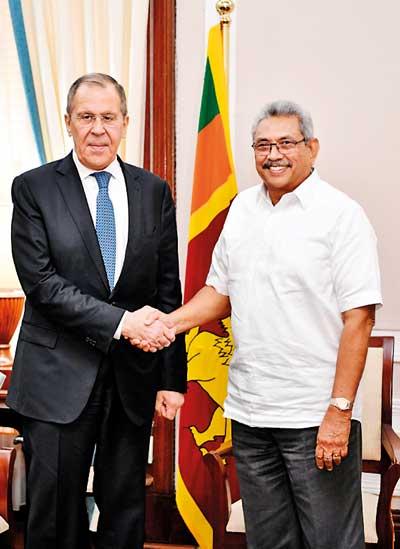 Referring to the allocation of US $ 39 million in 2018 to provide coastal radar surveillance here, she said it would be the launching pad for cooperation with Sri Lanka in this sphere. The U.S. has not deviated from its other areas of interest. As such, during her brief visit, she interacted with the representatives of civil society and the Tamil National Alliance (TNA).

As she narrated to the journalists, she, on behalf of the U.S. government, discussed the importance of strengthening democracy. While congratulating the government for conducting the presidential elections according to high standards of democracy, she said the same space should be persevered for active debate for individuals in view of the parliamentary elections coming up soon.

Commenting on the post war concerns, he said her country wished that Sri Lanka takes up addressing them. She mentioned about the Office of Missing Persons (OMP) and accountability issues.

Of course, these were areas which cased irritants erupted in bilateral ties during the 2005/2015 Rajapaksa rule. It was a turbulent period with the U. S. government sponsoring resolution after resolution at the United Nations Human Rights Council (UNHRC) holding Sri Lanka to account for its alleged wartime abuses. The U.S. is also the prime mover of the 30/1 resolution adopted in 2015. Now, the U.S. is no longer a member of the UNHRC. As far as Sri Lanka is concerned, the focus is more on Indo-pacific cooperation which includes countering terrorism and military to military cooperation. As such, emphasis is laid more on this aspect of bilateral relations rather than constant dwelling on other matters such as human rights.
The change of focus is obvious since there were references to the UNHRC process and reconciliation only in general and broad terms. Nothing specific or categorical was discussed.
Beijing visit

China seeks economic, security cooperation with Sri Lanka

Chinese Foreign Minister Wang Yi was in Colombo the same day and held discussions with the leaders. In fact, it was meant to lay the groundwork for President Rajapaksa's upcoming visit to Beijing next month.

Wang categorically said China would not allow any country to interfere with the internal affairs of Sri Lanka.

Cooperation in economic development and security were among the matters that were discussed in substantial terms.

The government seeks more and more assistance from China for economic development. Prime Minister Mahinda Rajapaksa, in his meeting with the Chinese Minister, is reported to have handed over a list of investment proposals asking for financial cooperation to implement them.

In China's government structure, Wang is a state councilor, a position equal to the vice premier of that country.

China deployed such a top level leader at this hour ahead of the President's visit symbolizes high importance attached to its relations with Sri Lanka. The 2005/2010 Rajapaksa government had excellent ties with China both for military cooperation in the fight against the LTTE and economic development. Sri Lanka is one among the very first countries that pledged cooperation with China's Belt and Road Initiative (BRI) at that time.

However, the western powers see BRI as an economic expansion project with strategic and security interests attached. President Rajapaksa has categorially stated that absolute neutrality is the pillar of his foreign policy. Now, there is an opening for his government to improve ties with the U.S. because it is interested more on the Indo-Pacific partnership and cooperation, and counter terrorism. But, the countries such as the U.S., India, Australia and Japan will continue to view the BRI as part of China's expansion of strategic influence despite Sri Lanka seeing it as an opportunity. Sri Lanka has to traverse its path with skillful diplomacy to uphold neutrality in absolute sense. That warrants the disbursement of the best diplomacy.

Sri Lanka will count mostly on China for infrastructure development because no other country has such financial capacity to invest in this regard. Every country recognizes Sri Lanka's need for infrastructure development.

China has 170 million outbound tourists per year. It is reported that Mr. Wangi, at his meeting with the Prime Minister, stressed the importance for Sri Lanka to attract at least one million of them to develop tourism.
Russia keen to increase economic ties with Sri Lanka

As far as Indian Ocean maritime security is concerned, Russia is a distant observer. So, in his interaction with the President and the Prime Minister, Russian Foreign Minister Sergey Lavrov sought to improve economic activities between the two countries. Besides, he discussed the enhancing of security cooperation, particularly for counterterrorism.

Sri Lanka used to purchase a lot of military supplies from Russia. Russia will seek to further such ties. During the term of the former government, then President Maithripala Sirisena paid an official visit to Russia. There were a whole lot of agreements signed, but little had been done to move ahead on them.

Now, Russia will engage the new government to realize what is envisaged in these agreements.