---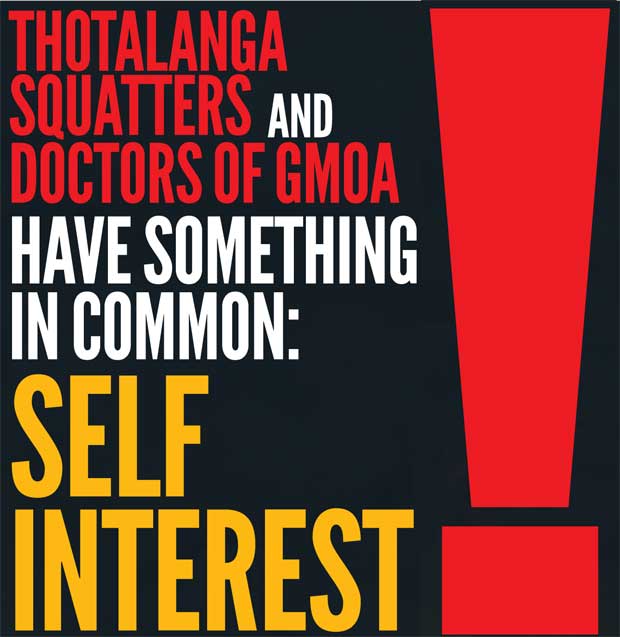 ast week residents of a large slum in Thotalanga blocked the Japan-Sri Lanka Friendship Bridge to protest against an alleged arbitrary order to vacate their slums and move to new apartment blocks that have been built for them. A week before that, members of several professional unions held a protest march in Colombo against the proposed Indo-Lanka Economic and Technical Cooperation Agreement (ETCA). And day in day out, university students continue to unleash venom against private universities; medical students, the most vocal of the lot and backed by the GMOA, have ganged up against an existing private medical school.
All those displays of opposition are conducted in the name of earthly values of human rights, free education, eternal love for the people and many other holier than thou concoctions. That is bunkum. The reality is that those groups are striving hard to preserve undue advantages and privileges they enjoy at the expense of the millions of other hard working Sri Lankans. Squatters want to remain in the illegally occupied prime land in the city; doctors want to maintain their local monopoly and prevent any infusion of foreign talent and to curtail a healthy competition; university students want to preserve their place in the traditional Sri Lankan society though most of their degrees are no longer worth the certificate they are printed on.

Members (though not all) of every one of those groups are insecure of their own self-worth, hence the urge to prevent others from competing. From the squatters in Thotalanga to the esteemed medical practitioners turned activists in GMOA, they are campaigning to retain their undue privileges. Their lame excuses are either illegal or anti-market (or both). It is how the on-going protests against free-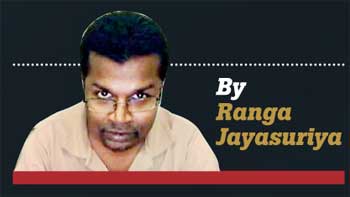 trade and slum clearance should be viewed.
Squatting is not a right, it is an offence. Any enlightened government that makes wealth creation for its citizens a priority should relocate those dwellers and utilize those lands for economically viable ventures. When a government fails in that and turns a blind eye, because it wins a bloc vote from those communities, it is putting the country on a perilous path to anarchy. Viewed in all ways, from an economic point of view to a sociological one, it is a disaster.
Also, as far as the professional unions that are up in arms against free trade and services are concerned, (ETCA does not include services in the first place), their claims are partly selfish and partly ill-informed, the latter is due to our inflated self-importance born out from our frog in the well mentality. Whatever those misgivings are, they threaten to kill future employment and growth prospects in order to save benefits of a few. They fear that the Indians would flood in the local employment market in IT, health care and other sectors that would be opened up under ECTA. But the fact of the matter is India's is an IT industry worth over $ 100 billion ($ 119 billion in 2015 and projected to reach $ 220 billion in 2020). Indians or Indian Americans have either founded or are running one fifth of start-ups in Silicon Valley. Indian tech firms are world leaders in their industry. They are simply better than us. Ours is an IT industry which is yet to reach $ 1 billion. If the Indians come here under ECTA, they would come with investment, which we cannot afford; technology, we don't have and expertise and experience we can learn from. Same applies to the health sector. India is the future service capital of the world, it is the world's back office and the place people would go to get a heart bypass surgery done.( India's health care industry is estimated at $ 100 billion and projected to reach $ 220 billion in 2020). What Sri Lanka should strive is to get a slice from that market with the help of Indian investment and Indian expertise. Our roads are cleaner and towns are less chaotic and have the best highways in South Asia (so says the Economist), therefore we can take a shot at it. Instead of doing that, taking to streets under the sweltering sun is simply incorrigible.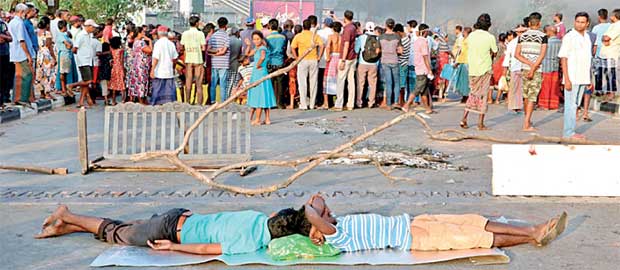 Several Months back at the Sri Lanka Economic Forum, Harvard Economist Ricardo Hausmann explained in detail how Sri Lankan export basket has remained unchanged since the early 90s, while countries which exported simple technology products like us at that time have since proceeded to high end manufacturing. He warned the danger that lay ahead if we failed to restructure our export basket.
Why we failed in the past three decades was largely due to nihilistic terrorism that made our survival, not the economic growth, our priority. However, we also failed to lay the foundation for sustainable growth in the first three decades of independence, mainly due to myopic Statist economic policies of successive governments. And even after the economic liberalization in 1978, the promise of prosperity was dampened by a series of single issue agenda protests like the ones we see today. That is however an inherent drawback in democracy, which is felt more acutely for the countries at our economic level. Democracy provides for enlightened debate, which however gets hijacked by bigots, protectionists, purists, fanatics and self-interested unionists.
We are not alone. The recent history of international political economic history would reveal some hard facts: During the second half of the last century, not a single country which could be termed as democratic did succeed in leapfrogging from lower income level to higher income (or even to upper middle income).
" Why we failed in the past three decades was largely due to nihilistic terrorism that made our survival, not the economic growth, our priority"

Countries (South Korea, Taiwan, Singapore or Malaysia and Chile, the latter two being upper middle income) that succeeded were pro-growth authoritarian. Even today, low income countries, especially the non- commodity economies such as Rwanda and Ethiopia, which sustain impressive growth rates, which we could not achieve at that stage of development, are authoritarian. Park Chung Hee did not have to worry about recalcitrant trade unions then, nor does Paul Kagame now.
However, there is another point. Most of those authoritarian states became democratic at some point of middle income stages and proceed to become high income states. By that time their political structures of the past had laid socio- economic and technological foundation for sustainable growth. Sri Lanka may not have relative technological sophistication that Taiwan or South Korea had in the late 80s when they started to become democratic, but we can be self- assured that the quintessential Sri Lankan voter who toppled governments for subsidized rice is long dead and gone. That should be a relief! Therefore, what we are witnessing now in the form of demonstrations against reforms are not a mass protest, but a one hatched by a minority who have a self- interest in sustaining existing status quo. The government ought to address their legitimate concerns, but at the same time, put them in their place. Failing that would help them hijack a broader national agenda. (That, however, cannot be done by threatening media for providing an all-encompassing coverage; that smacks of Gotabhaya Rajapaksa).
"In order to tackle the challenge thrown open by a self-interested few, the government can learn, not from Gotabhaya, but from Margaret Thatcher"

In order to tackle the challenge thrown open by a self-interested few, the government can learn, not from Gotabhaya, but from Margaret Thatcher. When she came to power in 1979, the British economy was in a mess. She reined in powerful trade unions that took the economy hostage, introduced a series of economic and labour reforms, which created jobs, and reduced unemployment and rebuilt Britain as the financial powerhouse it was once before. She did not use White vans, but she was effective. The new government ought to have a firm conviction in its policies and be determined to go the extra mile to implement them, if we are not to squander another opportunity for a better future.
Follow Ranga Jayasuriya @RangaJayasuriya on twitter