---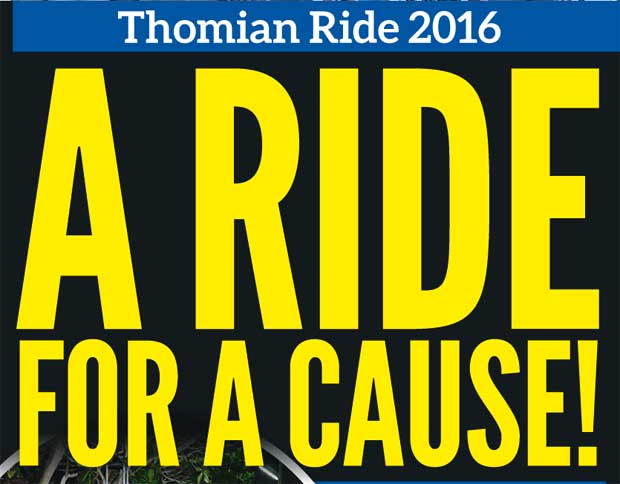 To Kick off Inaugural All-Island Cycling Tour To Create Awareness On Road Safety

oad accidents have become a major cause of death, causing roughly 7 deaths each day, not to mention tens of thousands of motorists, commuters and pedestrians who are injured. In the light of increasing road deaths and road accidents, the STC Class of '82, a group of Old Thomians, have come forward with the goal of cycling around the country with a mission to create awareness on road safety, with the goal of giving back to the society.
Globally, a staggering 1.25 million persons die each year as a result of road accidents and according to the World Health Organization (WHO), road traffic injuries are the leading cause of death among young people aged 15–29.
90% of the world's fatalities on roads occur in low and middle-income countries, even though these countries have approximately half of the world's vehicles. Half of those dying on the world's roads are 'vulnerable road users'- pedestrians, cyclists and motorcyclists. Without action being taken, road traffic crashes are predicted to rise to become the seventh leading cause of death by 2030.
"Our inaugural cycling tour will kick off and we hope to cycle around Sri Lanka in a span of 12 days, covering close to 1,400 Km. Our main goal is to create awareness on road safety in all the major cities and thereby prevent road accidents in the long run," says Dinesh Fernando, the livewire behind the small group of cyclists which has grown to over 50 by now.
"We are told that road accidents cause nearly 7-8 deaths which are in fact preventable and with more vehicles entering the roads, this rate is bound to go up. The main cause we are told, is the lack of awareness among cyclists, motorists and pedestrians. Many three-wheeler and bus drivers too are not properly aware on how to ensure road safety. So we, as a Thomian community, thought of filling this vacuum which will create benefits for all stakeholders by reducing accidents."


"The main issue which we hope to tackle is the lack of road safety awareness among schoolchildren. We will collectively select around five to six townships from Negombo, Mannar, Jaffna, Trincomalee, Batticaloa, Kataragama or Matara in partnership with our respective city sponsors and hold an event with a carnival atmosphere along with a mobile band to draw crowds in order to create awareness about our mission. To be fair to the sponsors, these townships will be densely populated cities and towns where road safety is critical and where we can make a greater impact."
Towards this end, all stakeholders from students to motorists would be approached, he added.
"Our organizing team will reach each location well in advance and in partnership with the Police Motor Traffic Department, Schools, Lions Clubs, Sarvodaya and other volunteers, we will select several schools and develop a seminar-based methodology to create awareness among students who are our future. Prior to the day of the seminar, we will also hold essay and art competitions in the main schools in each location. With regard to motorists, we will hold similar seminars and at their conclusion each participant will be given a sticker with 'I am a responsible driver.' We hope to have a small questionnaire on basic road safety tips and selected motorists will be handed certificates at the gala event. At each location, sponsors for each city would not only have branding opportunities but will be able to identify as a responsible corporate citizen. These CSR initiatives in each location will not end with these events but we will be setting up a committee to carry on awareness campaigns on a regular basis."
"Our inaugural cycling tour will kick off and we hope to cycle around Sri Lanka in a span of 12 days, covering close to 1,400 km. Our main goal is to create awareness on road safety in all the major cities and thereby prevent road accidents in the long run"
from October 25 to November 5

He added that a cycling tour would take place from October 25 to November 5. "The cycling tour will start on the first day from Mutwal where S. Thomas' College had its humble beginnings and proceed to Kochchikade (Negombo) where we stop for the night."
"On the first day we will cover around 40 kms but from the second day when we ride from Kochchikade to Puttalam, close to 100 kms will be covered. On the third day we will ride to Silavaturai (Mannar) via Eluwankulam and Wilpattu National Park. Throughout the tour we will be providing transport for those who are not able to traverse gravel roads. On the fourth day we will cover Mannar and Jaffna via Pooneryn along the A32. On our way back from Jaffna on the fifth day we will come via Elephant Pass along the A9 and head towards Mullaitivu via Paranthan. On the sixth day we hope to reach Trincomalee passing the scenic Kokilai Lagoon where we will have a rest. As Trincomalee is a hot spot of culture and activity, we hope that cyclists will enjoy their day of rest there," said a confident Dinesh.
"On the eighth day the cyclists will reach Passikudah via Kinniya and on the following day arrive in Arugam Bay. On the tenth day we have planned to reach Kataragama via Moneragala and Buttala, which will be a tough but rewarding ride. On the eleventh day, our cyclists will reach Mirissa and on the twelfth and final day we hope to wrap up the 1,400 km ride by reaching Mount Lavinia."
"On the final day, students of S. Thomas' College along with well-wishers of this unique project will escort us from Moratuwa to Mount Lavinia in a grand parade. The whole event will reach its zenith with a gala carnival at S. Thomas' College grounds on Saturday, November 5, the day on which the cyclists are scheduled to reach Mount Lavinia." The Past Cadets Group of S. Thomas' College are organising and coordinating the ride for students from Moratuwa to College.
"There's lot of enthusiasm from many quarters of the society because an event of this magnitude for a social cause has never been organized before by a school in Sri Lanka."
The event will gain wide media coverage with TV Derana, Derana 24x7, Ada Derana, FM Derana as its Electronic Media Partners and pulse.lk as the Online Media Partner of the THOMIAN RIDE 2016.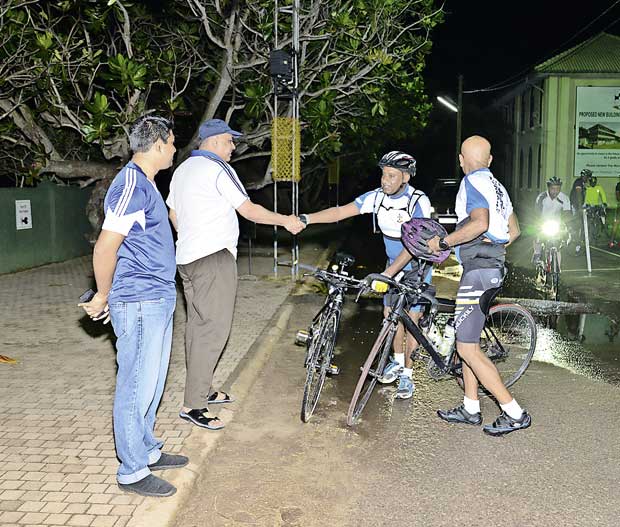 Warden of S. Thomas' College Mount Lavinia Rev. Marc Billimoria has given his blessings and the Old Boys' Association (OBA) will partner in organizing the carnival. This will be the flagship event for S. Thomas' College Mount Lavinia, which celebrates its 165th anniversary this year. Almost all participants in previous informal cycling events came out with positive feedback, according
to Dinesh.
"On a separate note, those who have been cycling who in fact had high cholesterol, high blood sugar, pressure and stress have thanked us for bringing life-long changes to their lifestyle."
"Our goal is not to merely hold one-off events but to create a long-lasting approach to tackle road accidents. It is high time that we, as citizens, understand the gravity of lack of awareness and step in to fill this vacuum because at the end of the day, our children, parents, loved ones and ourselves have to get on to the highly-congested and dangerous road network. All of us are at huge risk because of irresponsible driving and our goal is to start from somewhere in order to create a better tomorrow," said Dinesh Fernando.