---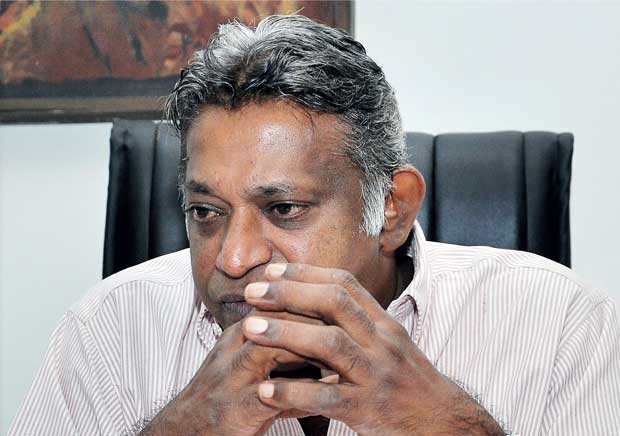 Dr. Paikiasothy Saravanamuttu, the Executive Director of the Centre for Policy Alternatives (CPA) is an expert in governance and peace. He has submitted research papers on the subjects in international conferences. In 2013, he attended a High-level Civil Society Round

Table during the tenure of Barack Obama, the former President of the USA. He is one of the founders of the Sri Lanka Chapter of Transparency International and the Centre for Monitoring Election Violence (CMEV). He has been the Secretary of the Consultation Task Force on Reconciliation mechanism. In a candid interview with the Dailymirror Dr. Saravanamuttu, who has a PhD in International Relations from the London School of Economics and Political Science (LSE) shared his thoughts on the current constitution making process, reconciliation, transitional justice, good governance and the debatable topics that have taken centre stage during the past few weeks.
The Sri Lanka Freedom Party (SLFP) Central Committee headed by President Maithripala Sirisena has come to a decision to continue with the Executive Presidential system of governance. But the President came to power pledging to do away with this system. What are your thoughts on this?
I think there is some confusion at the present moment. What we are being told now is that the President would like to prioritise Constitutional reform over everything else. That would involve all of these things we are talking about a new Constitution. Obviously there is some fluidity and perhaps, what is required for the president and for the party, is to come out and say very categorically as to what they intend to do as far as the new constitution is concerned, and whether they support a new Constitution.
There is concern about going for a referendum and the fear of losing the referendum, and therefore to do Constitutional reform which does not involve a referendum. But I don't think you can do any meaningful Constitutional reform without involving a referendum. What perhaps is required is for a very clear, cogent, coherent statement from the president and the SLFP saying that they are pursuing a new Constitution, that would recognizably involve a referendum, and that they're campaigning for the acceptance of that Constitution.
What are the provisions in Constitutional reform that require a referendum?
Any Amendment that goes beyond the existing fundamental structure of the State, the entrenched laws and which affects the sovereignty of the people will have to be determined by the Supreme Court. An example would be Article 9 (Buddhism given the foremost place and the State being duty bound to protect and foster the Buddha Sasana).
There is also considerable objection to a new Constitution. In this context, do you think that Sri Lanka would be able to establish a new Constitution?
I have no doubt whatsoever that the United National Party (UNP) and SLFP in parliament can bring together the two thirds majority. I am also sure that the Tamil National Alliance (TNA) will support them in the provision on devolution. Then you can get the two thirds majority in parliament. Then we come to the referendum. If these two parties, and particularly if the President and the PM work together and lead the campaign in the country at large, with regard to the acceptance of the new Constitution, I have no doubt that we will get through, also because we require only a simple majority here.
Constitutional Amendments are supposed to bring a solution to ethnic conflicts. However our history includes ample instances where there has been strong opposition against such amendments and agreements. The Bandaranaike–Chelvanayakam Pact is a case in point. With this failing history, what is the solution to address the issues arising from ethnic conflicts?
There is absolutely no substitute to a Constitutional settlement. The Bandaranaike-Chelvanayakam pact was not part of the Constitution. So the two parties - in terms of the coalition government and the TNA - need to get together and come up with a solution that will satisfy both sides. You have the concern about separation and cessation on the one side. And on the other side, you have the concern with regard to having a certain degree of autonomy to be able to manage one's own affairs to ensure non-discrimination. So you need to be able to find a solution that meets both of those demands and a lot more in between.
In the debates, the discussions and the deliberations of the Constitutional assemblies, and if you look at the subcommittee reports too, I think there is ample potential for an excellent consensus.
Do you think the current government actually follows the concepts of 'good governance' especially when it comes to accountability, transparency, efficiency and minimizing corruption?
I think there is always going to be an argument that a lot more could be done with regards to transparency, efficiency, anti-corruption etc. I certainly think that with regard to this government, a lot more could be done. I will go a step further and say that it should be done because that is what this government campaigned on. There should be no suggestion in the public's perception of the government, that there are deals being made, that it is inefficient, that it is corrupt itself, and indeed if there is corruption within the government, it needs to be rooted out as well.
QHow far have we achieved reconciliation and transitional justice?
We have come somewhere but we have a long way to go. Reconciliation is a process. There isn't a particular point we reach and say that we have achieved reconciliation. There are attitudes towards various groups and identities in this country. There is institutional reform. All of this has to be mainstreamed and continued into the future.
With regard to transitional justice, unfortunately, it is being demoted because constitutional reform is being given priority and there are arguments for doing that as well. But we have the Office of Missing Persons where some major legislation has been passed. I think we should begin to implement what the government of Sri Lanka committed to in the resolution it co-sponsored at the United Nations Human Rights Council in 2015.
I see it as a process, and therefore, in order to make sure that the process gets going in full measure, you need to start it. Some lands have been given back. You have the Geneva Resolution. You have solid gestures such as the National Anthem being sung in both languages. But as we speak, we have questions with regard to return of land and missing persons. There are people who are going on hunger fasts. That is not reconciliation. We need to create a situation in which people don't have to do that kind of thing, or if people were trying to make them do that kind of thing that they would be able to turn around and say 'no'. There is a process of reconciliation going on and we have faith in it.
I was a member of a taskforce doing consultation on reconciliation, and unfortunately, there was a big gap. People did not trust the State with regards to its commitment to reconciliation. They have some faith in this government and that is why this government needs to do things to ensure that that amount of faith is increased, rather than decrease.
Despite a change in government, there is still violence perpetuating in the form of abductions, torture and other violent behaviour. Why have we failed to protect human rights and what could be done to ensure the protection of human rights?
These appear to be systemic abuses and there needs to be a firm commitment to eradicate them with demonstrable action to ensure that is the case. Any officers of the State being involved in this should be severely dealt with. There are laws in this country prohibiting such actions which should be used without fear or favour. Examples should be made to serve as deterrents against repetition of this kind of behaviour.
The numbers of abductions and even the allegations with regard to that, are a lot less than was before. However, even one abduction is bad enough. Therefore there has to be a very clear specific focus on human rights protection in order to ensure that there is no culture of impunity any more and that these abuses stop.
The Counter Terrorism Act (CTA) is to replace the Prevention of Terrorism Act (PTA). What are your views on this?
If we are going to repeal and replace the PTA, we must make sure that it is in line with our international obligations and commitments, in particular with the International Covenant on Civil and Political Rights (ICCPR). Some of the reforms that were suggested were shouted down quite rightly because they seemed to be even worse than what we have at the present moment. We can't regress. We have to progress. The point is not just the repeal of the PTA but its replacement with something that is fully in line with human rights, protection, civil liberties and fundamental rights. So we have to make sure, therefore, that this is in accordance with international best practices.