---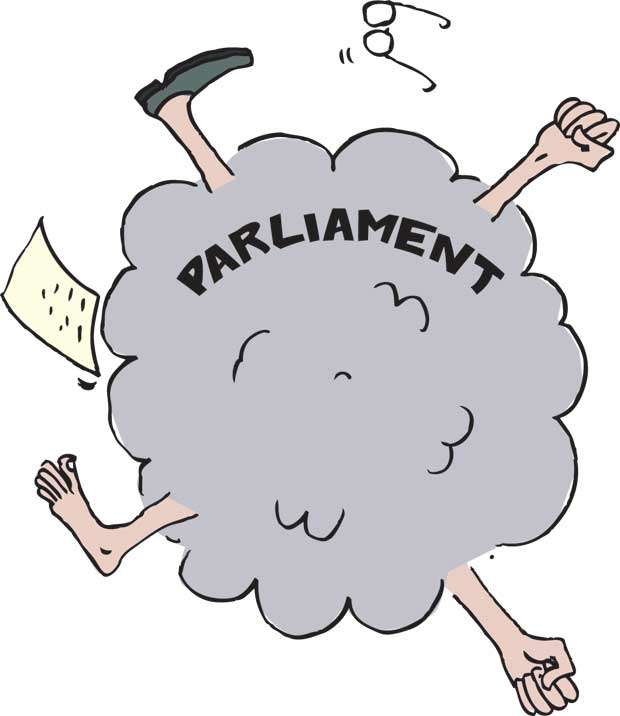 he tense situation within Parliament continued for a second day yesterday (November 15) due to disagreements between members of parliament loyal to ousted premier Ranil Wickremesinghe and those loyal to the new Prime Minister Mahinda Rajapaksa, leaving the nation's citizens scratching their heads being unable to fathom what is going on.

The whole country watching the drama, unfold within the parliament premises, from their homes and work places have little knowledge of the constitutional procedure regarding the removal of a prime minister, appointing another and how the Cabinet can be dissolved. However, many interpretations are being made by legal experts leaving room for speculation and confusion to arise. Interestingly there are reports in the print media which state that all copies of the Constitution at the Souvenir Shop in Parliament have been sold out! It seems that there is more confusion now despite these vociferous lawmakers reading up on the Constitution. All this reminds us of an old saying, 'comment is free, but facts are sacred'.
It seems the imbroglio is continuing with neither party giving in. Adding to it the Presidential proclamation dissolving Parliament is
before court.

During the days that passed following the dissolving of parliament on November 9, the people of this country have leaned on their conscience rather than depend on how people quote the Constitution. This is solely to understand the big picture associated with this impasse.
For the record, no party has sought the help of the law challenging the removal of the Prime Minister of the Yahapalana regime. With MPs changing sides and some claiming they were offered huge amounts of money the instability continued.

As the situation dragged on President Sirisena issued a proclamation dissolving Parliament. The President claimed that he was compelled to do so due to the behaviour of the Speaker, Karu Jayasuriya. On the other hand there are others who hail the Speaker for standing staunchly to
his stance.

As several parties went before courts challenging the dissolution of Parliament, the Supreme Court issued an interim order suspending the proclamation on dissolution until the final determination of the case.
Thereafter, two chaotic days were seen in parliament. How they have behaved shows that they have forgotten for a moment they are representatives of the people and enjoy all perks and privileges because of the people's vote.