---

In the film 'Doctor Zhivago,' based on Boris Pasternak's celebrated novel there's an argument between two officers of a Red Guard unit. One believes that Zhivago, who had been abducted by the unit because a medical officer was needed, should be allowed to leave since he had served well. The other objects because there operations were ongoing and his services were needed. Placing 'party' above all, he reminds his comrades that once the war is over everyone will be judged politically, regardless of military record. It is like 'sunk costs'. What came before is irrelevant. What counts is loyalty. What matters is the party, the regime which is in power and which therefore gets to pronounce judgment. That's one way of looking at things.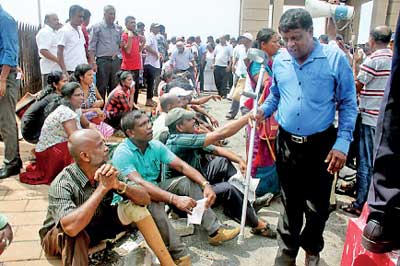 Indeed it is the only way that the actions of the yahapalana (sic) government vis-a-vis protesting disabled servicemen can be justified, and even then it is a stretch because the issue was not about regime-loyalty or political preference but a simple matter of demanding a pension. Of course neither the action nor the justification included any narrative about regime, regime-loyalty and regime-integrity. The 'Reds' were straight and honest, but then again that was a revolutionary moment, one can argue. In this case, the excuses trotted out were predictable and weak. The Defence Ministry, in the missive that 'resolved' the issue, inserted an observation which essentially claimed that the relief granted to the articulated grievance was in fact already known to the protesters and therefore they were but a few disgruntled and politically motivated actors. Indeed, the ministry's website posted a media release claiming that steps were being taken. The presence of prominent individuals of the joint opposition or associated with that political formation certainly gave credence to the 'politically motivated' part of the claim. But then again, there has hardly been any agitation of this kind which did not draw politicians of the opposition. Those in Government today know this.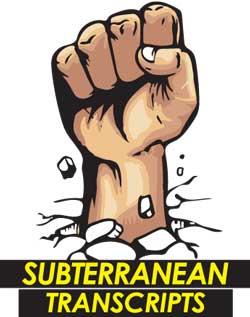 The more serious issue is that action has not followed the pledge. Vague promises have been given, heard, believed and duly dismissed. Indeed, if, as claimed, the grievances had been heard and addressed, and if the 'solution' had been communicated, the matter could have been resolved long before it flared up into an altercation. What we saw was imbecilic conflict management. If there was a decision and the sense to communicate with clarity, then there would have been no need for anyone to storm the barricades because there would have been none.

Instead, the Government (perhaps believing its own propaganda) chose to cold shoulder the disabled servicemen. This has happened, one should not forget, in a context where ex-combatants of the LTTE are being treated with magnanimity and even feted and where service personnel are being hounded on account of all manner of allegations. That's politics, the 'reds' would observe. Let's go with it then. If the protests were orchestrated by the joint opposition, then the way it was dealt with only strengthens its hand. Even those who stand with this regime and who abhor the previous regime would be hard pressed to say, 'the suckers deserved what they got!' if they saw the pictures and the video footage of 'good governance' in action. The convoluted justifications being trotted out are not only unconvincing but gives the impression that the designated approvers are themselves straining to lie. And need we even mention that a government already on the back foot due to bad decisions, sloth, two-tongued talk, an identity crisis that can wreck integrity at any moment and overall incompetence, cannot afford losing the 'neutrals'?

The 'reds' were political and were positioned politically to let politics override all else. This government is a far cry from even the fledgling government of the Bolsheviks. Impressions count. They seep into the conscious and unconscious. They will be played out in social media. The transcripts will be read, re-read and read out at critical moments.

It is not wrong to protest. It is not unusual for protesters to suppress uncomfortable truths and to exaggerate grievance. It is not that these protesters are without regular income, after all. But they, like anyone else, fear the future. The rich buy insurance, the employed feel secure thanks to the EPF, ETF and pensions. These people are no different. It is not even unusual for hot-blooded elements to provoke aggression. This was not the first time that tear gas was used. This is not the first altercation between protesters and riot police that resulted in bruises, cuts, the flow of blood and hospitalization.

But consider this. There were servicemen in that crowd who did not have hands to wipe away their tears. There were people who could not run away. There were people who did not see what was coming simply because they had lost their eyes. If there is something called opportunity cost, then there should be something called opportunity benefit. If the war had not been concluded, some of the uniformed men facing up to the disabled servicemen could very well be without a limb, an eye or even dead. A war was fought and ended. That 'ending' involved a lot of people dying. Among the unnecessarily dead were service personnel. Among those who survived, there are people who paid with their arms, legs and eyes. Some of them were out there. Some of them suffered injuries.

Every single person ridiculing or insulting the protesters for either being suckered by the joint opposition or being undeserving, respectively, or both in fact, goes about his or her life with the trepidation common to people living in a country like Sri Lanka and in a world plagued by all kinds of uncertainty. They do not worry, however, that their loved ones might fall victim to a terrorist attack. They are not detained at check points. They do not have to be wary of their fellow citizens. They are not burdened by all the questions that were part of the everyday of everyone during the long and tragic years of the conflict.

The reds, following Lenin, following Marx and the Labour Theory of Value, would claim that profit is nothing more than the surplus value extracted from the worker. Well, our lives shed of all the above anxieties and grief that are the typical adjuncts of a violent conflict, can be seen as a quantum scooped from an equivalent 'other side'.

That other side included soldiers. And the scooping involved the loss of limbs, eyes and lives. It's their arms and legs, their eyesight and their lives that have surreptitiously and without acknowledgement accrued to the this-side of many comforts we enjoy (or rather the absence of discomforts that we had to suffer). Our (relatively) good times, ladies and gentlemen, are made of a leg or an arm or an eye or a life that someone, somewhere lost.

It's not politics a la the Red Guards. It is about a simple human thing. About gratitude and ingratitude, about callousness that is hard to pardon. Such things do not come in congealed form. They slip through the equations that politicians ponder over. They count, though. It all comes down to civilization. And lack of it. The yahapalana government did not cover itself in glory (and that's a kind way of putting it).

Malinda Seneviratne is a freelance writer. Email:
malindasenev[email protected] Blog: malindawords.blogspot.com. Twitter:
malindasene