---
Health Minister Rajitha Senaratne, proudly boasting that he believes Sri Lanka has one of the best health services in the region, on Thursday received a World Health Organisation (WHO) certificate declaring Sri Lanka as a filaria-free country. He says Sri Lanka will also soon receive a WHO certificate declaring that we are a malaria free country.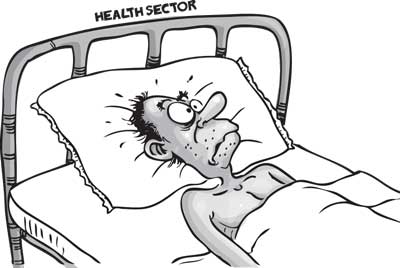 While these certificates are healthy signs, the dengue epidemic continues to rage though even the Armed Services have been deployed for the war against the mosquito and dengue breeding sites. Worse still is the unseen door malignant cancer growing in vital areas of the health sector with widespread corruption or frauds while private hospitals and some millionaire medical consultants among others are turning a once sacred vocation of medicine or healing into one of the biggest profit making businesses.

Last week the Health Minister said he would introduce regulations to control the huge amounts charged at private hospitals for surgical operations, scans and more than 40 medical laboratory tests. He said consultancy fees would also be fixed at a maximum of Rs. 2000. Well and good. But it is not only the cynics who ask valid questions as to how effectively the regulations will be implemented and what some spin doctors will do to continue the plunder of innocent and unsuspecting patients.

For almost a decade, a law is supposed to have been in force to monitor and regulate the work, charges and other aspects of private hospitals. A Deputy Director of Health Services headed this division but what it has done or failed to do is seen in what is happening in the private health sector.
Meanwhile the National Medicines Regulatory Authority (NMRA) -- set up last year after a 10-year battle by health action groups to re-implement Prof. Senaka Bibile's essential medicines concept -- appears to be stuck in controversies and conflicts. The NMRA effectively started work in November last year under the chairmanship of the eminent Prof. Laal Jayakody, head of the department of Pharmacology of the Colombo Medical Faculty. Next in command as the Chief Executive Officer, was the equally eminent Prof. Krishantha Weerasuriya, the WHO's former drug policy advisor for South Asia. The NMRA did good work for about seven months preventing sections of the big pharma Mafia from importing non-essential or possibly harmful drugs valued at millions of dollars. But Prof.
Jayakody and Prof. Weerasuriya resigned last month saying they were not able to work independently and intense pressure was being put on them not only by big pharma agents but also by top officials of the Health Ministry.

It appeared the minister was not too sad to accept their resignations and just like Sri Lanka lost the services of Prof. Bibile it has now lost the services of two eminent pharmacology professors while the medicinal drug business is more sickening than curative. The minister later appointed Prof. Asitha de Silva head of the Department of Pharmacology of the North Colombo Medical College as the NMRA's new chairman while Dr. Kamal Jayasinghe, a ministry official, was appointed as the CEO. The People's Movement for the Rights of Patients (PMRP) has filed action in the Court of Appeal challenging the appointment of Prof. Asita de Silva on the basis that he has been a director of a drug research company and therefore there was a conflict of interest. The PMRP petition also claims that under the law the minister cannot appoint the CEO who has to be named by members of the NMRA.
In the pharmacy sector another plague continues. Like private hospitals pharmacies have also become a big business and thousands have been set up. Investigations have shown that hundreds if not thousands of pharmacies are functioning without a qualified pharmacist with businessmen buying the licence for a big amount and hanging it as a show-piece. Qualified pharmacists say another racket involves the so-called food and drug inspectors. In many instances when they find that drugs are not being properly stored or some other malpractice is taking place, the owners are told they would have to pay up to Rs. 50,000 if they are taken to courts. So it would be better to give Rs. 10,000 to the inspector. This is done often, the owners make more profits, the inspectors get richer -- again at the expense of millions of unsuspecting patients who buy low quality or counterfeit drug.