---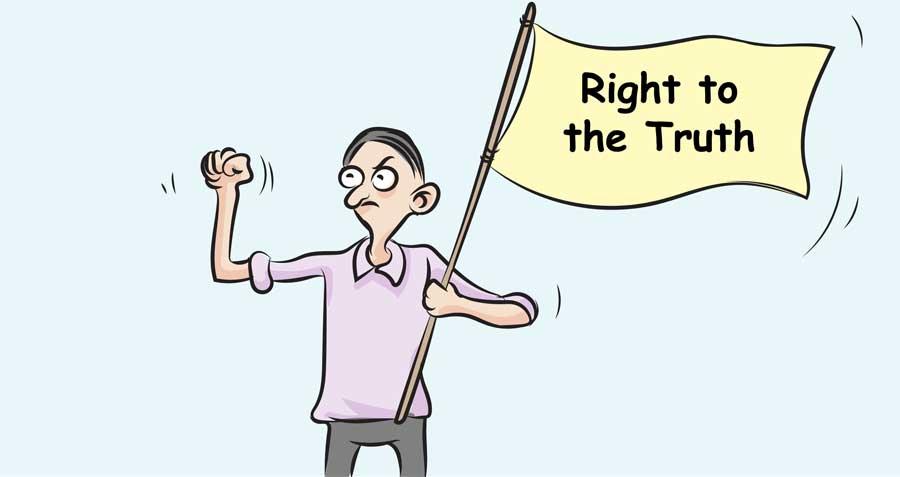 All over the world more than 2.5 billion Christians today commemorate the most solemn day of the year - Good Friday. It was the day on which the Lord Jesus Christ was tortured and crucified.
Besides the seven immortal words from the cross the message from the Lord Jesus Christ was, "Even if you betray,deny or desert me; even if you whip me or strip me and crucify me like a criminal of criminals, I will still love you because God is love." It is an unending, unfailing, unlimited and unmerited love. Freely as we receive it, freely we need to give it to others as the Lord told us to in His final commandment at the last supper.

On March 24, the United Nations marked the International Day for the Right to the Truth Concerning Gross Human Rights Violations and for the Dignity of Victims. In a statement the UN says The right to the truth is often invoked in the context of gross violations of human rights and grave breaches of humanitarian law.

The relatives of victims of summary executions, enforced disappearance, missing persons, abducted children, torture, require to know what happened to them. The right to the truth implies knowing the full and complete truth as to the events that transpired, their specific circumstances, and who participated in them, including knowing the circumstances in which the violations took place, and the reasons for them.

According to the UN, this international day pays tribute to the memory of Archbishop Óscar Romero who was murdered on March 24, 1980. Archbishop Romero was actively engaged in denouncing violations of the human rights of the most vulnerable individuals in El Salvador.

The UN says the day has a threefold vision;
· Honour the memory of victims of gross and systematic human rights violations and promote the importance of the right to truth and justice;
· Pay tribute to those who have devoted their lives to, and lost their lives, in the struggle to promote and protect human rights for all;

· Recognise, in particular, the important work and values of Archbishop Oscar Romero.
On December 21, 2010, the United Nations General Assembly proclaimed March 24 as the International Day for the Right to the Truth concerning Gross Human Rights Violations and for the Dignity of Victims.
In a study conducted in 2006 the Office of the UN High Commissioner for Human Rights concluded that the right to the truth about gross human rights violations and serious violations of human rights law is an inalienable and autonomous right, linked to the duty and obligation of the State to protect and guarantee human rights, to conduct effective investigations and to guarantee effective remedy and reparations.

A 2009 report on the Right to the Truth, the Office of the UN High Commissioner for Human Rights identified best practices for the effective implementation of this right, in particular practices relating to archives and records concerning gross violations of human rights, and programmes on the protection of witnesses and other persons involved in trials connected with such violations.
Archbishop Romero was canonised by Pope Francis in 2018 and the sign board over his grave could come from one of the world's greatest statesmen Nelson Mandela who said, "To deny people their human rights is to challenge their very humanity."