---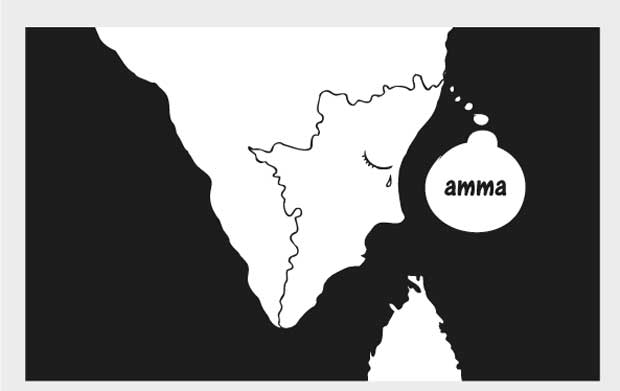 ayalalithaa Jayaram -- the "iron lady" of Tamil Nadu (TN), film star-turned politician, acolyte of the then TN supremo M.G. Ramachandran and four-time Chief Minister, who ruled the South Indian State -- died of cardiac arrest on Monday, December 5.
To thousands of her supporters she was fondly known as 'Amma" and enjoyed the status akin to that of a deity, many of them literally worshiped the ground she walked on. Famous for her welfare policies, including programmes to distribute wedding jewellery and cheap meals to the poor, there was another side to Tamil Nadu's former Chief Minister. Stories of her ruthlessness abounded… A US embassy cable released by WikiLeaks described her as "the consummate autocrat" whose "total domination" of her party was legendary.
What is often not recognized is the fact that she was a pragmatist. In 1983, when the then government-sponsored attacks on the Tamil population led to an exodus of refugees to South India and other countries in the West, passions in Tamil Nadu boiled over. Both the people and state politicians felt it their duty to protest on behalf of Sri Lanka's Tamils given the proximity and the ethnic ties involved.

Unfortunately for too long, Sri Lankan Tamil politicians have looked to India to champion their causes via pressure raised in Tamil Nadu. With this shortcut available to them, Sri Lanka's Tamil politicians without trying to win over the opposition to their point of view, rushed to India begging support for one cause or another,
That is not to say that the Sri Lankan Tamils do not face discrimination in their own country nor that the governments in power had made serious efforts to win the support of the Tamil people, soothe their fears or put forward its own point of view to our immediate neighbour before a bad situation escalated.
Rather it has almost become a policy of all Sri Lankan governments to blame individual politicians across the Palk Straits for events taking place here, thereby aggravating tensions between the two countries.

It is in this light that the non-Tamil civilian population in Sri Lanka has come to view Tamil Nadu politicians in general and India's political leadership in particular with suspicion; believing it is their desire to dominate and keep the island nation in subjugation.
While Jayalalithaa is viewed by the Tamils of the country as a person supportive of 'their' cause; non-Tamil Sri Lankans loathe Tamil Nadu's so-called 'Amma'. What most people in Sri Lanka do not realize is that Jayalalithaa never supported the LTTE or division of Sri Lanka. Even while she was an MP in India's parliament of 1984, she took a very balanced view of the Sri Lankan problem. She was sympathetic to the Tamil cause, but was opposed to the division of the country.
She felt the division of Sri Lanka on ethnic lines would lead to a fragmentation of India along similar lines. She stressed the need for a political settlement which met the just demands of the Tamil people of Sri Lanka. Jayalalithaa was also totally opposed to the LTTE. During the final days of the 'war on terrorism' she took up the cause of Tamil civilians caught between the warring factions. It was also a measure to silence arch rival Muthuvel Karunanidhi and his DMK.

More recently she raised the controversy surrounding the arrest of Tamil Nadu fishermen poaching in Sri Lankan waters. It was widely felt that her action was based on anti-Sinhala sentiment. But those worst affected were actually the Sri Lankan Tamil fishermen. Here again her action was pragmatic, to keep the votes of the TN fisher community with her party and not an anti Sri Lanka move.
One of the sticking points was Sri Lanka's failure to recognize that action which appear to be discriminative to local Tamils cause an adverse reaction in neighbouring Tamil Nadu and ultimately adversely affect relations with its central government, due to rising passions in its Southern State.
But Sri Lanka's biggest failure has been that, no government had tried to improve relations with the political authorities of Tamil Nadu, even though most of our politicians often visit its many shrines and temples on pilgrimage. Especially now, coming out of a near 30-year ethnic war, its time to address this problem.