---
Latest medical research is showing that our health is closely linked to the food we eat while the preventive or curative measures for various ailments could also be connected to our diet. For instance, in the case of cancer many western hospitals are no longer giving radiotherapy or chemotherapy for cancer patients because the curative level is low and the side effects are many and painful. Instead DNA tests are being done for cancer patients and in many instances it is found that the lack of Vitamin B17 is the root cause. Treatment with B17 has been found to have a high and total curative level. Such is the case with many other diseases and medical scientists believe that the traditional allopathy or the regular treatment with antibiotics may be transformed to a process where DNA tests will show the root causes of a diet deficiency.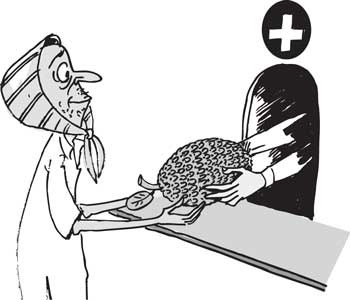 In this context our eating habits are important and in Sri Lanka we have an abundant source of green leafy plants – such as Murunga, Cheena Batu and edible weeds which may have been our vegetables before foreigners introduced carrots and cabbages. Other leafy plants include Gotu kola, Monara Kedumbi, Thebu and Gendha that grow well without the need for much water. This is important in this time of climate change when we are going through long periods of drought such as the present one which drastically reduced our paddy crop.

Another fruit for good health, the prevention or cure of diseases is the jakfruit. One cup (165 grams) contains 2.4 grams of protein, 2.6 grams of fibre and around 190 calories, making it filling and nutritious according to Dr. Joseph Mercola, an alternative medicine proponent and osteopathic physician. Osteopathic medicine promotes the body's innate ability to heal.

According to research, high fibre content acts as a laxative, moving food through the colon for smooth elimination to help prevent waste from sticking around and clogging the colon. According to the LIVESTRONG website fibre helps fill us up, making it easier to lose weight, and may lower our risk for heart disease, high blood pressure and constipation. Jakfruit seeds also provide resistant starch, which may help improve blood sugar control and keep our gut healthy.

The Dietary Reference Intakes of several jakfruit components are impressive. About seven tablespoons (100 grams) of jakfruit contain 23 per cent of the DRI in vitamin C, which not only helps fight infection, colds and flu, but also fights the free radicals that can weaken our immune system according to Dr. Mercola. While there's not a huge amount of vitamin A, which contains flavonoids such as carotene-ß, xanthin, lutein, and cryptoxanthin-ß, there's enough to positively influence our antioxidant levels and improve both skin and vision and offer protection from lung and mouth cancers.

Significantly, jakfruit peel has been cited in studies for its ability to remove the heavy metal cadmium 6, a known human carcinogen that appears to act in two ways: It harms DNA directly and disturbs a DNA repair system that helps to prevent cancer.

Further, the same amount nets 25 per cent of the pyridoxine, or vitamin B6, we would need in a single day. One study showed this helped to slow the rate of brain atrophy and cognitive impairment common in Alzheimer's and other forms of dementia. Additionally, jakfruits also have high amounts of niacin, riboflavin, folic acid, calcium, iron, manganese and magnesium and potassium, with the latter important for optimum function of cell and body fluids to help control our heart rate and blood pressure. All these shows that the amazing jakfruit is exotic and versatile but under-appreciated. Since one jakfruit tree produces food for at least five different uses, growing them could make the country wealthy and provide more than half the average monthly salary for just one worker.

According to a Kerala newspaper editor, Sri Lanka proudly calls jak the 'tree of rice.' But ironically, in the motherland of jakfruit, most people still have not understood the jakfruit's importance.

While it does take five to seven years to begin seeing a steady crop of jakfruits, knowing it is coming is better than letting the same amount of time run without a plan for feeding people.