---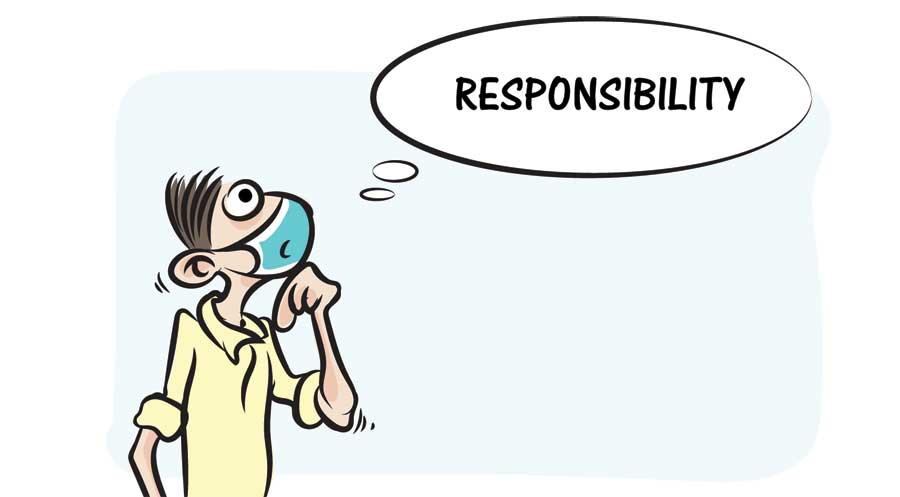 We're in the thick of a second wave of the COVID-19 pandemic and the call is for all citizens to act responsibly. This is a bit hard to demand from a country known for indiscipline. In fact the regime now blames it on the people and the media for the pandemic moving to the second stage.
In the thick of things and the uncertainty that prevails the country is blessed to have a president who underscores the need to act responsibly eternally. Wednesday (November 18) marked one year in office for the president. And much of President Rajapaksa's time in office was spent on supervising the combating efforts launched to tame the virus; hence he didn't have the luxury of channeling all his time and energies to developing the country. At the time of writing Sri Lanka had recorded 18,400 persons having contracted the virus out of which 12,587 had recovered. The death total stood at 69.

Responsibility is a word that carries much weight. Either you take it fully or don't take it at all! We are taught to take responsibility in all areas of our lives. The 16th President of America Abraham Lincoln gave us a great quote to ponder on which read 'You cannot escape the responsibility of tomorrow by evading it today'.
Are Sri Lankans guilt if they apply this saying in their lives? Think of all those who vanished from Western Province (WP) to other parts of the country hours before a curfew was imposed recently putting a stop to movement from within WP to other provinces.

We also saw many individuals giving little regard to health guidelines after the country successfully controlled the first wave of the pandemic.
Many people of this country were very slow at learning health values and when the second wave of the COVID-19 surfaced the Sri Lankans were caught napping. A huge garment giant was accused of not adhering to COVID-19 health regulations. But now we hear of worse things; the Police and the Special Task Force too have acted irresponsibly and left room for lapses in following quarantine safety measures.

When one browses through the front page of a Sri Lankan national newspaper one can observe how irresponsible some people are. From felling of trees in crown lands, the daughter of a law enforcement officer driving a vehicle sans a valid licence, inmates trying to escape from prisons before their jail terms are over are some of the news items which give us a good picture of how irresponsible people are in this country.

Past experiences suggest that change must take place at the top. We remember how former President Maithripala Sirisena, who was also Defence Minister, washing his hand off responsibility when the Easter Bombings took place last year. May be we can take a cue from the Government of Lebanon resigning after this year's deadly Beirut port explosions which left more than 200 dead.

Another area where Sri Lankans must take responsibility is in the use of social media. Despite there being signs of this regime being authoritarian in nature social media users have harboured little or no fear at all in posting misinformation regarding the COVID-19 pandemic. Sometimes taking great responsibility is essential to retain the freedom a government gives its citizens.

From not filling up your carts in shopping malls by thinking of others during a pandemic to switching of streetlights in your areas if the person tasked to do that has failed in his duty there are little acts which can be done for a start to spread the message that we need to start somewhere in becoming a responsible nation.
Most young Sri Lankans can relate to quotes from authors like Chetan Bhagat who once said, "When a woman comes into your life things organise themselves'. And when these young ones age and start showing the urge to establish themselves and become great they need to stop and ponder on a quote from Mahatama Gandhi which goes, 'People tend to forget their duties, but remember their rights'.