---
To willingly and lovingly give shelter to homeless people and especially strangers is a deeply spiritual act. It is in such an enlightened perspective that we need to reflect on the United Nations World Refugees Day, which was marked on Thursday. In this modern world with high technology and globalisation enabling people to get to know things in a split second, the UN has revealed some shocking facts which are a disgrace to humanity because what has happened or what is happening is a degradation of humanity with so many people languishing in different stages of destitution, displacement and desolation. That is why Pope Francis has called on world religious leaders to come together to combat issues such as the refugee crisis, human trafficking, poverty alleviation and disarmament.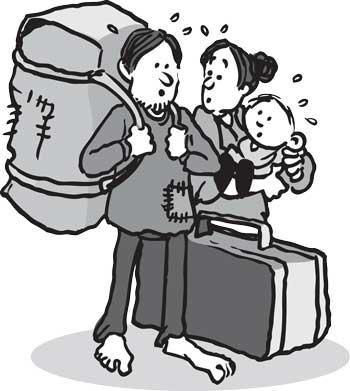 According to the UN, every minute 20 people leave everything behind to escape war, persecution or terror. To call it shocking or staggering is an understatement. There are several types of forcibly displaced people. A refugee is someone who fled his or her home and country owing to 'a well-founded fear of persecution because of his/her race, religion, nationality, membership in a particular social group or political opinion', according to the United Nations 1951 Refugee Convention. Asylum seekers say they are refugees and have fled their homes as refugees do, but their claim to refugee status is not yet definitively evaluated in the country to which they fled. Internally Displaced Persons (IDPs) are people who have not crossed an international border but have moved to a different region from the one they call home within their own country. Stateless people do not have a recognized nationality and do not belong to any country. Statelessness situations are usually caused by discrimination against certain groups. Their lack of identification — a citizenship certificate — can exclude them from access to important government services, including healthcare, education or employment, the UN says.

In Sri Lanka after independence, hundreds of thousands of hardworking Indian estate workers were declared to be stateless people. This horrible act of injustice continued for more than a decade until Sri Lanka's then Prime Minister Sirimavo Bandaranaike and the then Indian Prime Minister resolved the issue through a compromise that led to an overall improvement in Indo-Sri Lanka relations. This is important because according to world population statistics, India in the coming decades will overtake China to become the most populated country in the world.

The 2019 theme is 'Take a Step on World Refugee Day'. Around the world, communities, schools, businesses, faith groups and people from all walks of life are taking big and small steps in solidarity with refugees, the UN says in a positive and proactive assessment of the crisis. The UN has challenged the people to join and take a step with refugees. UN Secretary General António Guterres says his thoughts are with the more than 70 million women, children and men — refugees and internally displaced people — who have been forced to flee war, conflict and persecution.

The UN Chief also says he wants to recognize the humanity of countries that host refugees even as they struggle with their own economic challenges and security concerns. We must match their hospitality with development and investment. It is regrettable that their example is not followed by all. We must re-establish the integrity of the international protection regime. The Global Compact on Refugees adopted last December, offers a blueprint for modern refugee response. What refugees need most urgently is peace. Millions of people around the world have joined UNHCR's (Office of the United Nations High Commission for Refugees) World Refugee Day campaign and are taking steps, big and small, in solidarity with refugees.

In Sri Lanka, after the 30-year civil war, we had hundreds of thousands of displaced people who were living in desperate and deplorable conditions, where they left without even basic washroom facilities and even young girls had to walk more than a mile to find a toilet and that too near a military camp. Since 2015 the government promised effective and sustainable moves to resettle the displaced people. We hope that whatever happens in the presidential elections this year, these moves will continue because the country's spirituality, moral values and principles are measured largely by how it treats the marginalised and displaced people. As the Lord Buddha himself has said, "May all beings be happy."